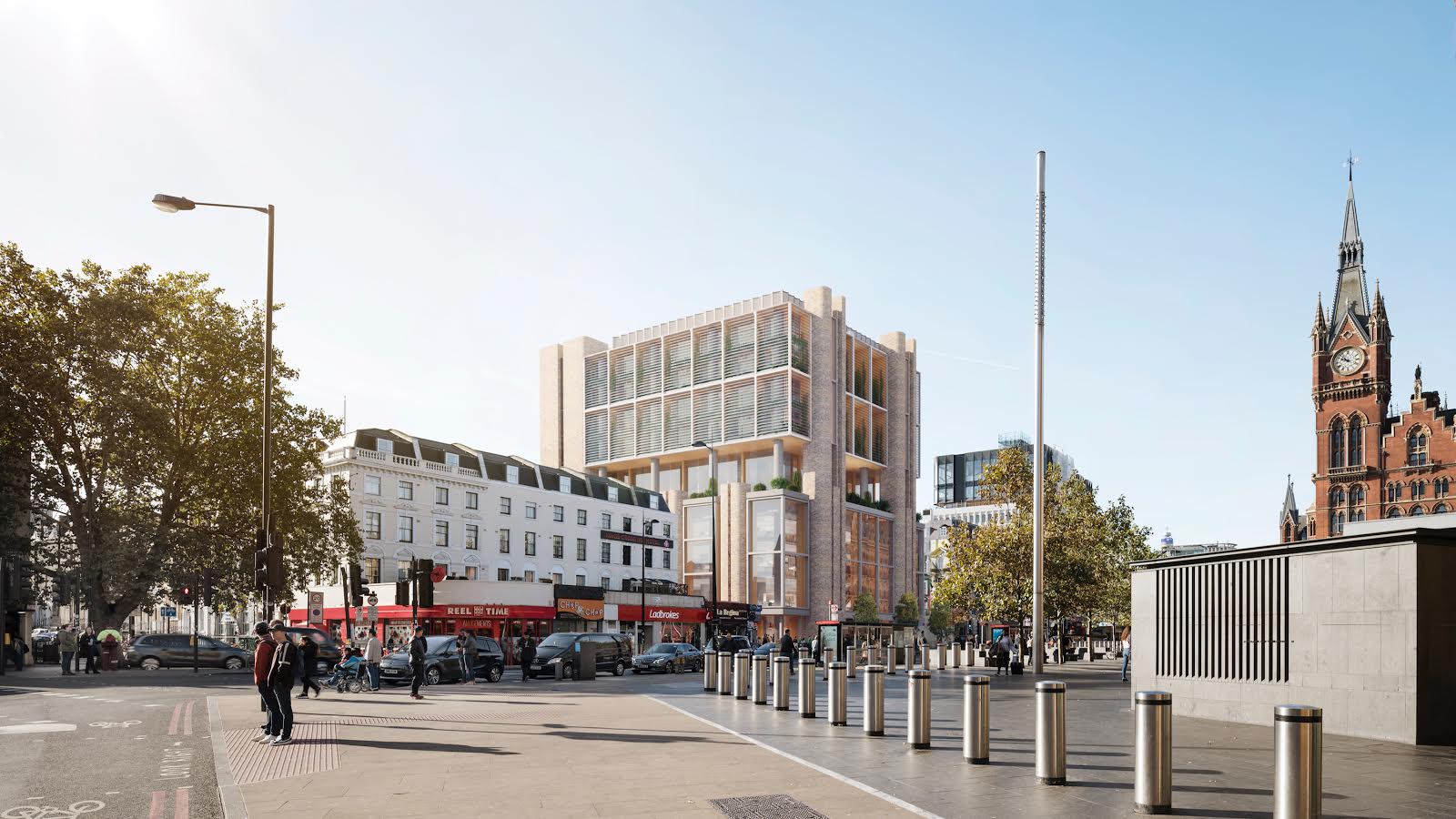 An artist's rendering of Merck's UK research hub (Merck)
Con­struc­tion on Mer­ck­'s Lon­don re­search hub set to be­gin in April 2023
Six years af­ter first lay­ing out the plans for a $1.3 bil­lion, 220,000 square-foot Lon­don re­search hub, Mer­ck will fi­nal­ly break ground on the new cen­ter in April of this year, ac­cord­ing to the new­ly-ap­point­ed prin­ci­pal con­trac­tor.
Mace, cho­sen by Lon­don-based de­vel­op­er Pre­cis Group, said in a news re­lease on Tues­day that the 10-sto­ry cen­ter will be com­plet­ed in 2025. It will be housed with­in Bel­grove House on Eu­ston Road across from King's Cross rail­way sta­tion, right in­side Lon­don's Knowl­edge Quar­ter. Even­tu­al­ly, about 800 re­searchers and of­fice staff will work at Mer­ck's Lon­don Dis­cov­ery Re­search Cen­tre, ac­cord­ing to the con­trac­tor, in­clud­ing peo­ple in mar­ket­ing, fi­nance and ad­min­is­tra­tion.
The cen­ter's em­ploy­ees will be most­ly con­sol­i­dat­ed from the com­pa­ny's var­i­ous sites around the coun­try, but it will al­so open 120 new po­si­tions for sci­en­tists and tech­ni­cians. Re­searchers will con­duct ear­ly-stage re­search on age-re­lat­ed dis­eases, mak­ing the labs Mer­ck's first to con­duct that type of work out­side the US. Cur­rent­ly, Mer­ck's re­searchers work out of lab fa­cil­i­ties at the Lon­don Bio­Science In­no­va­tion Cen­tre and at the Fran­cis Crick In­sti­tute.
Mer­ck de­scribed the cen­ter as a "re­search and busi­ness hub."
But it won't just be a re­search cam­pus. There will al­so be an ed­u­ca­tion and out­reach cen­ter, a pub­licly-ac­ces­si­ble au­di­to­ri­um, a step-free en­trance for King's Cross and an ed­u­ca­tion­al out­reach pro­gram col­lab­o­ra­tion be­tween Mer­ck and Cam­den STEAM.
The cam­pus will have 180,000 square feet of net let­table space for Mer­ck, ac­cord­ing to Mace. Mer­ck is known as MSD out­side the US and Cana­da.
"It has been de­signed us­ing sus­tain­able ma­te­ri­als and in­cludes an in­no­v­a­tive dou­ble-skin façade to re­duce so­lar gain. Car­bon emis­sions gen­er­at­ed through con­struc­tion, op­er­a­tion and fu­ture fit-out will be re­duced," the news re­lease reads.
There have been sig­nif­i­cant de­lays in get­ting the Lon­don Dis­cov­ery Re­search Cen­tre across the fin­ish line. The orig­i­nal plan was to fin­ish con­struc­tion and then open in 2020 but find­ing a lo­ca­tion in the de­sired area of Lon­don's Knowl­edge Quar­ter was chal­leng­ing.
In 2020, End­points News re­port­ed that Mer­ck planned to be­gin con­struc­tion in late 2021 al­so with a fin­ish date of 2025.