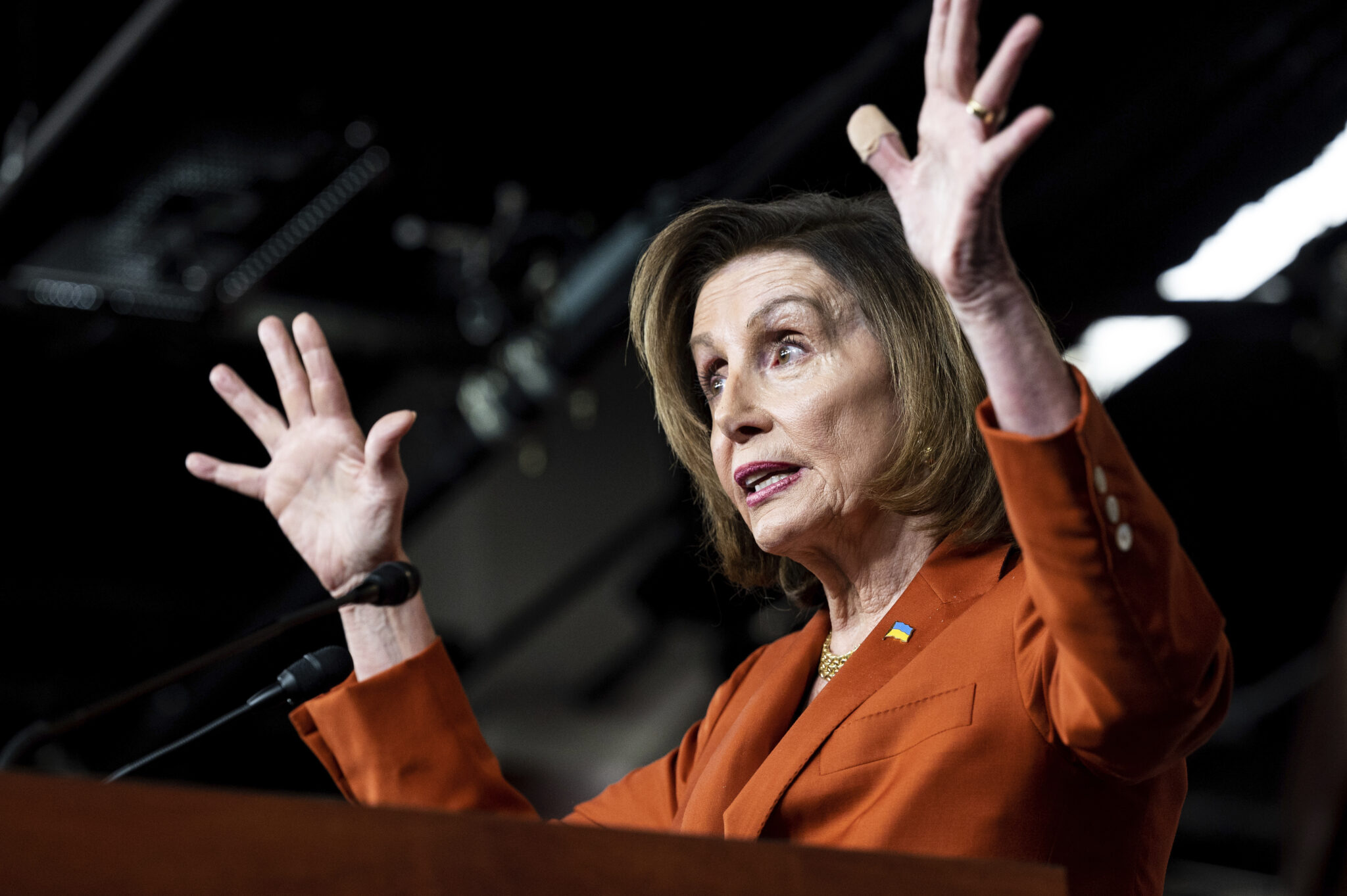 House Speaker Nancy Pelosi at her weekly press conference, March 9 (Michael Brochstein/Sipa USA/Sipa via AP Images)
Covid-19 as a po­lit­i­cal foot­ball: Gov­ern­ment fund­ing for more vac­cine, treat­ment sup­plies stalls
House Speak­er Nan­cy Pelosi late Wednes­day had to pull out $15.6 bil­lion in coro­n­avirus re­lief funds from a mas­sive tril­lion-dol­lar spend­ing bill to avert a gov­ern­ment shut­down as her col­leagues re­volt­ed against pay­ing for that aid with their home states' stock­piles of al­ready-promised pan­dem­ic funds.
While the spend­ing bill and bil­lions in Ukraine aid cleared the House last night in a short-term ex­ten­sion that will like­ly pass in full ear­ly next week, what hap­pens next for the Covid-19 funds re­mains un­clear.
Ear­li­er Wednes­day, De­mo­c­ra­t­ic in-fight­ing hit a fever pitch as at least a dozen De­moc­rats threat­ened to re­volt over how Pelosi planned to pay for the new Covid funds. CNN re­port­ed that some Dems "pa­rad­ed in and out of Pelosi's of­fice through­out Wednes­day morn­ing and in­to the af­ter­noon, some no­tice­ably up­set and try­ing to avoid talk­ing to the press."
Pelosi then sent a let­ter to her col­leagues lat­er in the day yes­ter­day an­nounc­ing that she would pull the funds, say­ing, "It is heart­break­ing to re­move the COVID fund­ing, and we must con­tin­ue to fight for ur­gent­ly need­ed COVID as­sis­tance, but un­for­tu­nate­ly that will not be in­clud­ed in this bill."
The White House im­me­di­ate­ly ex­pressed out­rage over the sit­u­a­tion, par­tic­u­lar­ly as much of the key funds for ef­fec­tive an­tivi­rals and mon­o­clon­al an­ti­bod­ies will run dry in the com­ing months, say­ing in a state­ment:
We re­quest­ed $22.5 bil­lion for im­me­di­ate needs to avoid se­vere dis­tri­b­u­tions to our Covid re­sponse, and we re­quest­ed Con­gress pro­vide these funds as emer­gency re­sources – as law­mak­ers have done mul­ti­ple times on a bi­par­ti­san ba­sis un­der the pri­or Ad­min­is­tra­tion. With­out ad­di­tion­al Covid re­sponse re­sources the re­sults are dire: In March, test­ing ca­pac­i­ty will de­cline; in April, the unin­sured fund – which of­fers cov­er­age of test­ing and treat­ments for mil­lions of Amer­i­cans who lack health in­sur­ance – will run out of mon­ey; and in May, Amer­i­ca's sup­ply of mon­o­clon­al an­ti­bod­ies will run out.
House De­moc­rats al­so tried to si­mul­ta­ne­ous­ly in­tro­duce a sep­a­rate, $15.6 bil­lion Covid-19 re­lief bill last night, but the time­line on that re­mains un­known. Sen­ate GOP op­po­si­tion may be fierce, es­pe­cial­ly as De­moc­rats would need 60 votes for pas­sage (and the Sen­ate is split 50-50).
Sen. Mitt Rom­ney of Utah led a group of fel­low Re­pub­li­can sen­a­tors in a let­ter last week re­quest­ing that the White House ex­plain where the $6 tril­lion in Covid-19 funds al­ready doled out by the gov­ern­ment have been spent.
Ac­cord­ing to NPR, the White House says the ad­min­is­tra­tion spent all of the funds Con­gress des­ig­nat­ed for vac­cines, treat­ments, tests, and masks.
That mon­ey "sup­port­ed our force­ful re­sponse to the surge in in­fec­tions and hos­pi­tal­iza­tions caused by the Omi­cron vari­ant, as well as the ear­li­er surge re­sult­ing from the Delta vari­ant. But those de­mands have large­ly ex­haust­ed ex­ist­ing funds," Sha­lan­da Young, act­ing di­rec­tor of the Of­fice of Man­age­ment and Bud­get, wrote in a let­ter to con­gres­sion­al lead­ers.
Mean­while, the gov­ern­ment spend­ing bill still in­cludes $1 bil­lion to kick-start Biden's new­ly pro­posed Ad­vanced Re­search Pro­jects Agency for Health or ARPA-H, which is go­ing to sit with­in NIH but mir­ror DARPA with risky in­vest­ments in new re­search for projects like can­cer vac­cine de­vel­op­ment, or mak­ing man­u­fac­tur­ing process­es for pa­tient-spe­cif­ic T cells cheap­er and eas­i­er.