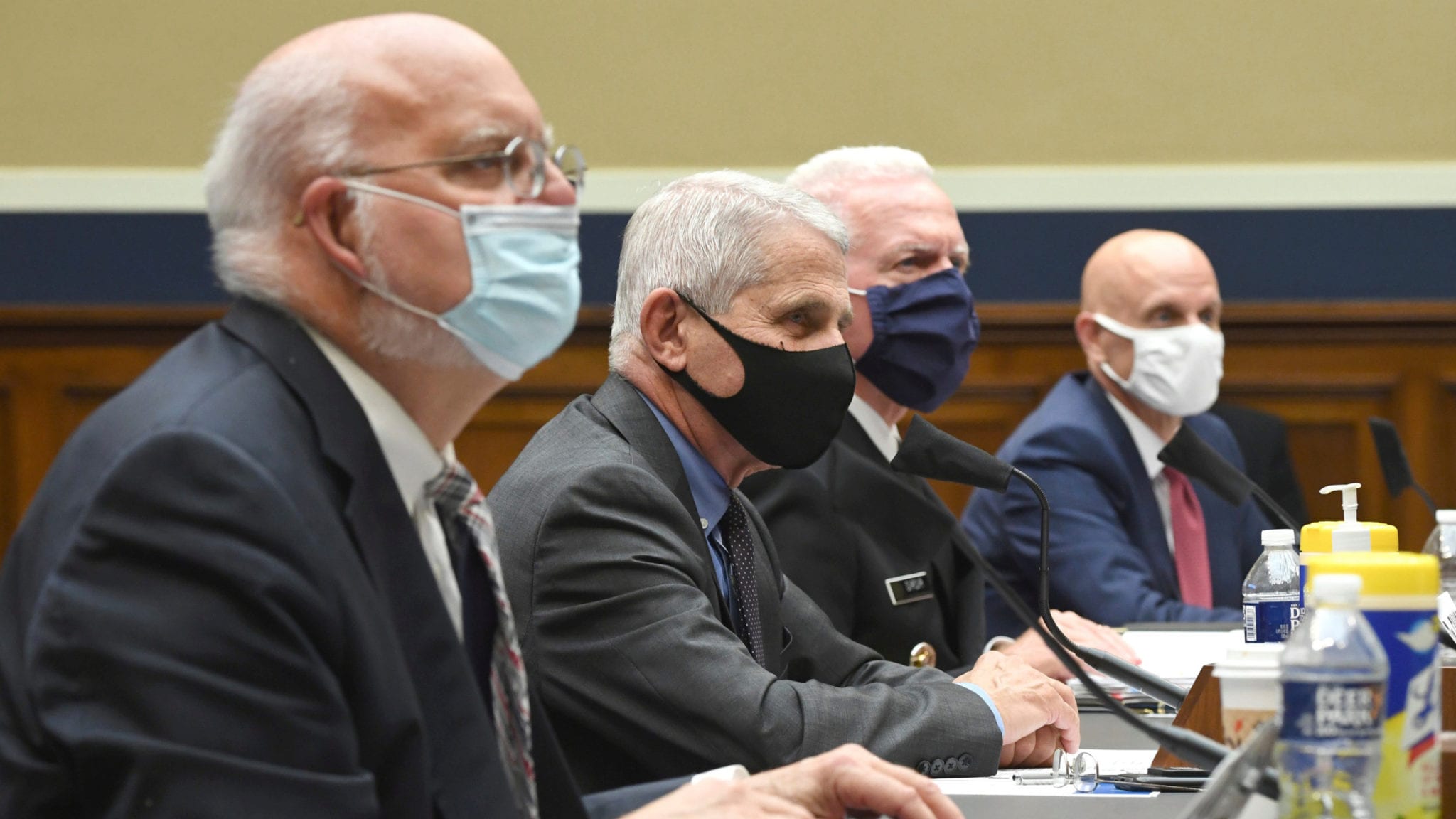 L-R: CDC director Robert Redfield, NIAID director Anthony Fauci, HHS assistant secretary for health Brett Giroir and FDA commissioner Stephen Hahn testify before Congress, June 23, 2020 (Kevin Dietsch, Pool via AP Images)
Covid-19 roundup: An­tho­ny Fau­ci, Stephen Hahn tes­ti­fy in Con­gress; Chi­na's Sinopharm speeds in­to PhI­II vac­cine tri­al
In the ear­ly days of the out­break, NI­AID-chief-turned-Amer­i­ca's-Doc­tor An­tho­ny Fau­ci cau­tioned Amer­i­cans that a vac­cine could come in 12-18 months. Af­ter sev­er­al months of re­search and de­vel­op­ment and hun­dreds of vac­cine projects around the globe, he's stick­ing with the most op­ti­mistic end of that as­s­es­ment.
Ap­pear­ing in a black cloth mask be­fore the House En­er­gy and Com­merce Com­mit­tee, Fau­ci ex­pressed con­fi­dence about the ar­rival of a vac­cine even as he of­fered a sober as­sess­ment of the "dis­turb­ing surge" of in­fec­tions now tak­ing off in some parts of the coun­try.
"You re­mem­ber, I told your com­mit­tee a few months ago, that a vac­cine would be avail­able from a year to 18 months," he said in a re­sponse to a ques­tion from Di­ana DeGette (D-CO). "I said that in Jan­u­ary of 2020. A year from Jan­u­ary is De­cem­ber. I still think there is a rea­son­ably good chance that by the very be­gin­ning of 2021, that — if we're go­ing to have a vac­cine — that we will have it by then."
For a lit­tle over 2 hours, Fau­ci an­swered ques­tions along­side CDC di­rec­tor Robert Red­field, FDA di­rec­tor Stephen Hahn and HHS as­sis­tant sec­re­tary for health Brett Giroir. He ex­plained ad­ju­vants, the first large-scale tri­als set to be­gin this sum­mer, and how the gov­ern­ment and in­dus­try were scal­ing up pro­duc­tion at-risk so they'll be ready if one proves ef­fec­tive. He bat­ted down the idea that mu­ta­tions in the virus might make a vac­cine in­ef­fec­tive — an as­ser­tion not yet borne out by da­ta on the thou­sands of se­quenced coro­n­avirus genomes.
"Well, we al­ready know it's mu­tat­ed, right?" Kurt Schrad­er (D-OR) said, af­ter Fau­ci said the flu vac­cine is of­ten in­ef­fec­tive be­cause of in­fluen­za virus changes.
"Yeah," said Fau­ci. "That doesn't make any dif­fer­ence. All RNA virus­es mu­tate. That doesn't mean they change."
Hahn, mean­while, faced a litany of ques­tions on how the FDA would eval­u­ate a vac­cine. The agency has faced scruti­ny for its ac­tions dur­ing the out­break par­tic­u­lar­ly af­ter it au­tho­rized the Trump-tout­ed an­ti-malar­ia drug hy­drox­y­chloro­quine, de­spite a pauci­ty of ev­i­dence for the ef­fec­tive­ness.
"Let me be clear," he said. "The da­ta and sci­ence will dic­tate when we will have safe and ef­fec­tive treat­ments and vac­cines for Covid-19."
"The ac­cel­er­a­tion is re­al­ly around tak­ing fi­nan­cial risk round the de­vel­op­men­tal process; the ac­cel­er­a­tion is not cut­ting cor­ners with re­spect to the as­sess­ment of safe­ty and ef­fec­tive­ness," he added when pressed by Fred Up­ton (R-MI). "We've been do­ing this for years, and we will re­ly up­on the sci­ence and da­ta when it's avail­able to us, to make that ad­ju­di­ca­tion and de­ci­sion re­gard­ing an EUA. I can­not pre­judge when that will hap­pen." — Ja­son Mast
Unit­ed Arab Emi­rates hosts PhI­II tri­al for vac­cine can­di­date from Chi­na's Sinopharm
Leapfrog­ging both do­mes­tic and over­seas ri­vals, Chi­na's Sinopharm has start­ed a Phase III tri­al for one of its in­ac­ti­vat­ed vac­cine can­di­dates against Covid-19 in the Unit­ed Arab Emi­rates.
That the study of a home­grown vac­cine is tak­ing place out­side Chi­na high­lights the bizarre prob­lem re­searchers can en­counter when a coun­try brings its lo­cal out­break (even the sec­ond waves) un­der con­trol. If the dis­ease isn't preva­lent enough in a giv­en re­gion, it may be near im­pos­si­ble to tease out the re­al ef­fects of an im­mu­niza­tion com­pared to place­bo.
Sinopharm is work­ing with lo­cal part­ners for both da­ta an­a­lyt­ics and man­u­fac­tur­ing, in­clud­ing Abu Dhabi-based AI and cloud com­put­ing com­pa­ny Group 42.
The vac­cine be­ing test­ed is made by the Wuhan In­sti­tute of Bi­o­log­i­cal Prod­ucts, one of its mul­ti­ple sub­sidiaries, and has com­plet­ed Phase I/II tri­als in Henan province. A sim­i­lar ex­per­i­men­tal vac­cine de­vel­oped by the Bei­jing In­sti­tute of Bi­o­log­i­cal Prod­ucts is still in the ear­li­er phase.
A state-owned en­ter­prise, Sinopharm en­list­ed its own work­ers to help de­ter­mine the safe­ty and ef­fi­ca­cy of the vac­cines in de­vel­op­ment, ul­ti­mate­ly ad­min­is­ter­ing them to more than 1,000 em­ploy­ees. It's al­so of­fered jabs to staffers of oth­er state-owned en­ter­pris­es trav­el­ling over­seas.
Spe­cial­ized man­u­fac­tur­ing fa­cil­i­ties are re­quired to pro­duce in­ac­ti­vat­ed vac­cines since the pro­duc­ers must first bring in the live virus in or­der to "kill" them, ei­ther with heat or chem­i­cals. Sinopharm has dis­closed that it has ca­pac­i­ty to make 120 mil­lion dos­es in Bei­jing and an­oth­er 100 mil­lion in Wuhan — al­though it's not yet clear how many shots each per­son will need. — Am­ber Tong
As­traZeneca turns to Scot­land for lat­est vac­cine sup­ply deal
Scot­land's Sym­bio­sis Phar­ma­ceu­ti­cal is the lat­est part­ner on As­traZeneca's ros­ter for churn­ing out 2 bil­lion dos­es of the Ox­ford vac­cine by the end of 2021.
By Reuters' count, this marks the 10th Covid-19 vac­cine sup­ply deal from the phar­ma gi­ant, which had signed on less than two months ago to scale up the glob­al de­vel­op­ment, man­u­fac­tur­ing and dis­tri­b­u­tion of the chim­panzee ade­n­ovirus-based vac­cine can­di­date orig­i­nat­ing from the Jen­ner In­sti­tute.
The new part­ners didn't spec­i­fy how many dos­es Sym­bio­sis has com­mit­ted to pro­duc­ing, not­ing on­ly that its head­quar­ters in Stir­ling is staffed with 100 pro­fes­sion­als.
With Phase III tri­als un­der­way in the UK and Brazil, As­traZeneca had mapped out plans to launch with help from Op­er­a­tion Warp Speed. — Am­ber Tong
For a look at all End­points News coro­n­avirus sto­ries, check out our spe­cial news chan­nel.