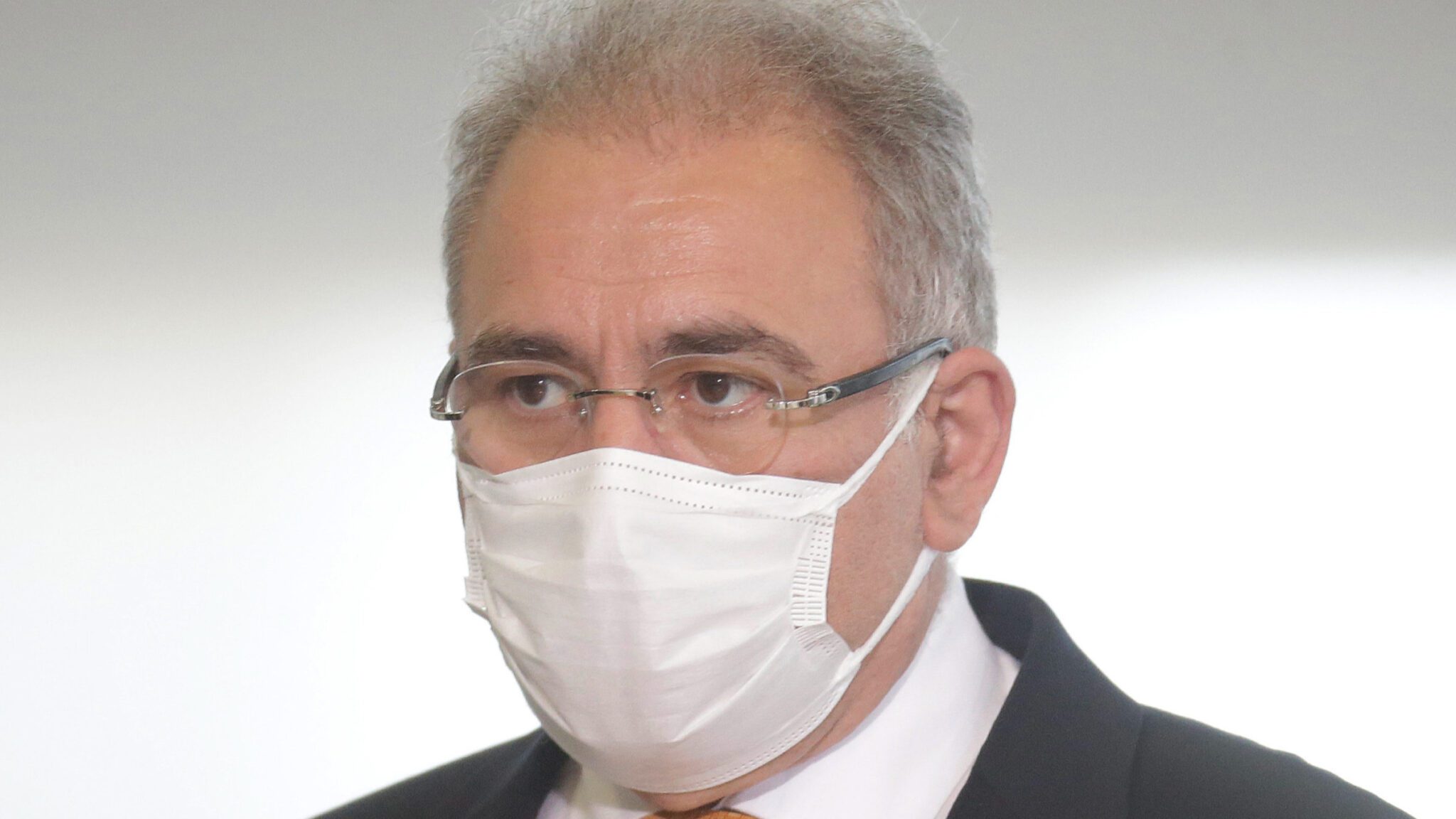 Brazil health minister Marcelo Queiroga [DIDA SAMPAIO/ESTADAO CONTEUDO (Agencia Estado via AP Images)]
Covid-19 roundup: Brazil backs out of Sput­nik V vac­cine deal; White House im­ple­ments new mask, vac­cine man­dates
In March, Brazil's gov­ern­ment signed a con­tract with Rus­sia for 10 mil­lion dos­es of the Sput­nik V vac­cine. Now, the coun­try is back­ing out of that agree­ment with its health min­is­ter cit­ing a lapsed reg­is­tra­tion dead­line as the rea­son why.
Brazil is bat­tling one of the tough­est out­breaks in the world. There has been a re­cent drop in dai­ly cas­es, but the coun­try is still see­ing a sev­en-day av­er­age of over 45,000 in­fec­tions.
Health min­is­ter Marce­lo Queiroga said the lapsed dead­line in the reg­is­tra­tion process with health reg­u­la­tor An­visa — whose emer­gency ap­proval is need­ed — was to blame, and added the na­tion­al im­mu­niza­tion pro­gram doesn't cur­rent­ly need the Russ­ian vac­cine, Reuters re­port­ed.
Queiroga al­so can­celed a $316 mil­lion con­tract for 20 mil­lion dos­es of Co­v­ax­in, the jab made by In­dia's Bharat Biotech. Bharat is be­ing in­ves­ti­gat­ed over ac­cu­sa­tions of ir­reg­u­lar­i­ties, ac­cord­ing to Reuters.
Brazil has had near­ly 20 mil­lion Covid-19 cas­es and 554,000 deaths since the start of the pan­dem­ic.
White House im­ple­ments mask man­date in­side fed­er­al build­ings, vac­cine man­date for work­ers
Urg­ing in a speech that a mask is not a po­lit­i­cal state­ment and warn­ing the coun­try was not yet out of the woods, US Pres­i­dent Joe Biden en­act­ed a vac­ci­na­tion man­date for all fed­er­al em­ploy­ees Thurs­day.
The move comes af­ter civil­ian hos­pi­tals and the De­part­ment of Vet­er­an Af­fairs have an­nounced their own man­date. Any fed­er­al em­ploy­ee who is not vac­ci­nat­ed will be re­quired to wear a mask and be test­ed twice a week for work. Those em­ploy­ees will al­so not be able to trav­el for work. The same ini­tia­tives will be ap­plied to fed­er­al con­trac­tors.
"If you want to do busi­ness with the fed­er­al gov­ern­ment, get your work­ers vac­ci­nat­ed," he said.
All vis­i­tors to fed­er­al build­ings will al­so have to wear a mask in­doors, Biden said. The up­date comes along with the CDC's rec­om­men­da­tion to wear a mask in­side a pub­lic place, such as the gro­cery store or the work­place. The in­crease of cas­es of the Delta vari­ant, which orig­i­nat­ed in In­dia, has raised cause for con­cern, as a vac­ci­nat­ed per­son who is pro­tect­ed from se­vere ill­ness could still pass on the vari­ant to an un­vac­ci­nat­ed per­son.
"The bot­tom line is: If you're ful­ly vac­ci­nat­ed, you're high­ly pro­tect­ed from COVID-19," Biden said. "But I al­so know that many of you who are vac­ci­nat­ed are con­cerned about what's called 'break­through cas­es.' Yes, some ful­ly vac­ci­nat­ed peo­ple will still test pos­i­tive, and some will show some symp­toms of COVID-19. That's ex­pect­ed with al­most every vac­cine there is for oth­er dis­eases."
The fed­er­al gov­ern­ment will now re­im­burse small-to-medi­um sized busi­ness­es that of­fer em­ploy­ees paid time off to get vac­ci­nat­ed them­selves, or to bring their fam­i­ly mem­bers to get vac­ci­nat­ed. It's al­so of­fer­ing $100 to any­one who gets ful­ly vac­ci­nat­ed.
"I know that pay­ing peo­ple to get vac­ci­nat­ed might sound un­fair to folks who've got­ten vac­ci­nat­ed al­ready, but here's the deal: If in­cen­tives help us beat this virus, I be­lieve we should use them," Biden said.
About 190 mil­lion Amer­i­cans have had at least one shot, and more than 163 mil­lion of those peo­ple have re­ceived both. Still, less than 50% of Amer­i­cans have got­ten the shot. Biden al­so de­fin­i­tive­ly told Amer­i­cans that there is no need for boost­er shots at this mo­ment. But if the sci­ence in­di­cates oth­er­wise in the fu­ture, his stance on that will change.