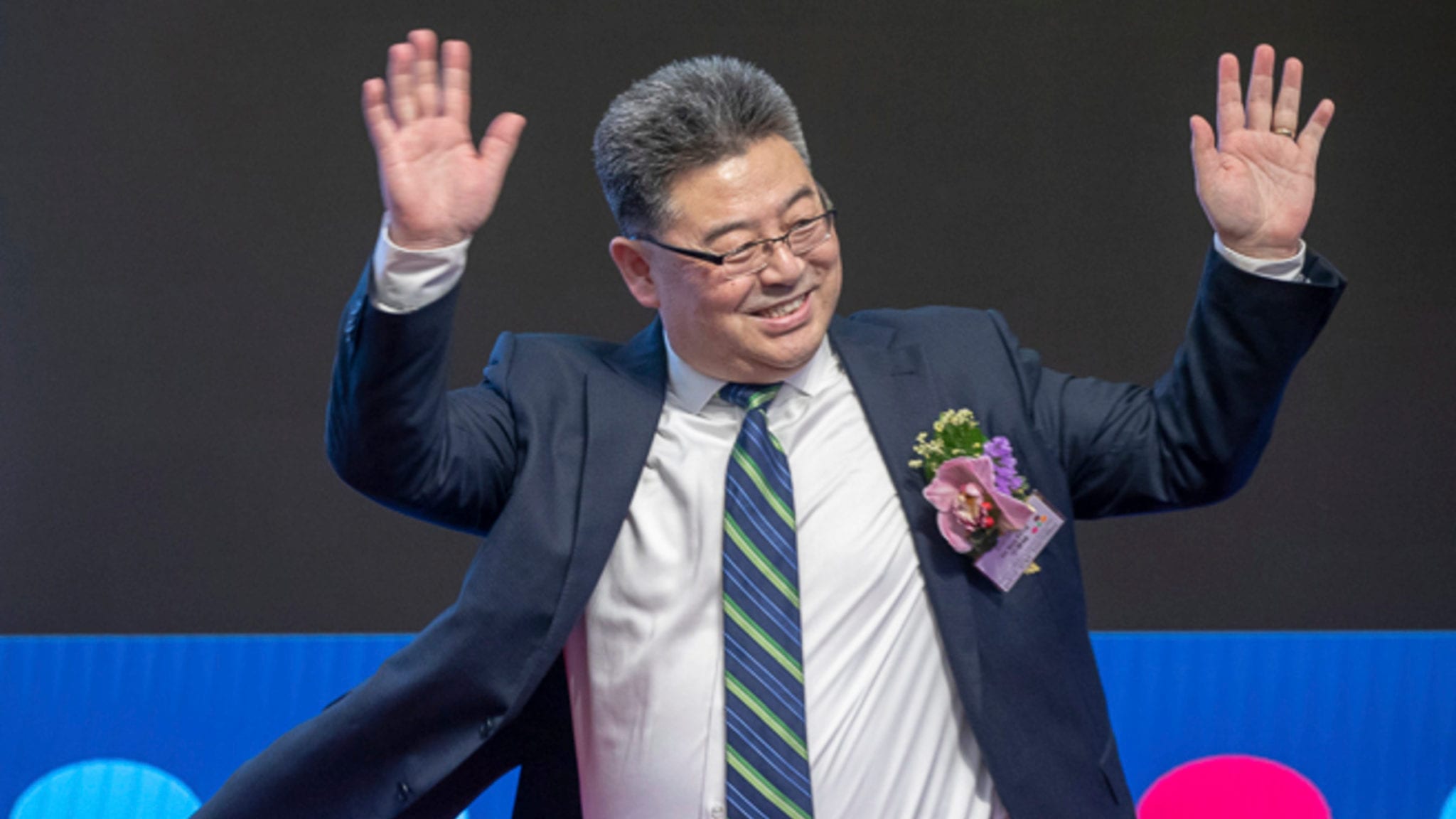 Xuefeng Yu, CanSino Biologics CEO (Imaginechina via AP Images)
Covid-19 roundup: CanSi­no's in­haled vac­cine gets thumbs-up from Chi­nese reg­u­la­tors; Sino­vac gets go-ahead for boost­er tri­al in Chile
While the world has been fo­cused on in­jectable boost­er shots to ad­dress the Omi­cron vari­ant, one com­pa­ny fo­cused on a dif­fer­ent ap­proach has seen its prod­uct take a ma­jor step for­ward.
Chi­nese biotech CanSi­no Bi­o­log­ics has re­ceived ap­proval from the Na­tion­al Med­ical Prod­ucts Ad­min­is­tra­tion of Chi­na for its in­haled Covid-19 vac­cine, dubbed Con­vide­cia Air, to be used as a boost­er.
The com­pa­ny said that its boost­er us­es an ade­n­ovirus vec­tor plat­form and it tout­ed the non-in­va­sive na­ture of the vac­cine, as com­pared to in­jectable jabs al­ready on the mar­ket. The boost­er dose us­es a neb­u­liz­er to change liq­uid in­to an aerosol so it can be in­haled via the mouth.
In 2020, CanSi­no pre­sent­ed the vac­cine's ef­fec­tive­ness in The Lancet, along with sev­er­al ex­perts giv­ing the spray a pos­i­tive re­view.
The Lancet's re­port on Phase II of the vac­cine in 2021 showed that it had in­duced over 85% of vol­un­teers to cre­ate an­ti­bod­ies for the nov­el coro­n­avirus and a T-cell re­sponse with­in 14 days of re­ceiv­ing the vac­cine. There were al­so no se­ri­ous ad­verse events re­port­ed.
While the ap­proval is good news for CanSi­no, it needs a pick me up as the com­pa­ny has been star­ing down an 82% drop in its stock price since Sep­tem­ber of last year.
Clover Bio­ther­a­peu­tics un­veils PhI­II da­ta for its Covid-19 boost­er
As boost­er vac­cines to counter the Omi­cron vari­ant are be­gin­ning to roll out, oth­er biotechs are not giv­ing up the ship in pre­sent­ing re­sults for its can­di­dates.
Clover Bio­ther­a­peu­tics on Tues­day pre­sent­ed da­ta from its Phase III tri­al for its vac­cine can­di­date SCB-2019, as a uni­ver­sal boost­er for the virus.
The da­ta from its study, which was con­duct­ed in the Philip­pines, showed that a boost­er dose of SCB-2019 in par­tic­i­pants who had re­ceived two dos­es of the in­ac­ti­vat­ed vac­cine did have an im­mune re­sponse against both the orig­i­nal strain as well as the Omi­cron vari­ants BA.1 and BA.2.
Pa­tients with low pre-boost­er an­ti­body lev­els showed that the boost­er can­di­date gave a 17-fold in­crease in an­ti­bod­ies against the orig­i­nal strain, with the geo­met­ric mean titers (GMT) of an­ti­bod­ies in­creas­ing from 44 to 733.
The boost­er al­so had a 6-fold in­crease in an­ti­bod­ies against BA.1 and an 8-fold boost against BA.2. How­ev­er, no re­sults were giv­en against the BA.5 vari­ant. Ac­cord­ing to the com­pa­ny, those da­ta are ex­pect­ed to be re­leased soon, but no time­line was giv­en.
The com­pa­ny is al­so look­ing to en­roll a co­hort to in­ves­ti­gate the ef­fects of a fourth dose of the boost­er can­di­date, as well.
Sino­vac gets the green light to in­ves­ti­gate its omi­cron vac­cine can­di­date in Chile
While Sino­vac has hit stum­bling blocks in South Amer­i­ca pre­vi­ous­ly — with Brazil halt­ing over 12 mil­lion dos­es last year af­ter its man­u­fac­tur­ing site was not ap­proved for emer­gency use — the com­pa­ny is go­ing ahead with a clin­i­cal tri­al in an­oth­er coun­try on the con­ti­nent.
The Chilean Pub­lic Health In­sti­tute has giv­en the Chi­nese phar­ma the go-ahead to con­duct a Phase II tri­al for its Omi­cron strain Covid-19 vac­cine and triva­lent vac­cine, which is de­signed to counter the orig­i­nal strain as well as all Delta and Omi­cron vari­ants, the com­pa­ny an­nounced on Tues­day.
The tri­al will eval­u­ate the safe­ty and im­muno­genic­i­ty of one boost­er dose of the two can­di­dates in adults who have al­ready re­ceived two vac­cine dos­es, the com­pa­ny said. The dou­ble-blind Phase II aims to en­roll 826 pa­tients.