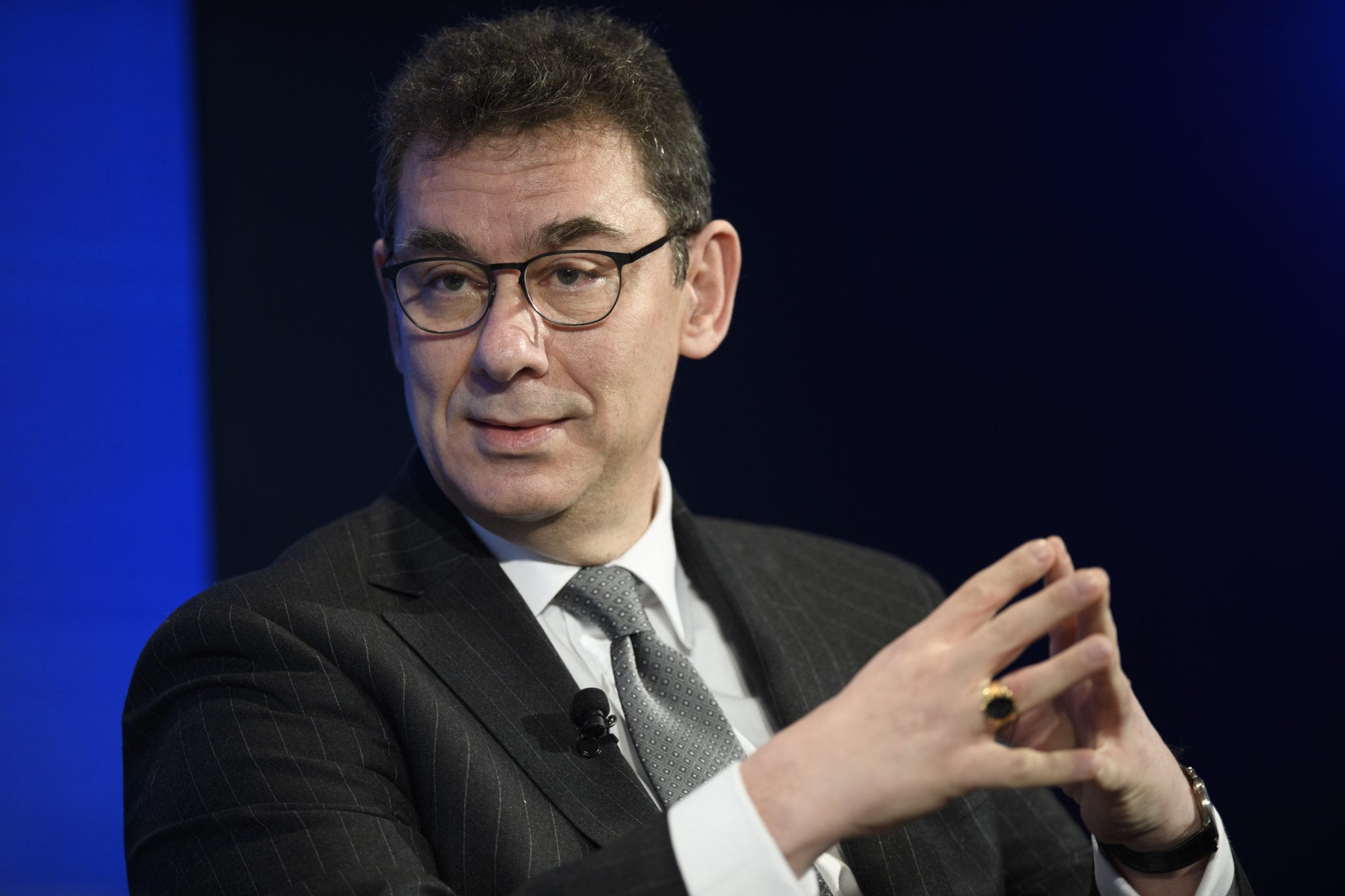 Covid-19 roundup: Al­bert Bourla says Pfiz­er PhI­II is at 23,000 pa­tients, sub­mis­sion com­ing end of Oc­to­ber
Months ago, pub­lic health of­fi­cials thought it could take sev­er­al months to prove a vac­cine works. Even when con­tin­u­al­ly high coro­n­avirus case counts in the US made tri­als eas­i­er to run, there was still con­cern about how quick­ly com­pa­nies would be able to en­roll vol­un­teers.
On Thurs­day, though, Pfiz­er CEO Al­bert Bourla dis­closed that, as of yes­ter­day, Pfiz­er had reached 23,000 vol­un­teers in the Phase III tri­al for their mR­NA Covid-19 vac­cine, a "sig­nif­i­cant num­ber" of whom have al­ready got­ten the sec­ond dose. That would put Pfiz­er and their part­ner BioN­Tech just 7,000 pa­tients short of their tar­get and, Bourla said, in line to give an up­date on ef­fi­ca­cy by the end of Oc­to­ber.
"By the end of Oc­to­ber… we should have enough events to know if the prod­uct works or not," Bourla said, adding they would "im­me­di­ate­ly" sub­mit for the vac­cine ap­proval. "We've al­ready worked on the rest of the file," he said.
The time­line would be in line with what gov­ern­ment of­fi­cials are ev­i­dent­ly prepar­ing for. The CDC this week sent out a let­ter to states urg­ing them to pre­pare for vac­cine dis­tri­b­u­tion by Oc­to­ber 1. Those plans ap­peared de­signed for ei­ther a vac­cine from Mod­er­na or Pfiz­er. These can­di­dates, both com­posed of mR­NA, have to be kept in ul­tra-cold stor­age set­tings, mak­ing the dis­tri­b­u­tion more com­plex than for oth­er vac­cines.
Mod­er­na, the oth­er com­pa­ny with a Phase III vac­cine tri­al that has kept apace with Pfiz­er, was at 17,458 en­rollees as of last Fri­day.
Bourla al­so said that the com­pa­ny had de­vel­oped an an­tivi­ral mol­e­cule that is now in the clin­ic and would have safe­ty re­sults be­fore the end of the month. Pfiz­er has said for months that it is work­ing on an­tivi­rals, but it had not dis­closed a com­pound. A clin­i­cal tri­al list­ing for the drug, known as PF-07304814, went up ear­li­er this week. It is a 56-per­son Phase I study.
"It could be an al­ter­na­tive for peo­ple who don't re­spond very well to remde­sivir," Bourla said, "or it could be in com­bi­na­tion."
– Ja­son Mast
US says it won't pay re­main­ing WHO dues
Fol­low­ing the an­nounce­ment that the US plans to leave the WHO in Ju­ly, gov­ern­ment of­fi­cials said Wednes­day the coun­try would not pay its re­main­ing dues to the or­ga­ni­za­tion.
The US is ex­pect­ed to with­draw on Ju­ly 6, 2021, and has re­main­ing dues of about $80 mil­lion that are owed. That mon­ey will in­stead be redi­rect­ed to­ward fund­ing oth­er Unit­ed Na­tions pro­grams, ac­cord­ing to a Reuters re­port. About $18 mil­lion re­mains from the coun­try's oblig­a­tions from fis­cal year 2019, while the re­main­ing $62 mil­lion is from fis­cal year 2020.
Most of the mon­ey will help pay for chil­dren's im­mu­niza­tion and flu pro­grams, and the US will con­tin­ue to sup­port WHO work in Libya and Syr­ia and on erad­i­cat­ing po­lio in Pak­istan and Afghanistan, the New York Times wrote. Amer­i­can of­fi­cials work­ing as ad­vi­sors to the WHO will al­so be with­drawn.
UN mem­bers are re­quired to give one year's no­tice about with­drawals. About two months ago, on Ju­ly 7, Pres­i­dent Don­ald Trump for­mal­ly no­ti­fied the WHO that the US would be leav­ing and claimed that it had be­come a mouth­piece for Chi­na dur­ing the Covid-19 pan­dem­ic.
His­tor­i­cal­ly, the US has been the biggest boost­er of the WHO, help­ing found the or­ga­ni­za­tion af­ter World War II. Joe Biden, the De­mo­c­ra­t­ic pres­i­den­tial nom­i­nee, has said he will re-en­ter the WHO should he win the No­vem­ber elec­tion. — Max Gel­man
CDC di­rec­tor tells states to be ready for vac­cine dis­tri­b­u­tion by Nov. 1
Drug­mak­ers aren't the on­ly ones fac­ing pres­sure to hur­ry out a vac­cine. Last week, CDC di­rec­tor Robert Red­field penned a let­ter to state gov­er­nors, re­quest­ing that vac­cine dis­tri­b­u­tion sites be ful­ly op­er­a­tional by Nov. 1.
Red­field urged gov­er­nors to fast-track per­mits and li­cens­es, ac­cord­ing to a Mc­Clatchy re­port. "The nor­mal time re­quired to ob­tain these per­mits presents a sig­nif­i­cant bar­ri­er to the suc­cess of this ur­gent pub­lic health pro­gram," the let­ter read.
"CDC ur­gent­ly re­quests your as­sis­tance in ex­pe­dit­ing ap­pli­ca­tions for these dis­tri­b­u­tion fa­cil­i­ties … and, if nec­es­sary, asks that you con­sid­er waiv­ing re­quire­ments that would pre­vent these fa­cil­i­ties from be­com­ing ful­ly op­er­a­tional by No­vem­ber 1, 2020," it con­tin­ued.
The Aug. 27 re­quest came on the same day that pres­i­dent Don­ald Trump gave a na­tion­al speech promis­ing a "safe and ef­fec­tive" vac­cine with­in the next four months. And ru­mors have spread that mem­bers of the Trump ad­min­is­tra­tion told De­mo­c­ra­t­ic leader Nan­cy Pelosi a vac­cine can­di­date could get emer­gency ap­proval as ear­ly as Sep­tem­ber, and that it would like­ly be As­traZeneca's.
Dis­trib­u­tors are brac­ing for sig­nif­i­cant chal­lenges ahead, in­clud­ing the avail­abil­i­ty of cold stor­age fa­cil­i­ties to keep vac­cines sta­ble. Some mR­NA can­di­dates must be stored at tem­per­a­tures as low as -80 de­grees Cel­sius.
Mod­er­na, which ex­pects to com­plete Phase III en­roll­ment for its vac­cine tri­al this month, said its can­di­date would need to be stored long-term at -20 de­grees Cel­sius. BioN­Tech and Pfiz­er's can­di­date re­quires long-term stor­age at -70 de­grees Cel­sius. Last week, the com­pa­nies an­nounced they've en­rolled near­ly half of 30,000 ex­pect­ed Phase III par­tic­i­pants.
FDA com­mis­sion­er Stephen Hahn has vowed vac­cine ap­proval will be strict­ly da­ta-dri­ven. "We at FDA do not per­mit pol­i­tics to en­ter in­to our sci­en­tif­ic de­ci­sions," he tweet­ed last week.
We at FDA do not per­mit pol­i­tics to en­ter in­to our sci­en­tif­ic de­ci­sions. This hap­pens to be a po­lit­i­cal sea­son but FDA will re­main da­ta dri­ven. On be­half of FDA's 18,000 ca­reer em­ploy­ees, I want to re­as­sure the Amer­i­can pub­lic about this com­mit­ment.

— Dr. Stephen M. Hahn (@SteveF­DA) Au­gust 25, 2020
But the com­mis­sion­er is fac­ing heat for mis­lead­ing com­ments he made about the ef­fi­ca­cy of con­va­les­cent plas­ma as a Covid-19 treat­ment. Days lat­er, he an­nounced that a vac­cine ad­vi­so­ry com­mit­tee meet­ing will take place on Oct 22.
"If you are mak­ing a de­ci­sion about the vac­cine, you'd bet­ter be sure you have very good ev­i­dence that it is both safe and ef­fec­tive," Fau­ci said in an in­ter­view with KHN on Tues­day. "I'm not con­cerned about po­lit­i­cal pres­sure." — Nicole De­Feud­is
Steroids re­duce mor­tal­i­ty by 20% in se­vere Covid-19 cas­es, re­searchers say
A new analy­sis of sev­en in­ter­na­tion­al tri­als is point­ing to­ward steroids as a po­ten­tial­ly ef­fec­tive treat­ment for the sick­est of Covid-19 pa­tients.
The study, pub­lished in JA­MA on Wednes­day, pooled da­ta from tri­als uti­liz­ing three types of cor­ti­cos­teroids in more than 1,700 pa­tients in in­ten­sive care. Re­searchers found that the risk of death was re­duced by 20% and as­sert­ed that the drugs should be the first-line treat­ment for se­vere­ly ill pa­tients.
"The meta-analy­sis in­di­cates that ad­min­is­tra­tion of steroids is clear­ly as­so­ci­at­ed with ben­e­fit among crit­i­cal­ly ill pa­tients with COVID-19, al­though the ex­act thresh­old at which an in­di­vid­ual pa­tient should be pre­scribed cor­ti­cos­teroids re­mains un­clear," re­searchers wrote in a re­lat­ed ed­i­to­r­i­al.
Late Wednes­day, the WHO up­dat­ed its treat­ment guid­ance to make a "strong rec­om­men­da­tion" for the use of low dose hy­dro­cor­ti­sone, dex­am­etha­sone and methyl­pred­nisolone in crit­i­cal cas­es. The pa­per did not find that the drugs had any ef­fect on milder Covid-19 pa­tients.
On­ly Gilead's remde­sivir has proven to be ef­fec­tive in treat­ing se­vere Covid-19 cas­es, though its ben­e­fits thus far have been lim­it­ed.
Wednes­day's pa­per fol­lows stud­ies from Ox­ford re­searchers back in June in­di­cat­ing that dex­am­etha­sone could re­duce the risk of mor­tal­i­ty in such cas­es. The steroid had shown by it­self a one-third re­duc­tion among pa­tients on ven­ti­la­tors and a one-fifth re­duc­tion in those re­ceiv­ing oxy­gen.
Steroids can cause some side ef­fects such as open­ing the body to oth­er in­fec­tions, how­ev­er, and the WHO's new guid­ance said that those risks re­in­force that the drugs should not be used in milder cas­es. — Max Gel­man
Chi­na ex­pands emer­gency vac­cine use to avi­a­tion in­dus­try
First it's the mil­i­tary. Then came of­fers for state em­ploy­ees dis­patched over­seas, as well as med­ical work­ers and bor­der con­trol of­fi­cers. Now, Chi­na is hand­ing out ex­per­i­men­tal coro­n­avirus vac­cines to those in the avi­a­tion in­dus­try.
The move is an ex­pan­sion of the emer­gency use pro­gram that be­gan in Ju­ly, whose stat­ed goal is to boost the im­mu­ni­ty of high-risk groups to pre­vent a new wave of in­fec­tions.
Chi­na's avi­a­tion reg­u­la­tor has told air­lines, air­ports, Chi­na Na­tion­al Avi­a­tion Fu­el Group and Trav­el­Sky Tech­nol­o­gy that their front­line work­ers can ac­cess a vac­cine can­di­date on a vol­un­tary ba­sis, Reuters re­port­ed cit­ing a no­tice.
It's un­clear which vac­cines the work­ers will be giv­en. Pre­vi­ous re­ports of vac­ci­na­tion cam­paigns at state-owned en­ter­pris­es al­so trig­gered eth­i­cal con­cerns about con­sent, as ex­perts be­lieve em­ploy­ees may feel pres­sured to say yes to a vac­cine de­spite lack of safe­ty and ef­fi­ca­cy da­ta from large-scale tri­als.
Four vac­cine can­di­dates from Chi­nese de­vel­op­ers have en­tered Phase III — all over­seas — so far. Among them, CanSi­no's ade­n­ovirus-based shot is au­tho­rized for mil­i­tary use while Sino­vac and Sinopharm both have vac­cines cleared for ad­min­is­tra­tion among high-risk groups. — Am­ber Tong
For a look at all End­points News coro­n­avirus sto­ries, check out our spe­cial news chan­nel.