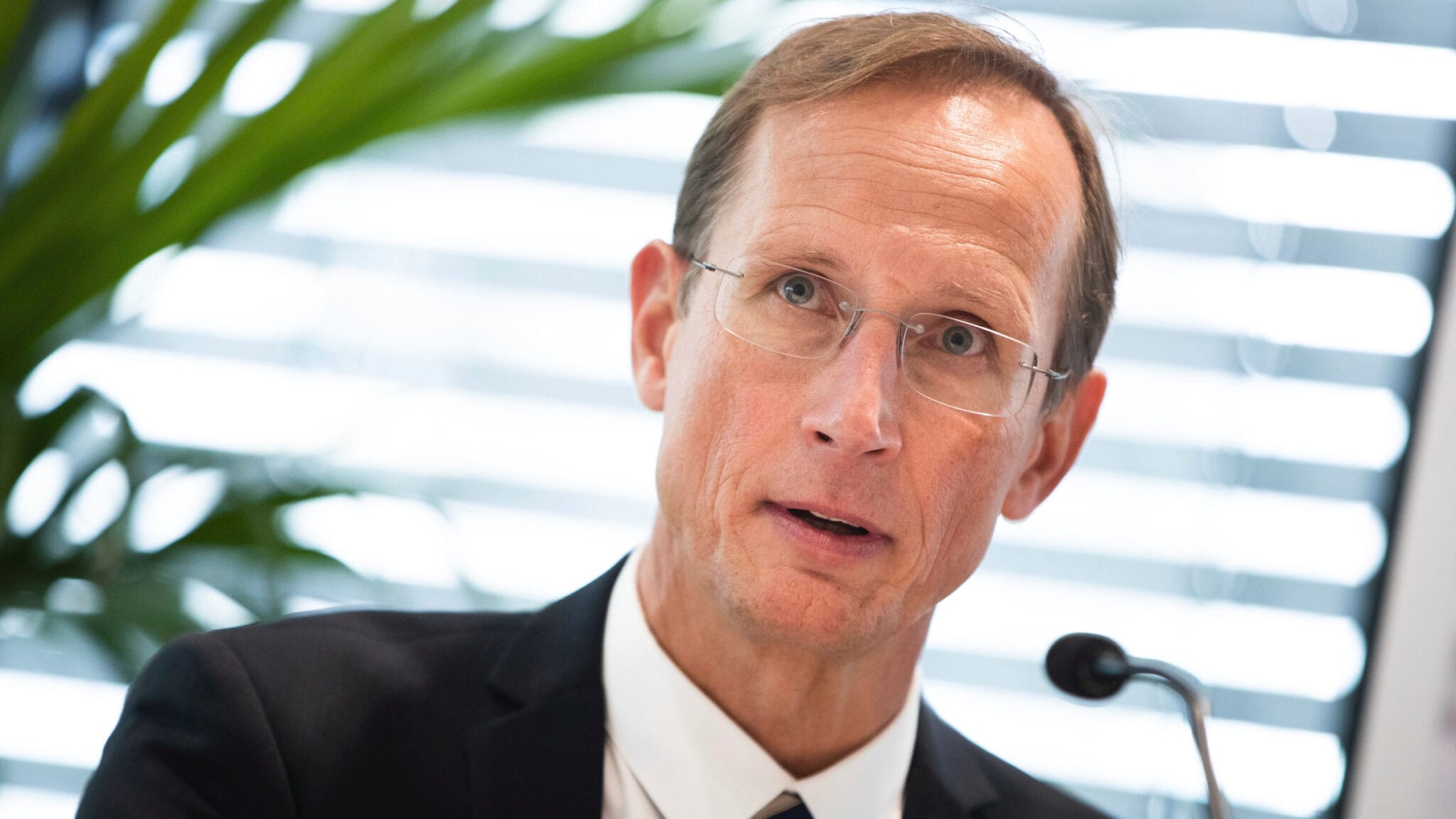 Franz-Werner Haas, CureVac CEO (Christoph Schmidt/picture-alliance/dpa/AP Images)
Covid-19 roundup: Cure­Vac push­es ahead for vac­cine au­tho­riza­tion de­spite fail­ing to hit 50% ef­fi­ca­cy thresh­old
All mR­NA vac­cines are not cre­at­ed equal. And Ger­many-based Cure­Vac found out the hard way on Wednes­day as its piv­otal tri­al showed its vac­cine is 48% ef­fec­tive against Covid-19 across all age groups stud­ied.
While reg­u­la­tors have set the ef­fi­ca­cy bar at 50% for new Covid-19 vac­cines, Cure­Vac CEO Franz-Wern­er Haas made clear on Wednes­day that he still in­tends to still seek li­cen­sure for the vac­cine, par­tic­u­lar­ly in the EU and for cer­tain age groups that per­formed bet­ter in the tri­al than the over­all re­sult.
"In this fi­nal analy­sis, CVn­CoV demon­strates a strong pub­lic health val­ue in ful­ly pro­tect­ing study par­tic­i­pants in the age group of 18 to 60 against hos­pi­tal­iza­tion or death and 77% against mod­er­ate and se­vere dis­ease – an ef­fi­ca­cy pro­file, which we be­lieve will be an im­por­tant con­tri­bu­tion to help man­age the COVID-19 pan­dem­ic and the dy­nam­ic vari­ant spread," he said in a state­ment.
Haas al­so told the Wash­ing­ton Post in an in­ter­view that Cure­Vac is in dis­cus­sion with the Eu­ro­pean Med­i­cines Agency about the da­ta, with an em­pha­sis on that 18 to 60 year old group. The Eu­ro­pean Com­mis­sion last No­vem­ber or­dered 225 mil­lion dos­es of the vac­cine, with an op­tion to buy 180 mil­lion more.
But a mem­ber of the Ger­man par­lia­ment tweet­ed on ear­ly Thurs­day that he did not think the vac­cine would be au­tho­rized, even for the lim­it­ed pop­u­la­tion, al­though he still thinks the Ger­man gov­ern­ment was right to in­vest in Cure­Vac.
Cure­vac wird auch keine Zu­las­sung für die 18-60 Jähri­gen bekom­men. Dafür ist Wirk­samkeit von 53% in der Gruppe zu ger­ing. Es ist schade, aber so geht Wis­senschaft. Das Konzept war clever und ging nicht auf. Trotz­dem war es richtig, dass Bund in­vestiert hat https://t.co/kpRn­Jo9255

— Karl Lauter­bach (@Karl_Lauter­bach) Ju­ly 1, 2021
Break­down of tri­al re­sults: Of the 228 cas­es of Covid-19 that oc­curred dur­ing the Phase IIb/III tri­al in about 40,000 healthy par­tic­i­pants, 83 were among those re­ceiv­ing the ex­per­i­men­tal vac­cine, while 145 cas­es were among those ad­min­is­tered place­bo.
And while the vac­cine proved to be 100% pro­tec­tive (0 cas­es among those re­ceiv­ing the vac­cine vs. 6 on place­bo) against hos­pi­tal­iza­tions or death, Cure­Vac al­so said that in par­tic­i­pants above 60 years, "the avail­able da­ta did not en­able a sta­tis­ti­cal­ly sig­nif­i­cant de­ter­mi­na­tion of ef­fi­ca­cy."
What's next: As Cure­Vac awaits word from the EMA, the com­pa­ny is al­so work­ing on sec­ond-gen­er­a­tion Covid vac­cine can­di­dates in part­ner­ship with GSK, and ex­pects that the first can­di­date will reach clin­i­cal test­ing in the third quar­ter of 2021, with the goal of mar­ket­ing the vac­cine next year.
Dis­agree­ments among WTO mem­bers per­sist on waiv­er to roll back IP pro­tec­tions for Covid vac­cines
As the Eu­ro­pean Union hard­ens its op­po­si­tion to tem­porar­i­ly waiv­ing IP pro­tec­tions, splits among the fac­tions sup­port­ing such a waiv­er are be­gin­ning to show, ac­cord­ing to Law360 cov­er­age of an in­for­mal meet­ing con­vened in Gene­va by Am­bas­sador Dagfinn Sør­li of Nor­way.
While any waiv­er will re­quire the unan­i­mous agree­ment of the WTO's 159 mem­bers (and more than 100 mem­bers sup­port such an IP waiv­er), dis­cus­sions among those in fa­vor of the waiv­er are splin­ter­ing over whether to in­clude more than just vac­cines. The Biden ad­min­is­tra­tion has pledged its sup­port for just a vac­cine waiv­er, seek­ing a more prag­mat­ic ap­proach, while the South Africa del­e­ga­tion is seek­ing to ex­tend the waiv­er to "pri­or­i­ty med­ical de­vices," such as ven­ti­la­tors, pa­tient mon­i­tors and med­ical and sur­gi­cal masks, as well as the raw ma­te­ri­als need­ed to make the vac­cines.
The EU main­tains that its al­ter­na­tive plan, which wouldn't ac­tu­al­ly waive any IP, could do more to build up vac­cine sup­plies. And in the in­for­mal ne­go­ti­a­tions on Wednes­day, the US joined with the EU — along with the UK, Switzer­land, Mex­i­co, Japan and Brazil, among oth­ers — in ar­gu­ing that greater ac­cess to Covid vac­cines and ther­a­peu­tics would still be pos­si­ble while large­ly main­tain­ing IP laws as they are.
EU launch­es dig­i­tal cer­tifi­cate to ease trav­el for those who've been vac­ci­nat­ed
The Eu­ro­pean Com­mis­sion on Thurs­day of­fi­cial­ly launched its "EU Dig­i­tal COVID Cer­tifi­cate Reg­u­la­tion," to ease the process of trav­el­ing be­tween EU coun­tries for those who are vac­ci­nat­ed.
Un­der the new rules, EU mem­ber states are not al­lowed to im­pose ad­di­tion­al trav­el re­stric­tions on hold­ers of a cer­tifi­cate, un­less they are nec­es­sary and pro­por­tion­ate to safe­guard pub­lic health.
"In March, we promised to have an EU-wide sys­tem to fa­cil­i­tate free and safe trav­el with­in the EU by the sum­mer hol­i­days. Now we can con­firm that the EU Dig­i­tal COVID Cer­tifi­cate sys­tem is up and run­ning," said EC pres­i­dent Ur­su­la von der Leyen. "A vast ma­jor­i­ty of EU Mem­ber States are al­ready con­nect­ed to the sys­tem and ready to is­sue and ver­i­fy the Cer­tifi­cates. More than 200 mil­lion cer­tifi­cates have al­ready been gen­er­at­ed."