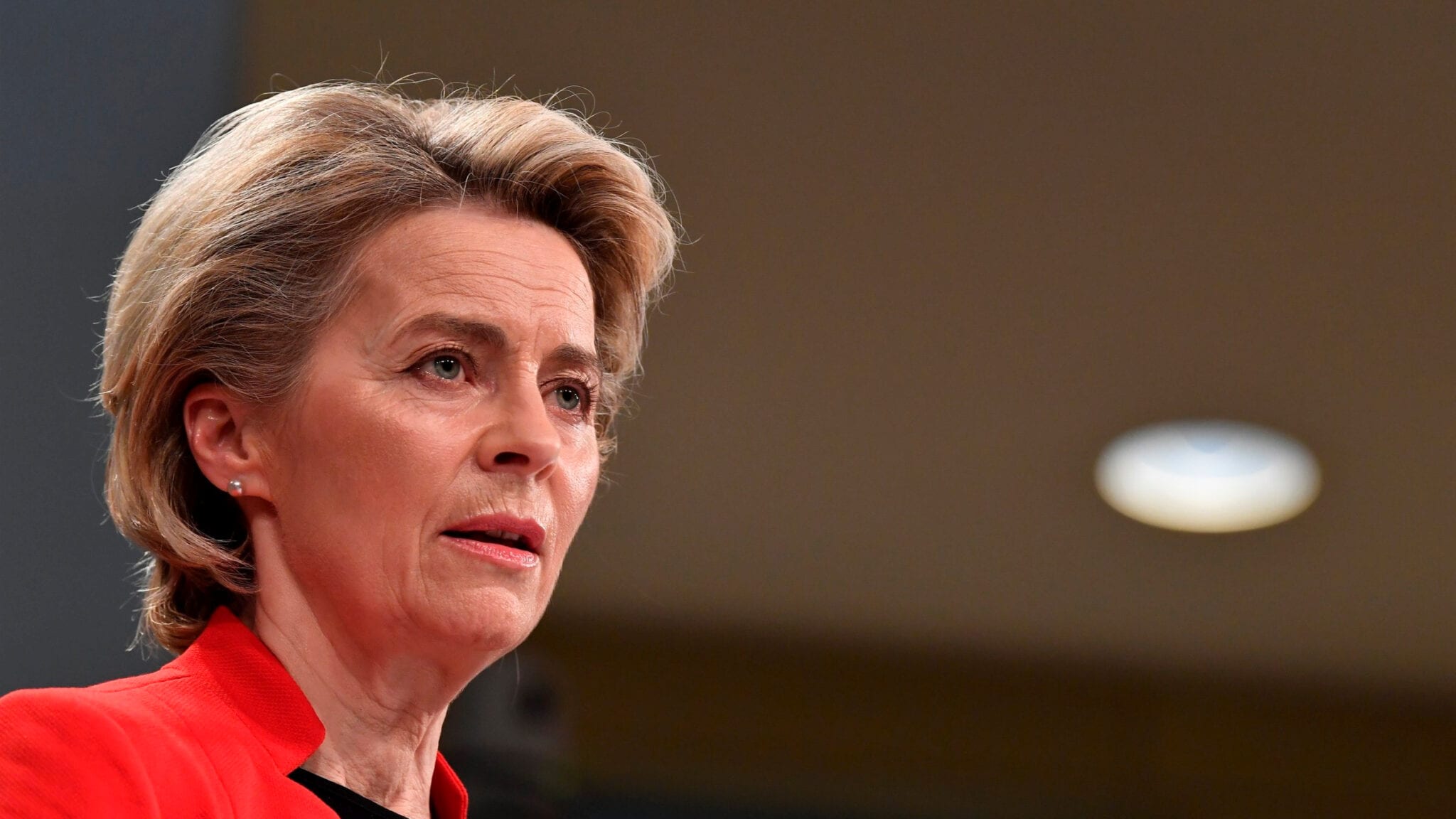 Ursula von der Leyen (AP Images)
Covid-19 roundup: Fac­ing sup­ply de­lay, UK fires shot at Eu­rope af­ter EU threat­ens to ban As­traZeneca vac­cine ex­ports
In the wake of Brex­it, lin­ger­ing ten­sion be­tween Britain and the EU has on­ly grown more pro­nounced with the bumpy roll­out of As­traZeneca's Covid-19 vac­cine. Now, the for­mer mem­ber state is at odds with the con­ti­nent over ex­ports re­lat­ed to the shot.
Eu­ro­pean Com­mis­sion head Ur­su­la von der Leyen threat­ened on Wednes­day to ban EU ex­ports of Covid-19 vac­cines to Britain in or­der to en­sure mem­ber states had enough ac­cess, as the con­ti­nent is see­ing an emerg­ing third wave of the virus and more than a dozen Eu­ro­pean na­tions sus­pend­ed use of the As­traZeneca shot.
"We are still wait­ing for dos­es to come from the UK," von der Leyen said, per Reuters. She lat­er added, "If this sit­u­a­tion does not change, we will have to re­flect on how to make ex­ports to vac­cine-pro­duc­ing coun­tries de­pen­dent on their lev­el of open­ness."
That prompt­ed a harsh re­buke from British health min­is­ter Matt Han­cock, who as­sert­ed the UK has a le­gal right to the shots be­cause they helped fund, de­vel­op and set up the As­traZeneca sup­ply chain.
As­traZeneca has been in hot wa­ter for the last few months, af­ter say­ing ear­li­er this year that they would not be able to meet the num­ber of vac­cines orig­i­nal­ly promised in their con­tracts. Ad­di­tion­al­ly, re­ports of blood clots are caus­ing sev­er­al coun­tries — in­clud­ing Ger­many, Nor­way and Den­mark — to tem­porar­i­ly halt the roll­out of As­traZeneca's Covid-19 vac­cine.
The tit-for-tat be­tween von der Leyen and Han­cock comes as the UK gov­ern­ment said Thurs­day that dis­tri­b­u­tion of the As­traZeneca/Ox­ford Uni­ver­si­ty shots will be slow­er than orig­i­nal­ly hoped due to a lack of sup­ply an­tic­i­pat­ed at the end of the month, ac­cord­ing to Reuters.
UK health of­fi­cials had not giv­en a rea­son for the slow­down, though As­traZeneca and Pfiz­er said that they're both on sched­ule and their sup­ply chains are not ex­pe­ri­enc­ing any dis­rup­tion. But it emerged ear­ly Thurs­day that the short­fall is in part due to a de­lay in de­liv­ery from the Serum In­sti­tute of In­dia.
Per the BBC, a ship­ment of five mil­lion dos­es has been held up for at least four weeks. The goal had been to ship the vac­cines some­time this month, but there was no spe­cif­ic time out­lined for the de­liv­ery.
UK hous­ing sec­re­tary Robert Jen­rick told the net­work that nei­ther a sin­gle fac­to­ry nor a coun­try was re­spon­si­ble for sup­ply is­sues. He added that the coun­try's goal to of­fer shots to every­one over 50 by April 15 will not be af­fect­ed by the de­lay.
But the UK is al­so draw­ing crit­i­cism for or­der­ing vac­cines from a com­pa­ny that is a promi­nent sup­pli­er of CO­V­AX, the or­ga­ni­za­tion pro­vid­ing vac­cines to low- and mid­dle-in­come coun­tries.
Why is the UK even or­der­ing dos­es of vac­cine from @Seru­mIn­stIn­dia when this site is sup­posed to be ship­ping dos­es to low- and mid­dle-in­come coun­tries?

Why do our 40-year-olds need to be vac­ci­nat­ed be­fore health work­ers in poor coun­tries?

— Natasha Loder (@natashaloder) March 18, 2021
For a look at all End­points News coro­n­avirus sto­ries, check out our spe­cial news chan­nel.