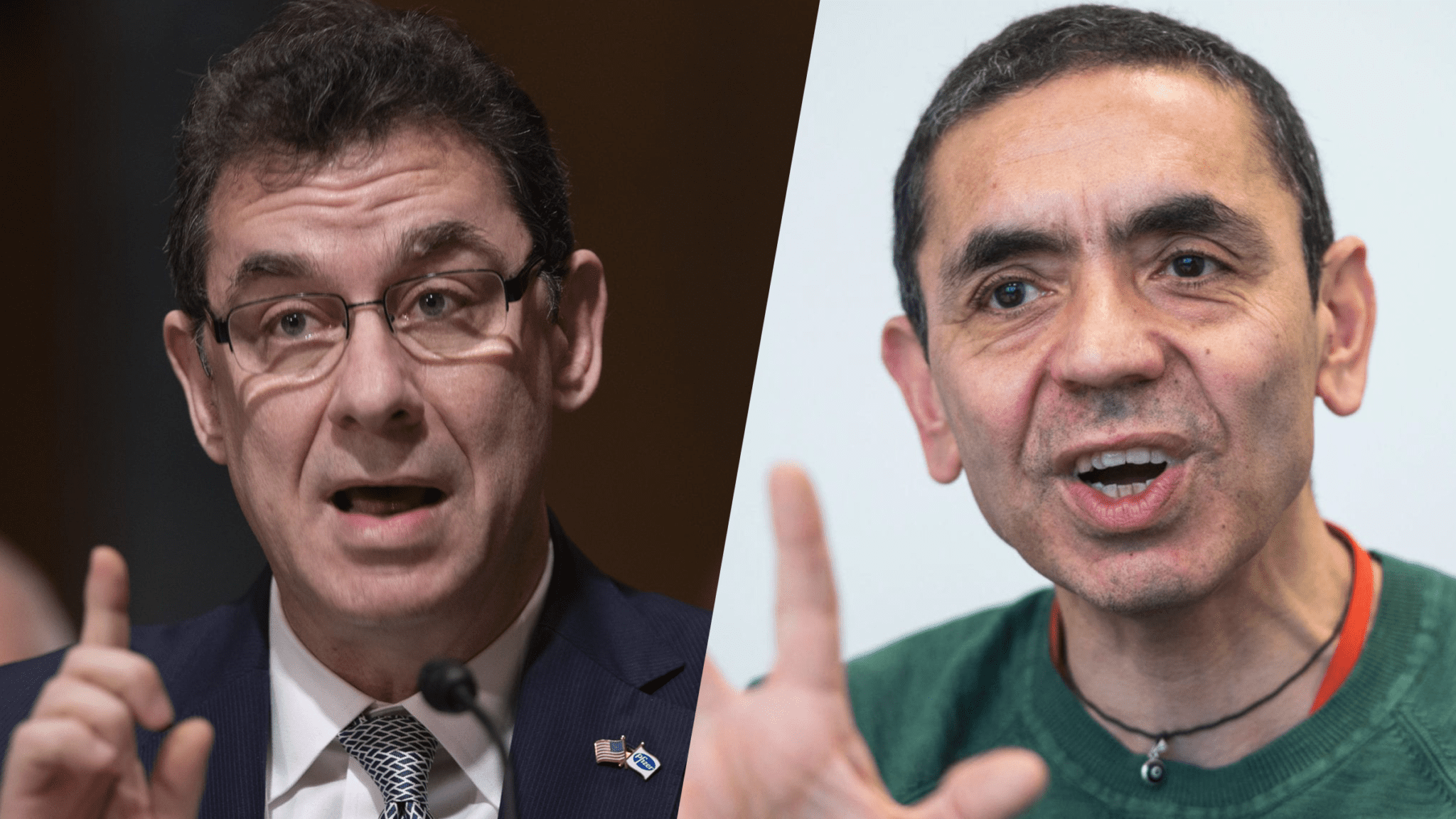 Pfizer CEO Albert Bourla (L) and BioNTech CEO Ugur Sahin (AP Images)
Covid-19 roundup: FDA au­tho­rizes Pfiz­er/BioN­Tech vac­cine for 12- to 15-year-olds; No­vavax shares sink as com­pa­ny de­lays vac­cine time­line
Back-to-school sea­son could look much dif­fer­ent this year, as Pfiz­er and BioN­Tech's Covid-19 vac­cine has be­come the first in the US to be au­tho­rized for chil­dren as young as 12 years old.
On Mon­day, the FDA ex­pand­ed its emer­gency use au­tho­riza­tion for the jab — which was orig­i­nal­ly OK'd for those 16 years and old­er — based on ef­fi­ca­cy da­ta from 190 ado­les­cents which showed their im­mune re­sponse to the vac­cine was at least as good as the re­sponse seen in old­er par­tic­i­pants.
Pfiz­er and BioN­Tech al­so con­duct­ed an analy­sis sev­en days af­ter the ado­les­cents were giv­en their sec­ond dos­es. No Covid-19 cas­es were found among 1,005 12- to 15-year-olds who re­ceived the vac­cine, ver­sus 16 cas­es in the place­bo group, sug­gest­ing the vac­cine was 100% ef­fec­tive.
Side ef­fects ex­pe­ri­enced by a group of 2,260 ado­les­cents who were test­ed for safe­ty — pain at the in­jec­tion site, tired­ness, headache, chills, mus­cle pain, fever and joint pain — were con­sis­tent with old­er groups, ac­cord­ing to the agency. More than half of the par­tic­i­pants were fol­lowed for at least two months af­ter their sec­ond dose, ac­cord­ing to the com­pa­nies.
Pe­ter Marks, di­rec­tor of the FDA's Cen­ter for Bi­o­log­ics Eval­u­a­tion and Re­search (CBER), told re­porters in a me­dia brief­ing that the dos­es won't be ad­min­is­tered to 12- to 15-year-olds un­til Thurs­day (af­ter the CDC holds an Ad­vi­so­ry Com­mit­tee on Im­mu­niza­tion Prac­tices meet­ing).
"We rec­og­nize that the next crit­i­cal step is hav­ing vac­cines avail­able for use through­out the pe­di­atric pop­u­la­tion," Marks said in a state­ment on Mon­day.
Both the Mod­er­na and John­son & John­son vac­cines are cur­rent­ly au­tho­rized for adults 18 years and old­er, though Mod­er­na said last month that its Phase II/III Teen­COVE study was ful­ly en­rolled with about 3,000 par­tic­i­pants be­tween the ages of 12 and 17 in the US.
CBER is plan­ning to con­vene a vir­tu­al meet­ing of the Vac­cines and Re­lat­ed Bi­o­log­i­cal Prod­ucts Ad­vi­so­ry Com­mit­tee (VRB­PAC) on June 10 to pro­vide a sta­tus up­date on the au­tho­riza­tion of Covid-19 vac­cines for kids 12 and up, and the da­ta need­ed to sup­port a BLA or EUA in those younger than 12.
"As with the ini­tial COVID-19 vac­cine au­tho­riza­tions, we want to en­sure that the pub­lic has a clear un­der­stand­ing of our ex­pec­ta­tions for the da­ta and in­for­ma­tion need­ed to sup­port re­quests for emer­gency use au­tho­riza­tion and bi­o­log­ics li­cense ap­pli­ca­tions for vac­cines in­tend­ed to pre­vent COVID-19 in this pe­di­atric age range," Marks said.
Pfiz­er will con­tin­ue to mon­i­tor the safe­ty of the vac­cine.
No­vavax shares sink as com­pa­ny de­lays vac­cine time­line
No­vavax $NVAX shares slipped near­ly 8.8% on Tues­day morn­ing, as the com­pa­ny once again de­layed its time­line for vac­cine pro­duc­tion and reg­u­la­to­ry fil­ings.
In its Q1 earn­ings call, No­vavax said it's now aim­ing to sub­mit reg­u­la­to­ry fil­ings in the US, UK and EU in Q3, ver­sus its pre­vi­ous plans to file in Q2. The com­pa­ny cit­ed the de­vel­op­ment of qual­i­fy­ing and po­ten­cy as­says to sat­is­fy the CMC por­tion of reg­u­la­to­ry sub­mis­sions as the pri­ma­ry rea­son for de­lay, ac­cord­ing to Jef­feries an­a­lyst Kelechi Chikere.
The com­pa­ny now ex­pects to hit its pro­duc­tion tar­get of 100 mil­lion dos­es a month by the end of Q3 and full pro­duc­tion ca­pac­i­ty in Q4 (rather than Q3). Here, No­vavax said sourc­ing raw ma­te­ri­als was its key is­sue.
"Mgmt re­mains very con­fi­dent that they will hit 150M dos­es per month be­fore the end of the year and ex­pects to main­tain that through­out 2022 and be­yond," Chikere wrote.
This isn't the first time No­vavax has pushed back its time­line for full-speed vac­cine pro­duc­tion. Last month, Reuters re­port­ed that sup­ply short­ages that in­clude bags used to grow cells have led to a de­lay in pro­duc­tion. Pre­vi­ous­ly, No­vavax had said that it ex­pect­ed full-scale pro­duc­tion by May or June, and clear­ance from the US as ear­ly as May.
For a look at all End­points News coro­n­avirus sto­ries, check out our spe­cial news chan­nel.