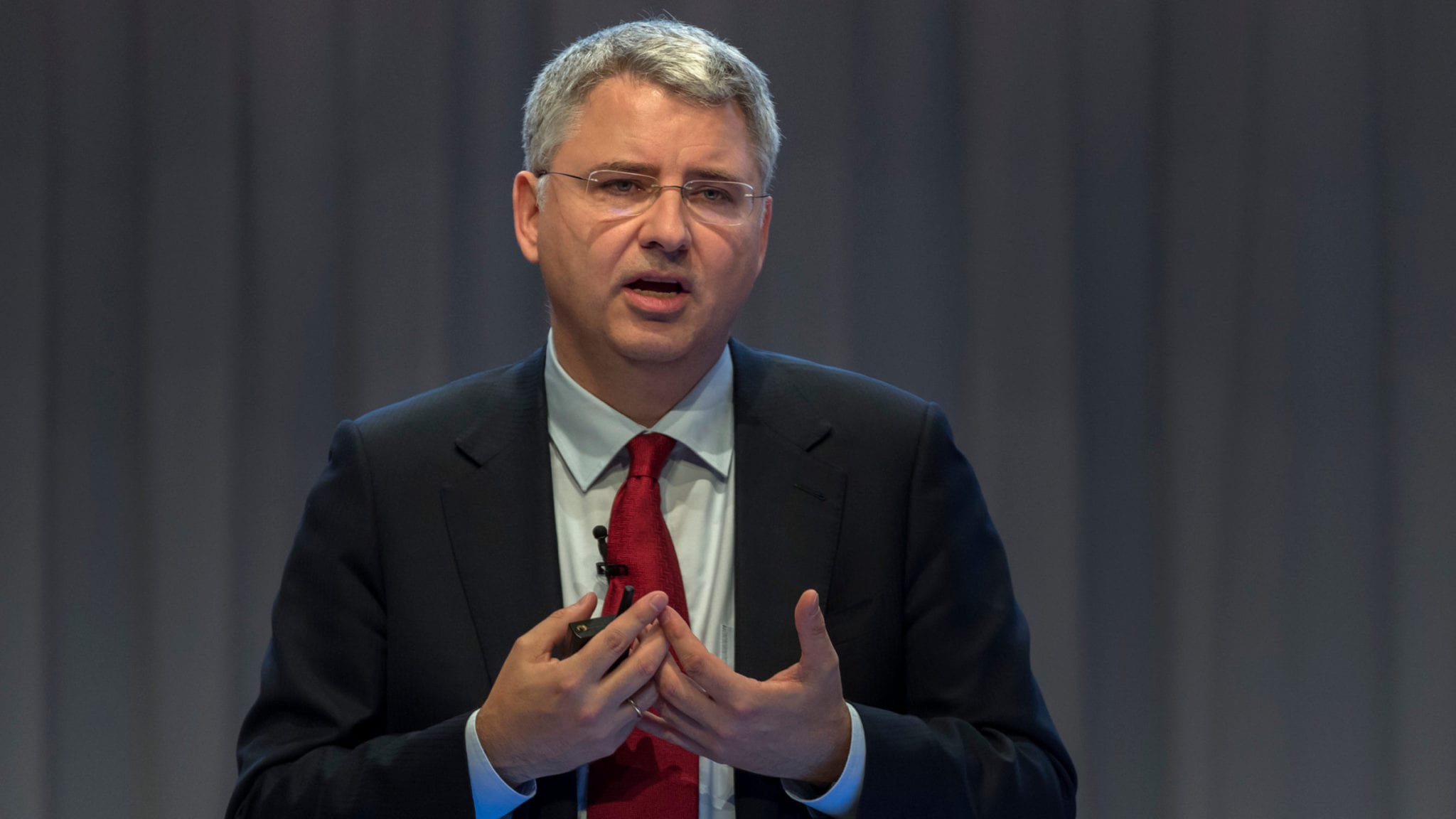 Severin Schwan, Roche CEO (Georgios Kefalas/Keystone via AP Images)
Covid-19 roundup: High­er an­ti­body counts seen in spaced-out vac­cine in­ter­vals — study; Roche CEO com­pares IP waiv­er to East Ger­man 'ex­per­i­ments'
Near the out­set of the UK's vac­ci­na­tion cam­paign, the British gov­ern­ment out­lined plans to space out shots in larg­er in­ter­vals in or­der to get more peo­ple their first shot. Now, a study has come out say­ing the ap­proach can dri­ve a high­er an­ti­body re­sponse — at least in old­er pop­u­la­tions.
In a study with 175 peo­ple old­er than 80, the an­ti­body re­sponse was 3.5 times high­er in in­di­vid­u­als who re­ceived their sec­ond Pfiz­er/BioN­Tech shot 12 weeks af­ter their first, com­pared to those who fol­lowed the typ­i­cal three-week pe­ri­od. An­ti­body lev­els were mea­sured about two to three weeks af­ter the fol­low-up jabs.
The study was con­duct­ed by the Uni­ver­si­ty of Birm­ing­ham in the UK and joint­ly fund­ed by UK Re­search and In­no­va­tion and the Na­tion­al In­sti­tute for Health Re­search. It has been pub­lished as a preprint and has yet to be peer-re­viewed.
"Many ques­tions re­main re­gard­ing [vac­cines'] op­ti­mal de­liv­ery for pro­vi­sion of ef­fec­tive and sus­tained im­mu­ni­ty," He­len Par­ry, NIHR lec­tur­er at Birm­ing­ham, said in a state­ment. "This is the first time an­ti­body and cel­lu­lar re­spons­es have been stud­ied when the sec­ond vac­cine is giv­en af­ter an ex­tend­ed in­ter­val."
To con­duct the study, re­searchers took blood sam­ples from par­tic­i­pants af­ter their first vac­cine and then again two to three weeks af­ter their sec­ond vac­cine. Among the group, 99 peo­ple fol­lowed the nor­mal three-week course for the shot, and 73 got their sec­ond dose at 12 weeks.
Af­ter the sec­ond vac­cine, the av­er­age con­cen­tra­tion of an­ti­bod­ies was 4,030 U/ml in the ex­tend­ed in­ter­val group com­pared to 1,138 U/ml in the three-week group.
Re­searchers al­so looked at T cell im­mune re­spons­es in the par­tic­i­pants, where num­bers looked dif­fer­ent, how­ev­er. In in­di­vid­u­als fol­low­ing the nor­mal vac­cine course, 60% had a con­firmed T cell re­sponse two to three weeks af­ter their sec­ond shot. This num­ber fell to 15% about eight or nine weeks lat­er.
In par­tic­i­pants in the ex­tend­ed in­ter­val group, on­ly 8% showed a T cell re­sponse at five to six weeks af­ter their first shot, but the fig­ure rose to 31% in the two to three weeks af­ter their sec­ond shot. The au­thors cau­tioned that more stud­ies need­ed to be con­duct­ed in T cell re­spons­es in or­der to draw any con­clu­sions.
The Birm­ing­ham study comes as the UK con­tin­ues to see rel­a­tive­ly few new Covid-19 cas­es fol­low­ing one of the more ag­gres­sive vac­ci­na­tion cam­paigns in Eu­rope. Ac­cord­ing to Pub­lic Health Eng­land, dai­ly av­er­age cas­es re­main much low­er than the huge spike from this past win­ter, but high­er than the av­er­age from last sum­mer.
Roche CEO com­pares vac­cine waiv­er to East Ger­man 'ex­per­i­ments'
Roche CEO Sev­erin Schwan ratch­eted up the rhetoric against the Biden ad­min­is­tra­tion's move to waive Covid-19 vac­cine IP, com­par­ing a po­ten­tial waiv­er to the na­tion­al­iza­tion seen un­der So­vi­et-con­trolled East Ger­many.
Join­ing in on the phar­ma in­dus­try's crit­i­cism of the waiv­er, Schwan said such a move would be "coun­ter­pro­duc­tive," ac­cord­ing to the Fi­nan­cial Times. Though pro­po­nents of the waiv­er say it would boost vac­cine pro­duc­tion in low- and mid­dle-in­come na­tions, Schwan and the in­dus­try counter that it will lim­it the avail­abil­i­ty of raw ma­te­ri­als need­ed to make the shots.
Schwan ar­gued to FT that the waiv­er would be a "cat­a­stro­phe" akin to the na­tion­al­ized drug in­dus­try seen in East Ger­many.
"We had enough ex­per­i­ments in the 20th cen­tu­ry na­tion­al­iz­ing the in­dus­try and we know what came out of that," he told the pa­per. He lat­er added, "This will be harm­ful for my chil­dren and grand­chil­dren when I'm not CEO any­more."
Roche does not pro­duce Covid-19 vac­cines and Schwan did not spec­i­fy what ex­per­i­ments he was re­fer­ring to. But in­ves­ti­ga­tions by the Ger­man mag­a­zine Der Spiegel in 2012 and 2013 re­vealed that sev­er­al big-name West­ern drug­mak­ers — in­clud­ing Roche — paid East Ger­man hos­pi­tals to use pa­tients as "un­wit­ting guinea pigs" in un­der-the-ta­ble clin­i­cal tri­als.
The So­vi­et-con­trolled bloc al­so re­port­ed­ly ran a mass-dop­ing scheme for Olympic ath­letes, forc­ing com­peti­tors to take an­a­bol­ic steroids and oth­er per­for­mance-en­hanc­ing drugs. More than 150 for­mer ath­letes sued an East Ger­man drug­mak­er in the 2000s, with the com­pa­ny chip­ping in to a gov­ern­ment-backed set­tle­ment fund, ac­cord­ing to re­ports from the time.
De­spite its lack of vac­cine pro­duc­tion, Roche does con­tribute its Actem­ra drug as part of a col­lab­o­ra­tion with Re­gen­eron for a mon­o­clon­al an­ti­body cock­tail. The orig­i­nal waiv­er pro­pos­al in­clud­ed oth­er Covid-19-re­lat­ed prod­ucts.
Britain re­thinks an­ti­body deal with As­traZeneca
The UK gov­ern­ment is re­port­ed­ly re­think­ing plans to pur­chase 1 mil­lion dos­es of As­traZeneca's Covid-19 an­ti­body ther­a­py cur­rent­ly un­der de­vel­op­ment.
Part of the rea­son for the shift has to do with Britain's re­sponse to the pan­dem­ic, un­named of­fi­cials told Bloomberg News. The UK still has not of­fi­cial­ly placed any or­ders and is won­der­ing if the an­ti­body ther­a­pies will be need­ed in the coun­try at all.
Alok Shar­ma, the UK's for­mer busi­ness sec­re­tary, said in No­vem­ber that the coun­try had pro­cured dos­es pend­ing tri­al re­sults, but these were non-bind­ing deals. The US, on the oth­er hand, in­creased its or­der for the treat­ment by 500,000 dos­es in March, bring­ing their po­ten­tial sup­ply to 700,000.
As­traZeneca is ex­pect­ed to re­port new tri­al re­sults for the ther­a­py by the end of June, look­ing at the treat­ment's func­tion as a pro­phy­lac­tic among those who have been ex­posed to Covid-19. It's one of five on­go­ing late-stage tri­als for the ther­a­py, which com­bines two an­ti­bod­ies to pos­si­bly pre­vent and treat Covid-19 in mild, mod­er­ate and se­vere/hos­pi­tal­ized cas­es.
Sev­er­al com­pa­nies have been de­vel­op­ing an­ti­body treat­ments for Covid-19, in­clud­ing Re­gen­eron, Eli Lil­ly and Glax­o­SmithK­line and Vir. But in the UK, more than half of the pop­u­la­tion has al­ready re­ceived its first vac­cine dose.
Sam­sung Bi­o­log­ics de­nies Mod­er­na man­u­fac­tur­ing deal
A Ko­re­an news­pa­per re­port­ed that the biotech arm of Sam­sung and Mod­er­na had agreed to pro­duce its Covid-19 vac­cine at a Song­do plant, and cit­ed un­named sources. But Sam­sung has said that no de­ci­sion has been reached yet, Reuters re­ports.
Sam­sung's shares jumped up as much as 8.7% to­day, to $833.18 af­ter the re­port from the Chosun Il­bo. The com­pa­ny al­so de­nied re­ports that it had struck a deal with Pfiz­er to man­u­fac­ture its vac­cine, co-de­vel­oped with Ger­man BioN­Tech.
Mod­er­na's jab hasn't been ap­proved in South Ko­rea, but it Thurs­day it was rec­om­mend­ed for emer­gency use ap­proval af­ter safe­ty and ef­fi­ca­cy tri­als in the US. If the deal is ap­proved, it would be Mod­er­na's first pro­duc­tion of the vac­cine in Asia. Ear­li­er this week, BioN­Tech struck a deal with Sin­ga­pore to pro­duce a wide range of mR­NA vac­cines and ther­a­peu­tics.
Mod­er­na's an­nounced a string of man­u­fac­tur­ing ex­pan­sions in the last 2 weeks, af­ter an an­nounce­ment that it would pro­duce up to 3 bil­lion dos­es in 2022. Thurs­day, the com­pa­ny an­nounced a deal with the Aus­tralian gov­ern­ment that would pro­vide 25 mil­lion dos­es, in­clud­ing some of a boost­er that will pro­tect against vari­ants of the virus, to the coun­try in which not many of its res­i­dents are vac­ci­nat­ed. It's al­so an­nounced a 50% in­crease in pro­duc­tion at its Mass­a­chu­setts site, and dou­bled pro­duc­tion in Switzer­land and Spain at sites run by Lon­za and Rovi,
For a look at all End­points News coro­n­avirus sto­ries, check out our spe­cial news chan­nel.