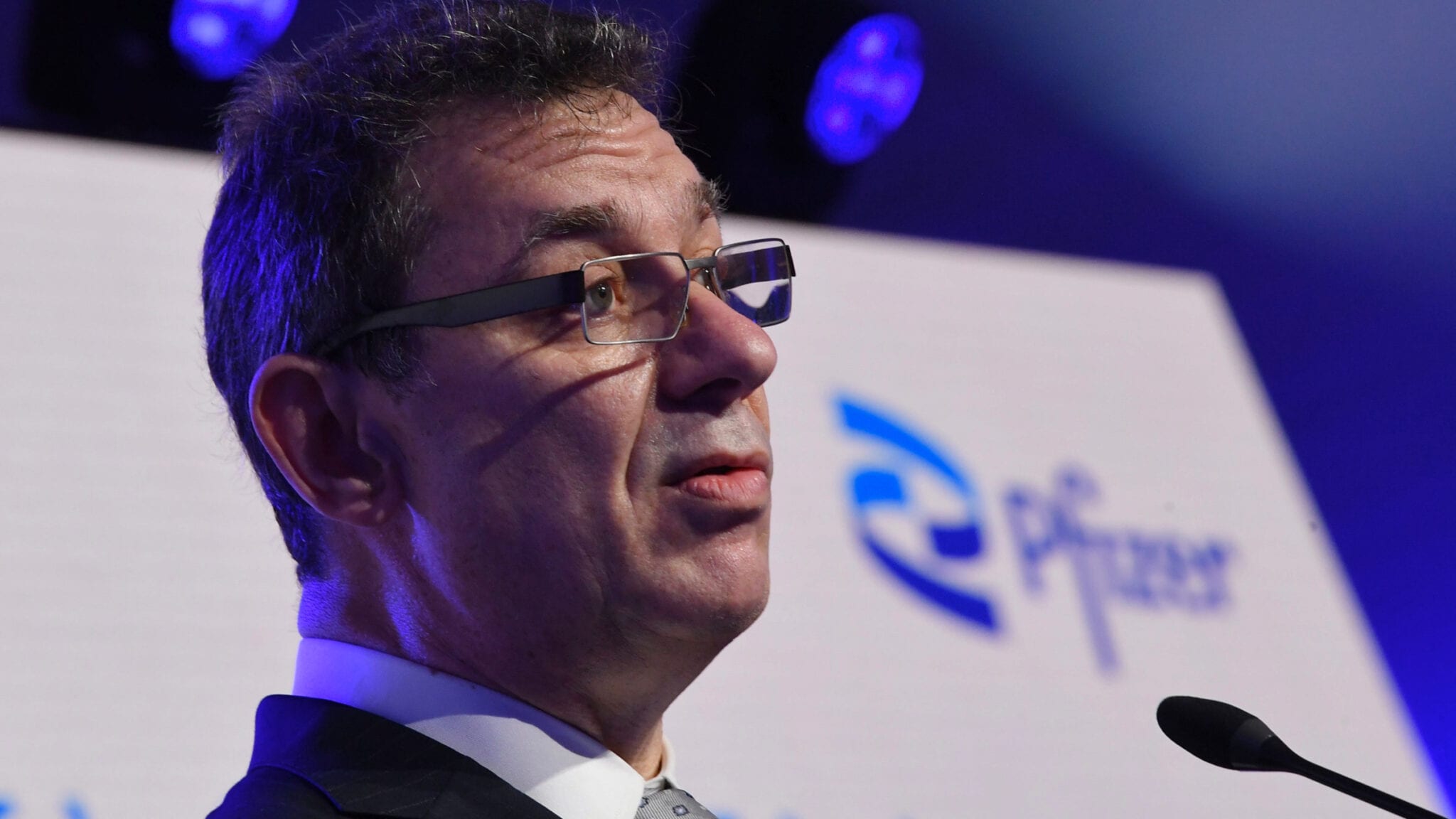 Albert Bourla, Pfizer CEO (John Thys, Pool via AP Images)
Covid-19 roundup: Pfiz­er/BioN­Tech sub­mit vac­cine da­ta to FDA for younger chil­dren; Doc­tors kept pre­scrib­ing hy­drox­y­chloro­quine
Pfiz­er and BioN­Tech said Tues­day they sub­mit­ted to FDA pos­i­tive da­ta from a Phase II/III tri­al of their Covid-19 vac­cine in chil­dren aged 5 to less than 12 years old.
A for­mal EUA sub­mis­sion for the vac­cine in these chil­dren is ex­pect­ed to fol­low "in the com­ing weeks," the com­pa­nies said in a state­ment.
The tri­al of 2,268 healthy par­tic­i­pants aged 5 to less than 12 years old showed the vac­cine was safe and elicit­ed ro­bust neu­tral­iz­ing an­ti­body re­spons­es us­ing a two-dose reg­i­men of 10 μg dos­es, which is one-third the dose that's ad­min­is­tered to adults.
"These re­sults – the first from a piv­otal tri­al of any COVID-19 vac­cine in this age group – were com­pa­ra­ble to those record­ed in a pre­vi­ous Pfiz­er-BioN­Tech study in peo­ple 16 to 25 years of age, who were im­mu­nized with 30 μg dos­es. The 10 μg dose was care­ful­ly se­lect­ed as the pre­ferred dose for safe­ty, tol­er­a­bil­i­ty and im­muno­genic­i­ty in chil­dren 5 to <12 years of age," Pfiz­er said.
HCQ users tripled ear­ly on in the pan­dem­ic, a new study finds
Among com­mer­cial­ly in­sured and Medicare Ad­van­tage pa­tients, week­ly new users of hy­drox­y­chloro­quine tripled dur­ing the ear­ly surge in the Covid-19 pan­dem­ic, with the great­est in­creas­es in us­es of the drug com­ing from doc­tors with no pri­or ex­pe­ri­ence pre­scrib­ing the drug, ac­cord­ing to a new study in the Jour­nal of Gen­er­al In­ter­nal Med­i­cine.
And many of those pre­scrip­tions con­tin­ued even af­ter the drug proved in­ef­fec­tive. Al­though pre­scrip­tion rates fell be­low the ear­ly pan­dem­ic peak — when the num­ber of new hy­drox­y­chloro­quine pre­scrip­tions tripled — when the first rig­or­ous da­ta emerged, they re­mained well above pre-pan­dem­ic lev­el through from mid-June through De­cem­ber 2020.
The au­thors from Har­vard's Pro­gram On Reg­u­la­tion, Ther­a­peu­tics, And Law found that those doc­tors with no pri­or doc­u­ment­ed hy­drox­y­chloro­quine pre­scrib­ing saw a rise in pre­scrib­ing hy­drox­y­chloro­quine from 2.3% of new users in a pre-pan­dem­ic pe­ri­od to 51.4% dur­ing the first pan­dem­ic pe­ri­od, a 65-fold change. Those were con­cen­trat­ed among non-rheuma­tol­ogy spe­cial­ists (10.6-fold) and pri­ma­ry care physi­cians (4.8-fold). Al­though tri­al da­ta proved the drug to be in­ef­fec­tive, and the FDA re­tract­ed its EUA, for­mer Pres­i­dent Trump and oth­er celebri­ties con­tin­ued to en­dorse the drug pub­licly.
Ben Rome, the pa­per's lead au­thor, said in an in­ter­view that the da­ta un­der­scored the dan­gers of Trump's rhetoric, while of­fer­ing a warn­ing for to­day, when a new an­ti-par­a­site drug, iver­mectin, has be­come a pop­u­lar Covid-19 drug, de­spite no ev­i­dence that it's ef­fec­tive.
"What sur­prised us was that even through the end of the year, hy­drox­y­chloro­quine pre­scrip­tions re­mained above base­line, and that's even af­ter stud­ies came out show­ing it's not ef­fec­tive," he said. "The wide­spread mis­in­for­ma­tion on hy­drox­y­chloro­quine at the be­gin­ning of the pan­dem­ic had long-last­ing im­pacts."