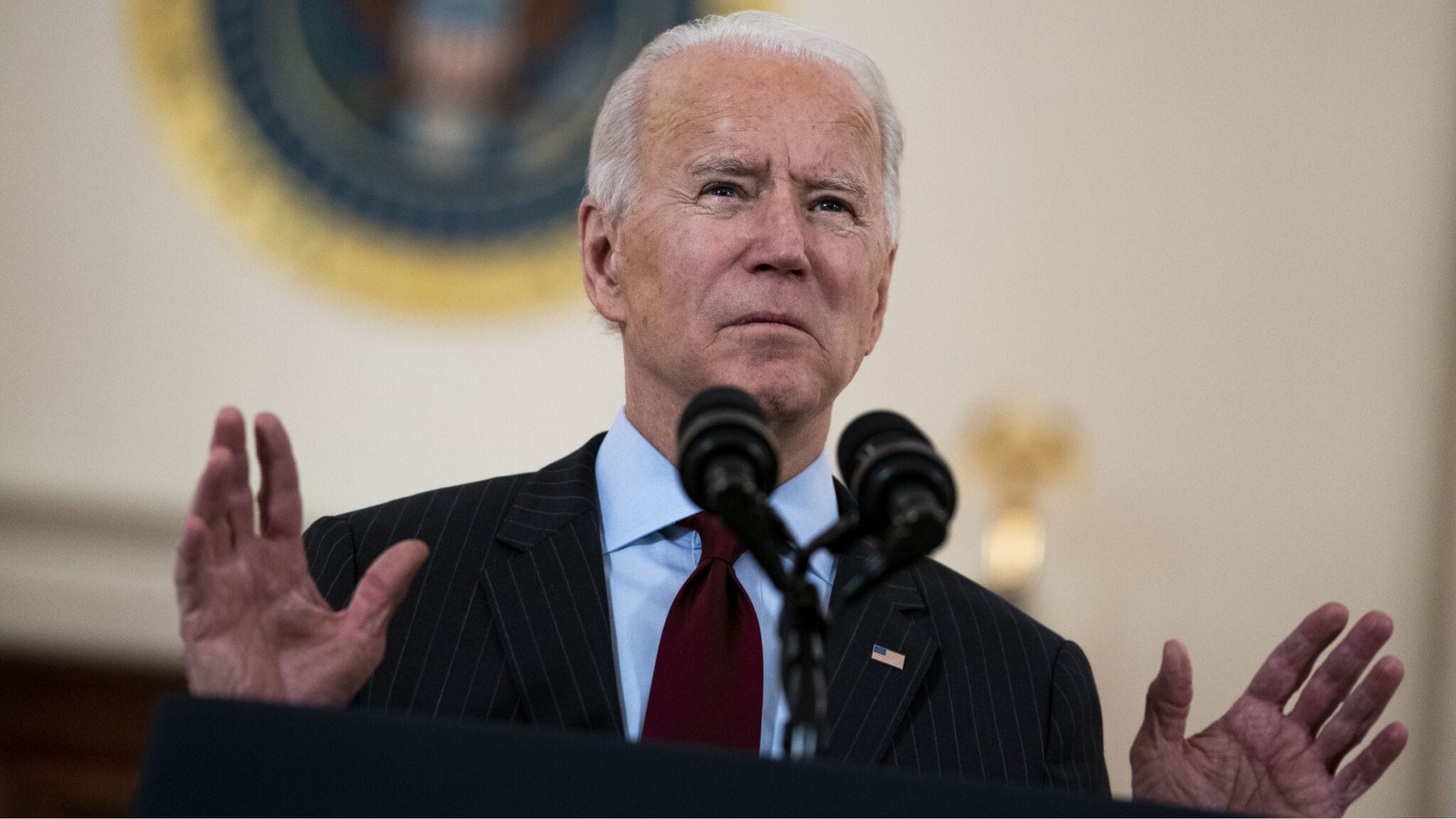 President Biden (Doug Mills/The New York Times/Bloomberg via Getty Images)
Covid-19 roundup: Pres­i­dent Biden or­ders in­tel­li­gence com­mu­ni­ty to re­dou­ble ef­forts to de­ter­mine if virus orig­i­nat­ed in an­i­mals or a lab in Chi­na
The brew­ing con­tro­ver­sy over the ori­gins of Covid-19 erupt­ed on Wednes­day as Pres­i­dent Joe Biden or­dered the US in­tel­li­gence com­mu­ni­ty and gov­ern­ment labs to dou­ble down on their ef­forts to reach a con­sen­sus over 2 com­pet­ing the­o­ries in the next 90 days.
As of now, Biden said in a state­ment re­leased by the White House, the in­tel­li­gence com­mu­ni­ty is di­vid­ed in­to 2 camps: 1 that be­lieves the virus like­ly orig­i­nat­ed in an­i­mals in Chi­na and jumped to hu­mans, and 1 that be­lieves it like­ly re­sult­ed from a lab ac­ci­dent in Chi­na.
Biden not­ed:
I have now asked the In­tel­li­gence Com­mu­ni­ty to re­dou­ble their ef­forts to col­lect and an­a­lyze in­for­ma­tion that could bring us clos­er to a de­fin­i­tive con­clu­sion, and to re­port back to me in 90 days. As part of that re­port, I have asked for ar­eas of fur­ther in­quiry that may be re­quired, in­clud­ing spe­cif­ic ques­tions for Chi­na. I have al­so asked that this ef­fort in­clude work by our Na­tion­al Labs and oth­er agen­cies of our gov­ern­ment to aug­ment the In­tel­li­gence Com­mu­ni­ty's ef­forts. And I have asked the In­tel­li­gence Com­mu­ni­ty to keep Con­gress ful­ly ap­prised of its work.
Chi­nese of­fi­cials have ve­he­ment­ly de­nied that the Wuhan In­sti­tute of Vi­rol­o­gy in Chi­na had any­thing to do with the out­break, which quick­ly spread around the world and killed more than 3 mil­lion peo­ple. Doubts were plant­ed ear­ly on, though, as of­fi­cials were barred from Chi­na when they set out to learn more about the ori­gins of the pan­dem­ic. And re­cent­ly the the­o­ry about a lab ac­ci­dent has gained trac­tion in Wash­ing­ton — with NI­AID chief An­tho­ny Fau­ci say­ing he's un­cer­tain about the ori­gins and that it de­serves a clos­er in­ves­ti­ga­tion — af­ter an ini­tial push­back from the ex­perts to the heat­ed rhetoric on this of­fered by Don­ald Trump.
Fau­ci tes­ti­fied be­fore the Sen­ate Ap­pro­pri­a­tions Com­mit­tee on Wednes­day and Sen. John Kennedy (R-LA) pressed him on why the NIH fund­ed re­search at the Wuhan in­sti­tute in the first place. Fau­ci ex­plained that the bats that have coro­n­avirus­es are lo­cat­ed in Chi­na, and not else­where so the re­search was nec­es­sary. Kennedy al­so ques­tioned how NIH knows that Chi­na didn't lie about what re­search was con­duct­ed there and Fau­ci said NIH has seen the re­sults of the stud­ies, al­though he can't guar­an­tee that they haven't lied.
"Cer­tain­ly, the peo­ple who in­ves­ti­gat­ed it say it like­ly was the emer­gence from an an­i­mal reser­voir that then in­fect­ed in­di­vid­u­als, but it could have been some­thing else, and we need to find that out. So, you know, that's the rea­son why I said I'm per­fect­ly in fa­vor of any in­ves­ti­ga­tion that looks in­to the ori­gin of the virus," Fau­ci said.
Sen. Josh Haw­ley (R-MO) al­so in­tro­duced a bill on Wednes­day to re­quire the Di­rec­tor of Na­tion­al In­tel­li­gence to de­clas­si­fy in­for­ma­tion re­lat­ing to the ori­gin of Covid.
The in­quiry is be­ing con­duct­ed against a back­drop of in­creas­ing­ly volatile trade talks with Chi­na, threat­en­ing to spark a con­fronta­tion over the virus that could spill in­to oth­er are­nas.
EMA to health providers: 'in­suf­fi­cient ev­i­dence' that in­haled cor­ti­cos­teroids help with Covid-19
The Eu­ro­pean Med­i­cines Agency's Covid-19 task force said Thurs­day that there is cur­rent­ly in­suf­fi­cient ev­i­dence that in­haled cor­ti­cos­teroids are ben­e­fi­cial for peo­ple with COVID-19.
"Al­though the task­force found no safe­ty risks from stud­ies so far, it could not ex­clude the pos­si­bil­i­ty of harm from the use of in­haled cor­ti­cos­teroids in pa­tients with COVID-19 who have nor­mal lev­els of oxy­gen," EMA said. But the agency al­so not­ed that clin­i­cal tri­als do still sup­port the use of dex­am­etha­sone, a sys­temic cor­ti­cos­teroid, in pa­tients with Covid-19.
Rus­sia's Supreme Court re­jects Gilead law­suit over unau­tho­rized remde­sivir gener­ic
Rus­sia's Supreme Court on Thurs­day re­ject­ed a law­suit from Gilead chal­leng­ing the Russ­ian gov­ern­ment's de­ci­sion last year to al­low the de­vel­op­ment of a gener­ic ver­sion of remde­sivir with­out Gilead's con­sent, Reuters re­port­ed.
Ear­li­er this week, Rus­sia shipped 225,000 packs of the gener­ic, known as Remde­form, to In­dia as part of its hu­man­i­tar­i­an aid con­tri­bu­tions, and more may be on the way.
WHO to mem­ber states: Please sup­port the Covid-19 Tech­nol­o­gy Ac­cess Pool
Tedros Ad­hanom, the di­rec­tor-gen­er­al of the WHO, and Cos­ta Ri­ca's pres­i­dent, Car­los Al­vara­do Que­sa­da, on Thurs­day sent a let­ter to all mem­ber states, call­ing on them to im­prove eq­ui­table glob­al ac­cess to Covid-19 health tech­nolo­gies through the vol­un­tary pool­ing of knowl­edge, in­tel­lec­tu­al prop­er­ty and da­ta to sup­port tech­nol­o­gy trans­fer and rapid­ly ex­pand man­u­fac­tur­ing through­out the world in need.
"As a glob­al com­mu­ni­ty we must lever­age C-TAP's po­ten­tial to ac­com­mo­date dif­fer­ent stake­hold­ers and pro­vide time­ly, sus­tain­able, and ef­fec­tive so­lu­tions to pro­mote ac­cess and ac­cel­er­ate lo­cal pro­duc­tion," the let­ter says.
Sep­a­rate­ly, the WHO al­so an­nounced Thurs­day that Africa needs at least 20 mil­lion dos­es of the Ox­ford-As­traZeneca vac­cine in the next six weeks to get sec­ond dos­es to all who re­ceived a first dose with­in the 8—12-week in­ter­val rec­om­mend­ed by the WHO.
"To date, 28 mil­lion COVID-19 dos­es, of dif­fer­ent vac­cines, have been ad­min­is­tered in Africa, which rep­re­sents less than two dos­es ad­min­is­tered per 100 peo­ple in Africa," WHO said.
An­oth­er 200 mil­lion dos­es of any vac­cine are al­so need­ed so that the con­ti­nent can vac­ci­nate 10% of its pop­u­la­tion by Sep­tem­ber, the non­prof­it added.
For a look at all End­points News coro­n­avirus sto­ries, check out our spe­cial news chan­nel.