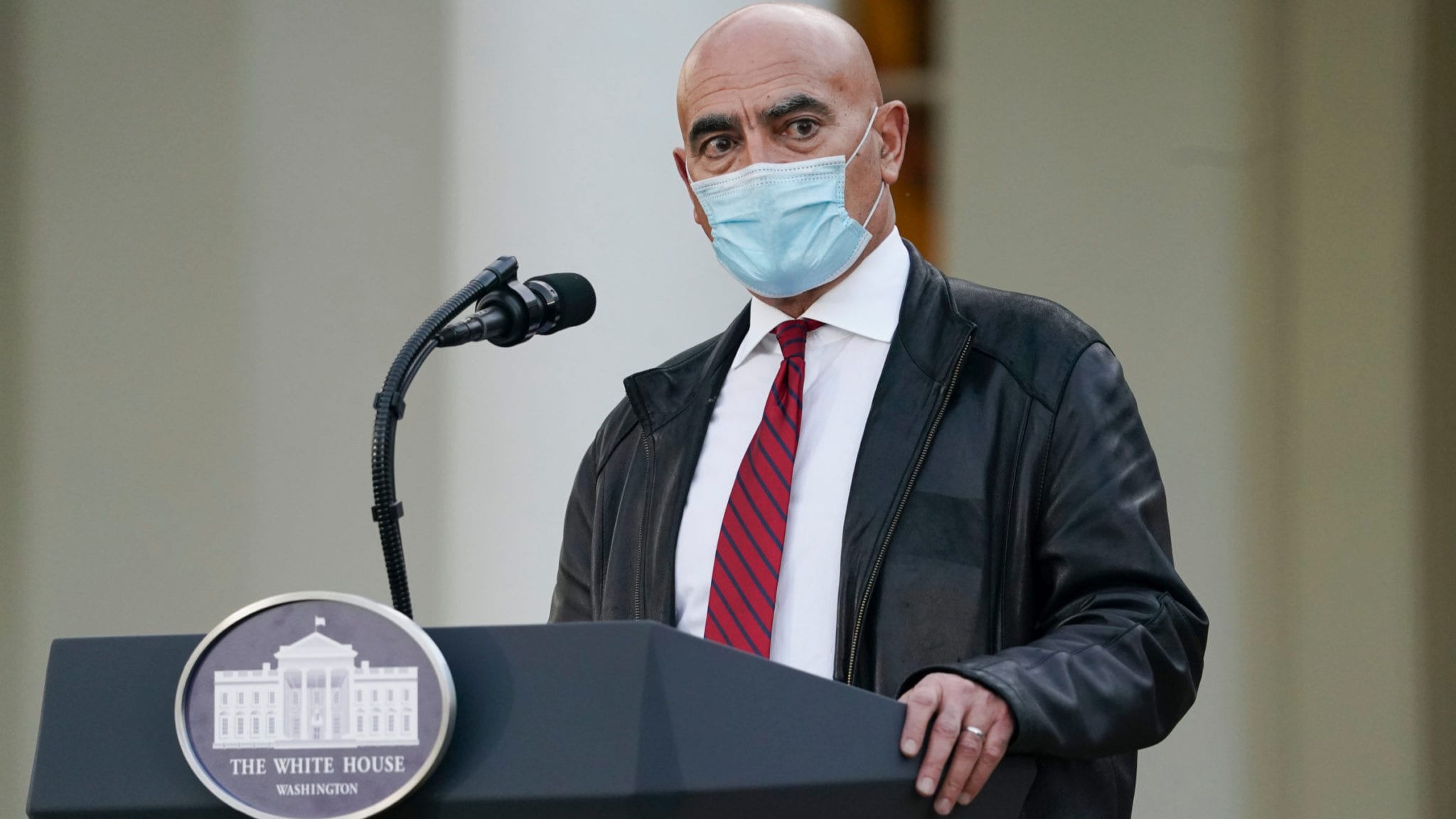 Moncef Slaoui, Operation Warp Speed chief (AP Images)
Covid-19 roundup: In­ovio nabs $3 mil­lion and a de­vel­op­ment part­ner for its vac­cine that's still on par­tial hold; Slaoui pro­pos­es halv­ing Mod­er­na vac­cine dos­es as dis­tri­b­u­tion lags
With its vac­cine can­di­date fi­nal­ly in Phase II, In­ovio is bag­ging $3 mil­lion in a part­ner­ship deal with Ad­vac­cine Bio­phar­ma­ceu­ti­cals Suzhou to de­vel­op and com­mer­cial­ize the can­di­date in Greater Chi­na.
Ad­vac­cine and In­ovio shook hands on a deal for ex­clu­sive rights to de­vel­op, man­u­fac­ture and com­mer­cial­ize the can­di­date, INO-4800, in Main­land Chi­na, Hong Kong, Macao and Tai­wan. In ad­di­tion to $3 mil­lion up­front, Ad­vac­cine is sweet­en­ing the deal with up to $108 mil­lion in mile­stone pay­ments. In re­turn, it stands to earn a "high sin­gle-dig­it per­cent­age" of an­nu­al net sales in each re­gion with­in Greater Chi­na. The com­pa­ny is al­so li­cens­ing its plas­mid man­u­fac­tur­ing process to In­ovio, with the right to sub­li­cense to In­ovio's man­u­fac­tur­ing part­ners.
The news comes about a month af­ter In­ovio be­gan dos­ing pa­tients in the Phase II por­tion of a Phase II/III tri­al, which was slapped with a par­tial clin­i­cal hold back in Sep­tem­ber. The Phase III por­tion is still on hold, due to re­main­ing ques­tions about the de­vice that will be used to de­liv­er the shot di­rect­ly to the skin. Ac­cord­ing to a state­ment, it plans on an­swer­ing those re­main­ing ques­tions in the Phase II.
A few weeks ago, In­ovio tapped Japan's Kane­ka Eu­ro­gen­tec as a man­u­fac­tur­ing part­ner to hit its goal of pro­duc­ing hun­dreds of mil­lions of dos­es. Kane­ka is tasked with fill­ing the role of Ko­re­an con­tract man­u­fac­tur­er VGX, which In­ovio is in a le­gal stand­off with. Tthe com­pa­ny re­mains op­ti­mistic, though it hasn't had a prod­uct can­di­date ap­proval in over 40 years. — Nicole De­Feud­is
Slaoui pro­pos­es halv­ing Mod­er­na vac­cine dos­es as dis­tri­b­u­tion lags
As Covid-19 vac­cine dis­tri­b­u­tion lags be­hind pro­jec­tions, there has been much de­bate about how to in­crease in­oc­u­la­tions over the last cou­ple weeks. And on Sun­day, OWS chief Mon­cef Slaoui gave his two cents.
Slaoui pro­posed cut­ting the Mod­er­na vac­cine dose in half to po­ten­tial­ly al­low more peo­ple ac­cess to the shots, he said on Face the Na­tion. He cit­ed da­ta from the biotech's clin­i­cal tri­als that showed adults aged 18 to 55 who re­ceived two 50 μg dos­es showed an "iden­ti­cal im­mune re­sponse" to the stan­dard of two 100 μg dos­es.
Dur­ing the in­ter­view, Slaoui was pressed on what the fed­er­al gov­ern­ment could do to help the states speed up vac­ci­na­tions and said halv­ing the Mod­er­na dos­es was a po­ten­tial al­ter­na­tive com­pared to spread­ing out the dos­es longer than orig­i­nal­ly planned in their late-stage tri­als.
"If we leave peo­ple a month, two months, three months with maybe in­com­plete im­mu­ni­ty, wan­ing im­mu­ni­ty, maybe even the wrong kind of im­mune re­sponse in­duced, that is then cor­rect­ed by the sec­ond dose," Slaoui told Face the Na­tion. "Chang­ing the de­ci­sions made, the choic­es made … with­out any da­ta I think would not be re­spon­si­ble."
Should the FDA de­cide to move for­ward with this plan, the two im­mu­niza­tions would still oc­cur 28 days apart. Slaoui said OWS is in dis­cus­sions with the agency and Mod­er­na over whether im­ple­ment­ing this pro­pos­al would be pos­si­ble. Mod­er­na won an EUA for its Covid-19 vac­cine last month for the 100-μg dos­es, the same dosage lev­el used in their Phase III study.
Get­ting shots in arms has proved a chal­leng­ing task as vac­cine roll­out has start­ed. Fed­er­al pro­jec­tions had aimed to dis­trib­ute 20 mil­lion dos­es by the end of 2020 as re­cent­ly as last month, but on­ly 4.2 mil­lion Amer­i­cans had re­ceived their first shots as of Sat­ur­day, per the CDC. Those num­bers are like­ly high­er in ac­tu­al­i­ty giv­en re­port­ing lags, how­ev­er.
The ob­sta­cles have launched a de­bate among health of­fi­cials over the best way to ac­cel­er­ate dis­tri­b­u­tion. With a new, more con­ta­gious coro­n­avirus vari­ant spread­ing, the UK has al­ready an­nounced plans to de­lay the sec­ond dose of the Pfiz­er/BioN­Tech and As­traZeneca vac­cines — the lat­ter of which is not yet au­tho­rized in the U.S.
Ac­cord­ing to the coun­try's Joint Com­mit­tee of Vac­ci­na­tion and Im­mu­niza­tion, this de­ci­sion was made based on da­ta show­ing the first Pfiz­er shot can grant par­tial im­mu­ni­ty and that longer in­ter­vals be­tween As­traZeneca shots can pro­vide stronger im­mu­ni­ty. The plan has some back­ers to em­u­late the plan in the US, giv­en the sup­ply con­straint and new mu­ta­tion.
I've been think­ing about the de­bate of de­layed vs. im­me­di­ate 2nd dose for some time

Over past week, have be­come con­vinced that get­ting all dos­es out now is bet­ter

Its NOT a no-brain­er

Rea­son­able peo­ple can (and do!!) dis­agree

So here's why my think­ing evolved

Thread https://t.co/ZO53JpSseF

— Ashish K. Jha, MD, MPH (@ashishkjha) Jan­u­ary 3, 2021
UCSF de­part­ment of med­i­cine chair Robert Wachter and Brown Uni­ver­si­ty School of Pub­lic Health dean Ashish Jha vouched for a US ver­sion of the plan in an op-ed in the Wash­ing­ton Post on Sun­day, writ­ing in part:
Hun­dreds of thou­sands of peo­ple are be­ing in­fect­ed and thou­sands are dy­ing every day. Any high-risk per­son who isn't vac­ci­nat­ed to­day could be in­fect­ed to­mor­row and die in a month. But we are hold­ing back half of the dos­es in re­serve for peo­ple to get their sec­ond shots. That slows things down.
But there still doesn't ap­pear to be a con­sen­sus on the mat­ter, as some top Amer­i­can of­fi­cials are op­posed to the de­ferred shot method.
"I would not be in fa­vor of that," NI­AID chief An­tho­ny Fau­ci told CNN on Fri­day. "We're go­ing to keep do­ing what we're do­ing."
A help­ful thread about im­mune cor­re­lates from an ex­pert on the top­ic. High­ly rel­e­vant for bridg­ing vac­cines to new pop­u­la­tions, study­ing mod­i­fied vac­cine for­mu­la­tions, and eval­u­at­ing new vac­cines once we can no longer run place­bo-con­trolled tri­als. https://t.co/vD2SZGKcRp

— Na­tal­ie E. Dean, PhD (@na­tal­iexdean) Jan­u­ary 4, 2021
— Max Gel­man
FDA re­jects Re­lief Ther­a­peu­tics and Neu­roRx's bid for an EUA
The FDA shot down last week an emer­gency use ap­pli­ca­tion for half-cen­tu­ry-old avip­tadil in Covid-19, which Swiss biotech Re­lief Ther­a­peu­tics and their US part­ner Neu­roRx sub­mit­ted back in Sep­tem­ber based on a study in which on­ly 21 pa­tients were treat­ed.
The part­ners an­nounced Sept. 23 that they filed for an EUA based on a case-con­trol study with 21 pa­tients in the treat­ment arm and an­oth­er group who re­ceived max­i­mal stan­dard-of-care treat­ment in the same ICU. Neu­roRx came un­der fire ear­li­er that month af­ter Politi­co re­port­ed the com­pa­ny tapped a Re­pub­li­can con­gress­man with close ties to its CEO and a his­to­ry of mask skep­ti­cism to their Da­ta and Safe­ty Mon­i­tor­ing Board.
Up­on fil­ing, Neu­roRx an­nounced that pa­tients in the treat­ment arm had "demon­strat­ed a 3-fold ad­van­tage in sur­vival, re­cov­ery from res­pi­ra­to­ry fail­ure, and oth­er pa­ra­me­ters." Su­san El­len­berg, a for­mer FDA re­view­er and a bio­sta­tis­ti­cian at the Uni­ver­si­ty of Penn­syl­va­nia Perel­man School of Med­i­cine, told End­points that an EUA based on such lim­it­ed da­ta could be pos­si­ble, but on­ly if the ev­i­dence was over­whelm­ing.
"The FDA did not agree to grant EUA, as ap­plied for in Sep­tem­ber," Neu­roRx CEO Jonathan Javitt said in a state­ment.
Re­lief's $RLFTF stock plunged on the news, falling from about 40 cents on Dec. 29 to 31 cents on Dec. 30.
Javitt cush­ioned the bad news by adding the part­ners had com­plet­ed en­roll­ment in a 165-pa­tient Phase IIb/III tri­al, with topline da­ta ex­pect­ed in late Jan­u­ary or ear­ly Feb­ru­ary. At the end of No­vem­ber, the part­ners an­nounced a 72% sur­vival rate in more than 175 pa­tients with crit­i­cal Covid-19, res­pi­ra­to­ry fail­ure and a se­vere co­mor­bid­i­ty who were stud­ied through an ex­pand­ed ac­cess pro­to­col in the US. Of the 90 pa­tients who had reached a 28-day fol­low-up, 72% sur­vived.
Javitt an­nounced the com­pa­nies will con­tin­ue to work with the FDA, which "will prompt­ly re­view the forth­com­ing da­ta" from the Phase IIb/III. — Nicole De­Feud­is
For a look at all End­points News coro­n­avirus sto­ries, check out our spe­cial news chan­nel.