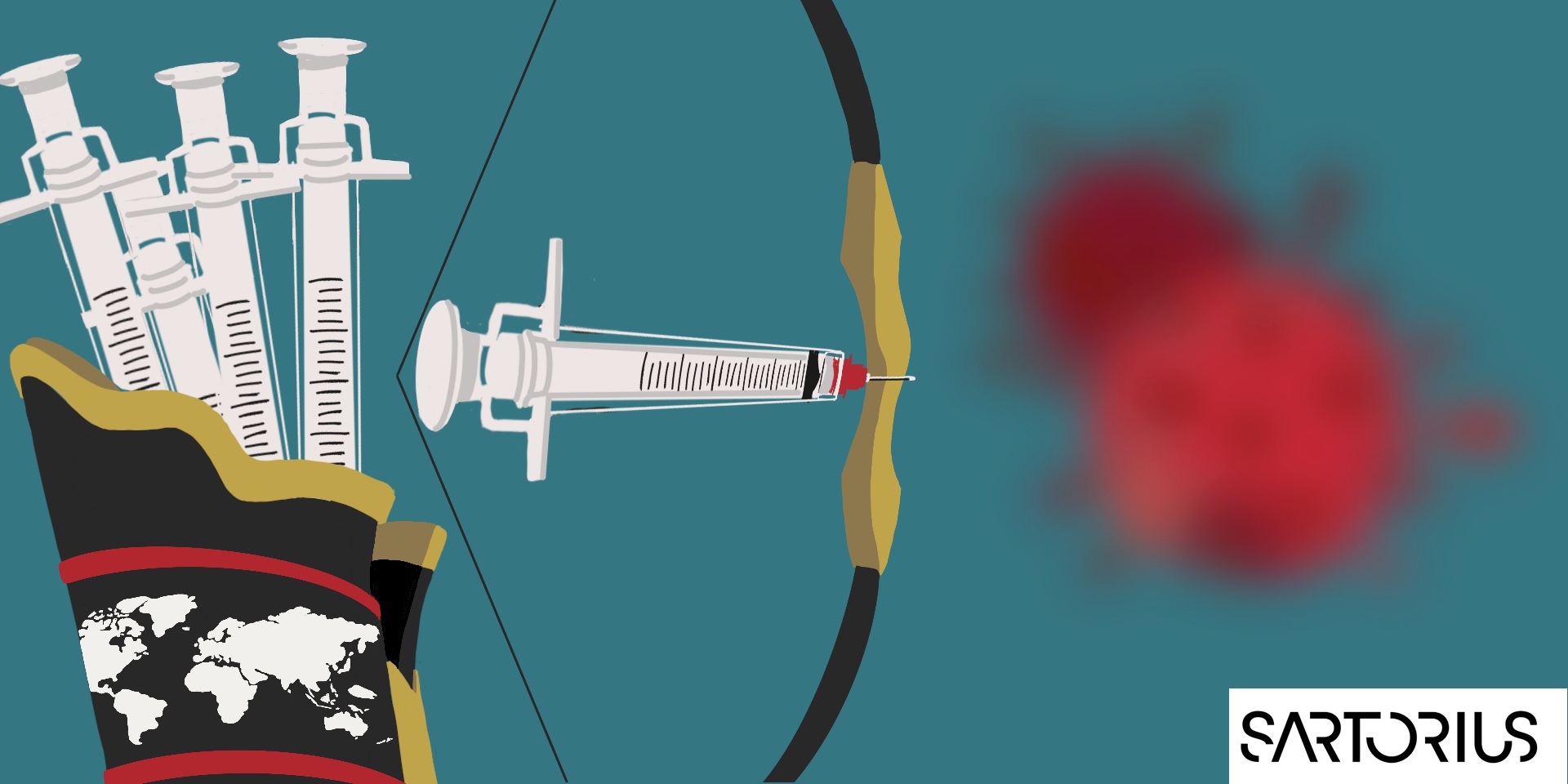 Illustration: Assistant editor Kathy Wong for Endpoints News
Covid-19 spurred a his­toric vac­cine R&D ef­fort. What does it mean for fu­ture pan­demics?
In the historic campaign to vaccinate the world against Covid-19, Corbevax was far from the first vaccine to reach the market. While the first mRNA shot became available 326 days after the SARS-CoV-2 virus was sequenced, the journey of Corbevax — which has so far gone into the arms of 75 million kids in India and recently won approval for adults — spanned about 600 days.
But Peter Hotez, one of its co-inventors, believes it could've played out differently if his team had received more funding and there was a smoother regulatory path.
"That could have been probably cut in half had we had the support to move faster," said Hotez, the co-director of the Texas Children's Hospital Center for Vaccine Development.
There was good reason to go faster. The mad scramble for life-saving shots exposed the stark disparities between the vaccine haves and have-nots. Corbevax, a patent-free vaccine based on older but proven technology, can be affordably produced and distributed to lower-income countries.
The Corbevax story is relevant to a bigger question as the world attempts to strengthen vaccine research and development infrastructure to go even faster and more equitably distribute vaccines. Vexing scientific, regulatory and manufacturing challenges must be solved ahead of the next pandemic, public health experts and advocacy group representatives said in interviews.
The Coalition for Epidemic Preparedness Innovations, or CEPI, which launched in 2017 in the wake of the Ebola outbreak in West Africa, has proposed what it calls a moonshot goal of spurring a vaccine against a new pandemic-causing pathogen in 100 days. The initiative is known as the 100 Days Mission.
Melanie Saville, CEPI's executive director of vaccine R&D, reckons the group would've been "laughed out of the room" if they had told people before the Covid-19 pandemic that a vaccine would arrive within 326 days – but already there's a path to going faster.
"If you actually put everybody's innovation together from Covid-19, we already probably could shave off two months by looking meticulously at every step of the process," she said, citing a CEPI analysis based on interviews with companies, international organizations, regulatory agencies, academia and the media.
To get to 100 days, though, much more needs to be done. The key is to do as much of it upfront as possible, she added, during so-called peacetime, much like decades-long RNA research ushered in the first Covid-19 vaccines.
Premium subscription required
Unlock this article along with other benefits by subscribing to one of our paid plans.