CRI re­port tracks ex­plo­sive growth of cell ther­a­pies in the glob­al pipeline, as Chi­na re­searchers mus­cle to­ward the front
The Can­cer Re­search In­sti­tute is shin­ing a light on the ex­plo­sive growth of cell ther­a­pies in the clin­ic, spot­light­ing Chi­na's vir­tu­al overnight suc­cess in grab­bing a lead role in the field. And they're ask­ing the world's can­cer drug de­vel­op­ment com­pa­nies to adopt a new ap­proach that will help the in­dus­try man­age a fi­nite num­ber of po­ten­tial tri­al pa­tients while point­ing re­searchers to the most like­ly av­enue for do­ing some­thing im­por­tant — rather than just frit­ter­ing away bad­ly need­ed re­sources.
The non­prof­it CRI re­cent­ly quan­ti­fied the pro­lif­er­a­tion of I/O agents in the clin­ic, cap­tur­ing our at­ten­tion with the news that 164 PD-1/L1 ther­a­pies were in the pipeline, look­ing to whit­tle away at the block­buster lead­ers from Mer­ck and Bris­tol-My­ers Squibb. Now we learn from an up­date in Na­ture Re­views Drug Dis­cov­ery — penned by a team that in­cludes Jill O'Don­nell‐Tormey and Aiman Sha­l­abi — that they tracked down 753 cell ther­a­pies, with 375 in the clin­ic.
That fig­ure is up 87% in just 6 months, with 350 added to the pipeline around the world.
The tal­ly re­veals that "378 are in pre­clin­i­cal phase, 160 in phase I, 205 in phase II, 6 in phase II and 4 ap­proved (2 in the US, 1 in South Ko­rea and 1 in Italy)," re­ports the CRI. "In­ter­est­ing­ly, 404 of the 753 agents are chimeric anti­gen re­cep­tor (CAR) T cell ther­a­pies."
Not sur­pris­ing­ly, the US is in the clear lead here, with 344 pro­grams. But Chi­na is num­ber two, and catch­ing up fast, with 203. In a field where aca­d­e­m­ic cen­ters fre­quent­ly play a lead role in demon­strat­ing their po­ten­tial, 125 of Chi­na's pro­grams — 62% — are in the hands of aca­d­e­mics.
Here's a look at the glob­al play­ing field: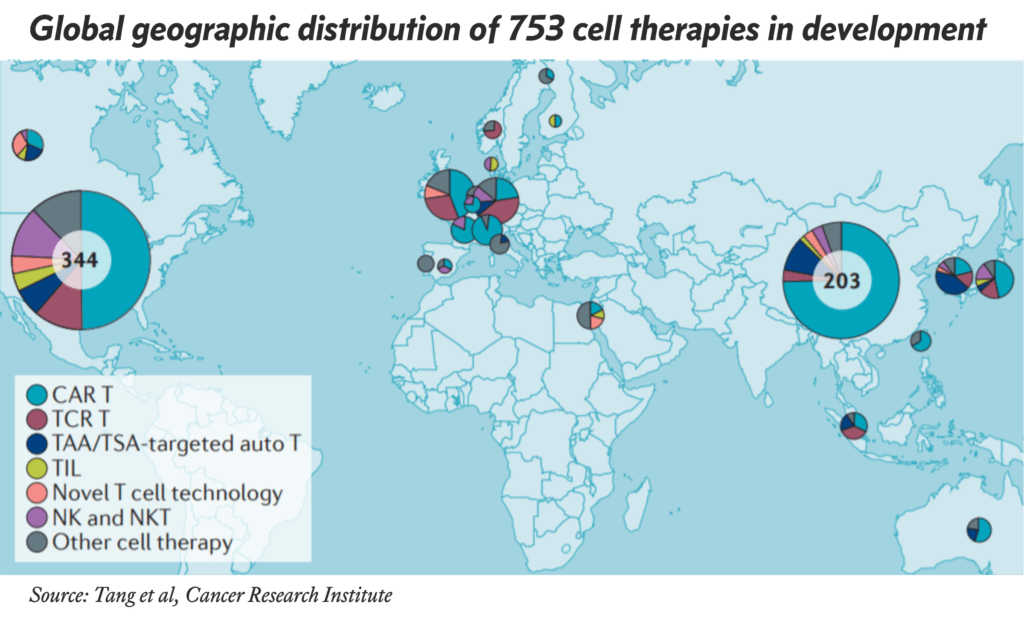 In the mean­time, it's get­ting rapid­ly eas­i­er to get these ther­a­pies pro­duced for clin­i­cal tri­als vir­tu­al­ly any­where. "(W)ith the rapid ad­vance­ment of lo­cal cell pro­duc­tion tech­nolo­gies, such as Clin­i­MACS Prodi­gy (Mil­tenyi Biotec), Co­coon (Lon­za) and Bea­con (Berke­ley Lights), we an­tic­i­pate a low en­try hur­dle for lo­cal man­u­fac­ture of cells for in­ves­ti­ga­tion­al clin­i­cal use."
There are 113 tar­gets on the radar in this field, with 73 in the clin­ic. CD19 rules the roost, for now, with BC­MA a grow­ing but still rel­a­tive­ly small seg­ment. Here's a look at the top 30: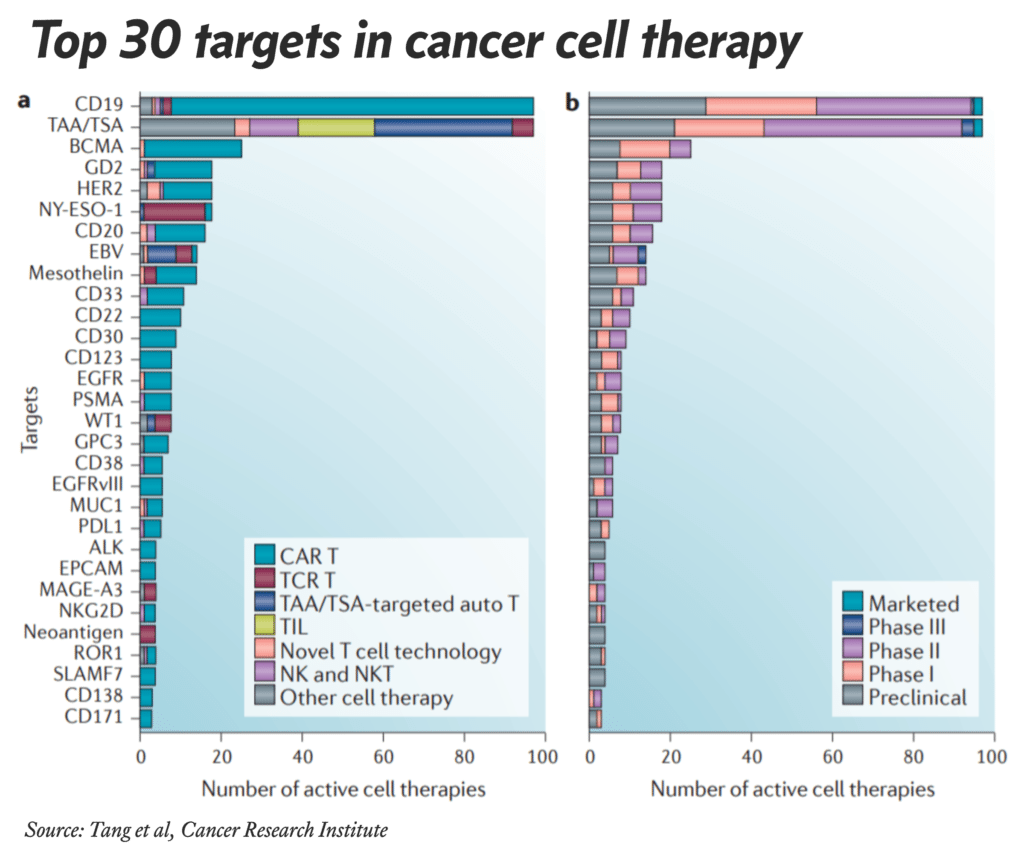 The boom­ing on­col­o­gy re­search field has de­liv­ered some im­por­tant gains in the last two years. But at this rate, the gold rush for ad­vanc­ing new drugs is spurring the CRI to out­line some bad­ly need­ed re­forms. Here are three:
They're ask­ing the R&D ex­ecs here to shift more of their fo­cus to in­tro­duc­ing ge­net­ic con­structs in­to cells, rather than con­cen­trate on vi­ral vec­tors, where a pro­duc­tion bot­tle­neck has de­vel­oped.
Rather than squan­der the lim­it­ed ac­cess to pa­tient vol­un­teers on a mas­sive num­ber of new stud­ies, they want de­vel­op­ers to move to adap­tive tri­al de­signs that ac­com­mo­date mul­ti­ple drugs and tar­gets at once.
And with the big push on to ex­pand in­to sol­id tu­mors, CRI wants de­vel­op­ers to fo­cus on the most im­por­tant tar­gets not cur­rent­ly be­ing treat­ed well with ex­ist­ing drugs.
There's no R&D czar in the world, though, that can de­mand dis­ci­pline in this field. Large play­ers have been re­sis­tant to be­ing told what to do as much as the small­er play­ers. And every­one wants to con­trol their own eco­nom­ics. The mar­ket is dri­ving the growth of the field, but it can't triage how it grows — un­less in­vestors start hold­ing back funds in search of more com­mon sense.