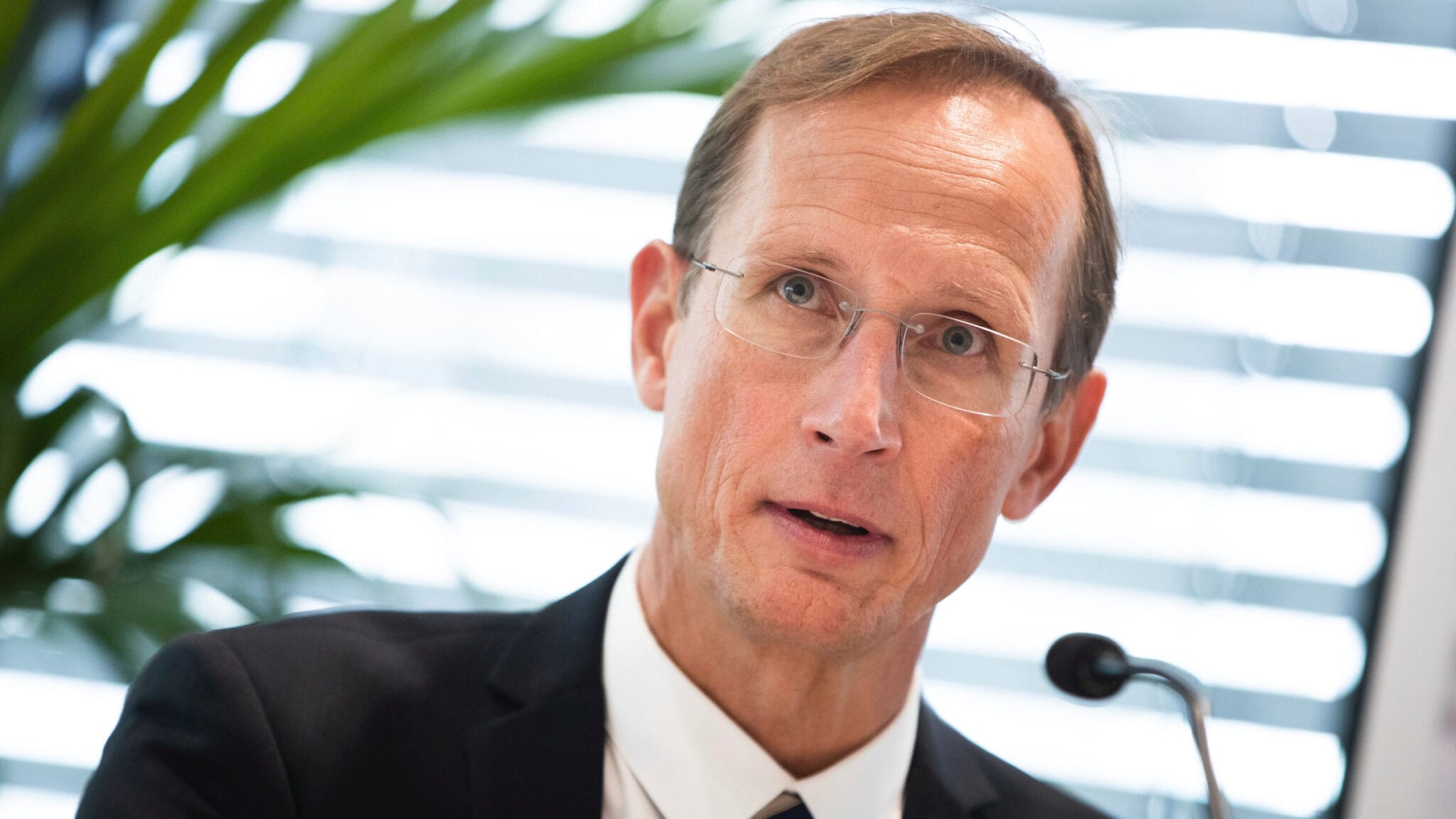 Franz-Werner Haas, CureVac CEO (AP Images)
Cure­Vac spins a ma­jor set­back on their mR­NA Covid vac­cine in­to an ad­van­tage in the mar­ket wars to come
Af­ter strug­gling — and large­ly fail­ing — to make a case for their dis­ap­point­ing Covid-19 vac­cine, Cure­Vac is throw­ing in the tow­el and tak­ing a shot at com­ing up with some­thing vi­able for the glob­al mar­ket when coun­tries shift from pan­dem­ic to en­dem­ic vac­ci­na­tion cam­paigns.
Tues­day morn­ing the Ger­man mR­NA play­er — ac­com­pa­nied by a rep­re­sen­ta­tive of Glax­o­SmithK­line, which is al­lied on the work — ripped the ban­dage off a fes­ter­ing wound and re­treat­ed from an mR­NA vac­cine that fell short of the 50% pro­tec­tion mark, drop­ping their ap­pli­ca­tion for au­tho­riza­tion in Eu­rope and ax­ing a con­tract to de­liv­er more than 400 mil­lion dos­es of the jab.
At the time Cure­Vac ex­ecs re­vealed the da­ta, they in­sist­ed that the vac­cine of­fered enough pro­tec­tion to make it a valu­able ad­di­tion in a world still reel­ing from an un­con­trolled virus. While vac­ci­na­tion lev­els have been ris­ing in af­flu­ent coun­tries, there's still a mas­sive de­mand for dos­es around the globe.
That's not a vi­able po­si­tion any­more, though, Cure­Vac CEO Franz-Wern­er Haas con­ced­ed in an in­vestor call Tues­day morn­ing. Ac­cord­ing to Haas, "the com­plex­i­ty of the da­ta we have" shift­ed any like­ly de­ci­sion on the part of Eu­ro­pean reg­u­la­tors back in­to 2022.
By that time, he adds, the de­mand for vac­cines will be shift­ing from first-gen vac­cines to sec­ond-gen so­lu­tions. And that's where they want to fo­cus their at­ten­tion.
Shares of Cure­Vac $CVAC slid more than 5% af­ter the news hit.
"While we ac­knowl­edge that we can­not be part of the first wave of vac­cines any more," not­ed the CEO, they can make a big dif­fer­ence for the sec­ond gen­er­a­tion re­sponse, when peak de­mand is fol­lowed by the on­go­ing re­quire­ments of con­trol­ling a virus that most ex­perts be­lieve will nev­er be ful­ly ex­tin­guished.
That's about as pos­i­tive a spin as Cure­Vac could muster at this point. Two mR­NA vac­cines from Pfiz­er/BioN­Tech and Mod­er­na have proven rel­a­tive­ly safe and high­ly ef­fec­tive — at least in the short term — for com­bat­ing the virus. Oth­er jabs, from J&J and As­traZeneca, have suf­fered from safe­ty fears, but still of­fer a shot at pro­tec­tion for large swathes of the world's pop­u­la­tion.
All of them have per­formed sig­nif­i­cant­ly bet­ter than Cure­Vac's vac­cine, which Haas ear­li­er claimed suf­fered from the vari­ants now spread­ing around the globe.
The set­back at Cure­Vac, once con­sid­ered a ma­jor play­er in the mR­NA are­na, al­so re­vives ques­tions about the tech­nol­o­gy it us­es. As End­points News' Ja­son Mast has re­port­ed, Cure­Vac used un­mod­i­fied RNA in its vac­cine in search of a ma­jor im­pact. BioN­Tech and Mod­er­na both used mod­i­fied RNA. And while the ju­ry is still out on that point, Cure­Vac was op­er­at­ing from a wob­bly tech stance that has drawn con­sid­er­able at­ten­tion.
In ad­di­tion, both BioN­Tech/Pfiz­er and Mod­er­na are work­ing on their own sec­ond-gen pro­grams, while de­vel­op­ing more glob­al man­u­fac­tur­ing ca­pac­i­ty for bet­ter dis­tri­b­u­tion. That gives them a large ad­van­tage in a ri­val­ry that will force the lag­gard Cure­Vac to do some­thing re­al­ly re­mark­able with a new vac­cine, or face be­ing forced to stay on the side­line.
This is al­so just the lat­est in a long string of vac­cine fail­ures. Sanofi and Mer­ck, for ex­am­ple, were both were forced to ac­knowl­edge their fail­ures, with Sanofi push­ing de­vel­op­ment out un­til 2022 and Mer­ck shift­ing its at­ten­tion to the an­tivi­ral mol­nupi­ravir. That pro­vid­ed BioN­Tech and Mod­er­na with a re­mark­able ad­van­tage, which they clear­ly in­tend to cap­i­tal­ize on.