Dai­ichi says it's ready to change the stan­dard of care for acute myeloid leukemia — but it's a work in progress
Close to 4 years ago, Dai­ichi Sankyo swooped in to buy lit­tle San Diego-based Am­bit Bio­sciences for up to $410 mil­lion — $315 mil­lion of that in cash — to lay its hands on a leukemia drug called quizar­tinib.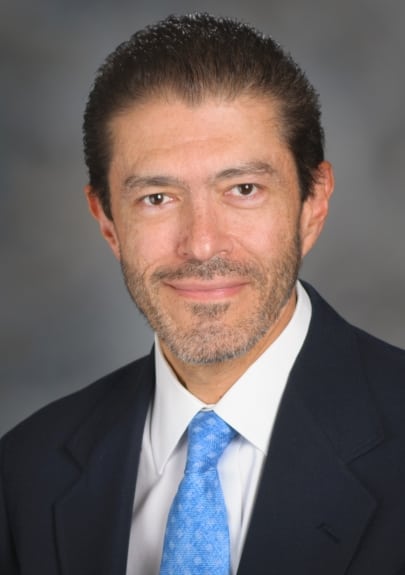 Jorge Cortes
Over the week­end, in­ves­ti­ga­tors rolled out the late-stage da­ta that the Japan­ese com­pa­ny plans to take to reg­u­la­tors at the FDA. The re­sults are sta­tis­ti­cal­ly sig­nif­i­cant but un­spec­tac­u­lar, with 27% of the pa­tients suf­fer­ing from treat­ment-re­sis­tant acute myeloid leukemia with FLT3-ITD mu­ta­tions in the drug arm mak­ing it to 52 weeks com­pared to 20% of the chemo pa­tients in the con­trol arm.
The haz­ard ra­tio was 0.76, with a 24% drop in risk of death. The p-val­ue on that was pos­i­tive: 0.0177.
For Jorge Cortes at MD An­der­son, who led the study, the da­ta of­fer a com­pelling case for Dai­ichi's drug as the on­ly sin­gle agent to prove ef­fi­ca­cy in this spe­cif­ic FLT3-ITD group.
"For 50 years, since the stan­dard of ther­a­py was in­tro­duced, noth­ing has changed since then," Cortes tells me. "You could say a few weeks isn't much," but he sees this as a land­mark suc­cess that will change that long-run­ning stan­dard of care.
"I see this as very sig­nif­i­cant," he adds, cit­ing the progress with an oral, sin­gle agent in a sal­vage set­ting with re­frac­to­ry pa­tients. "Any ben­e­fit for these pa­tients is very wel­come."
That's all true, but it's worth not­ing that No­var­tis' Ry­dapt (mi­dostau­rin) was ap­proved a year ago in com­bi­na­tion with chemo for front­line cas­es of AML with FLT3 mu­ta­tions (in­clud­ing ITD) while Nex­avar re­cent­ly demon­strat­ed ef­fi­ca­cy with chemo in the same spe­cif­ic pa­tient pop­u­la­tion.
Dai­ichi is clear­ly in­ter­est­ed in see­ing how this drug can do with chemo as well, with at least two com­bo stud­ies on­go­ing, ac­cord­ing to clin­i­cal­tri­als.gov. One of the study de­scrip­tions notes the "tran­sient" na­ture of the sec­ond-gen drugs in the field. There's al­so an ear­ly-stage study that was filed on the site a few days ago call­ing for a com­bi­na­tion of Dai­ichi's MDM2 In­hibitor DS-3032 with quizar­tinib.
That chemo com­bo ap­proach may well prove ef­fec­tive in the front­line set­ting, says the in­ves­ti­ga­tor. And the MDM2 ap­proach could sig­nif­i­cant­ly ex­pand the pop­u­la­tion of AML pa­tients they can help.
The next stop for quizar­tinib: Reg­u­la­tors.