Deal Watch, Am­gen: 'We've got a num­ber of pret­ty in­ter­est­ing prospects'
Last fall, the Fi­nan­cial Times man­aged to get heads to turn when it quot­ed sources say­ing that Am­gen was look­ing for an ac­qui­si­tion worth up to $10 bil­lion. It would be a buy­out that was di­rect­ly prod­uct/sales re­lat­ed. And it was no co­in­ci­dence that the tempt­ing key fig­ure was al­most ex­act­ly what it paid to get Onyx in 2013.
We're still wait­ing for that big ac­qui­si­tion.
The Big Biotech's last M&A deal hit last fall, when it picked up Dez­i­ma, a CETP ac­qui­si­tion with a $300 mil­lion up­front that land­ed just ahead of an­oth­er late-stage CETP fi­as­co at Eli Lil­ly. That pret­ty much fit the bill for all of Am­gen's M&A work since Onyx land­ed.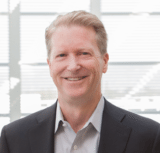 Am­gen CFO David Meline
But don't count Am­gen $AMGN out. Prac­ti­cal­ly all of the Big Bio­phar­mas are ru­mored to be hunt­ing up a buy­out of some kind and Am­gen is no ex­cep­tion.
Am­gen CFO David Meline stirred that pot again in yes­ter­day's Q2 call with an­a­lysts, sug­gest­ing that its deals team is ac­tive­ly en­gaged in hatch­ing some kind of buy­out in a high­ly com­pet­i­tive are­na.
Here's his in­trigu­ing com­ment about M&A:
We're not the on­ly peo­ple out there who are in the mar­ket look­ing for op­por­tu­ni­ties. So I think the point for us is we need to make sure that we first of all look at things as to the sci­en­tif­ic in­sight that we can bring to bear, in­clud­ing with our in­sight from a hu­man ge­net­ic per­spec­tive. And then sec­ond­ly, we are very clear that we're go­ing to be dis­ci­plined in terms of the fi­nan­cial re­turns that we can ex­pect. And we're in­ter­est­ed in do­ing deals that will cre­ate re­turns for Am­gen, not just the sell­er. So we con­tin­ue to be ac­tive and we've got a num­ber of pret­ty in­ter­est­ing prospects that we think could come to clo­sure, in­clud­ing still this year.