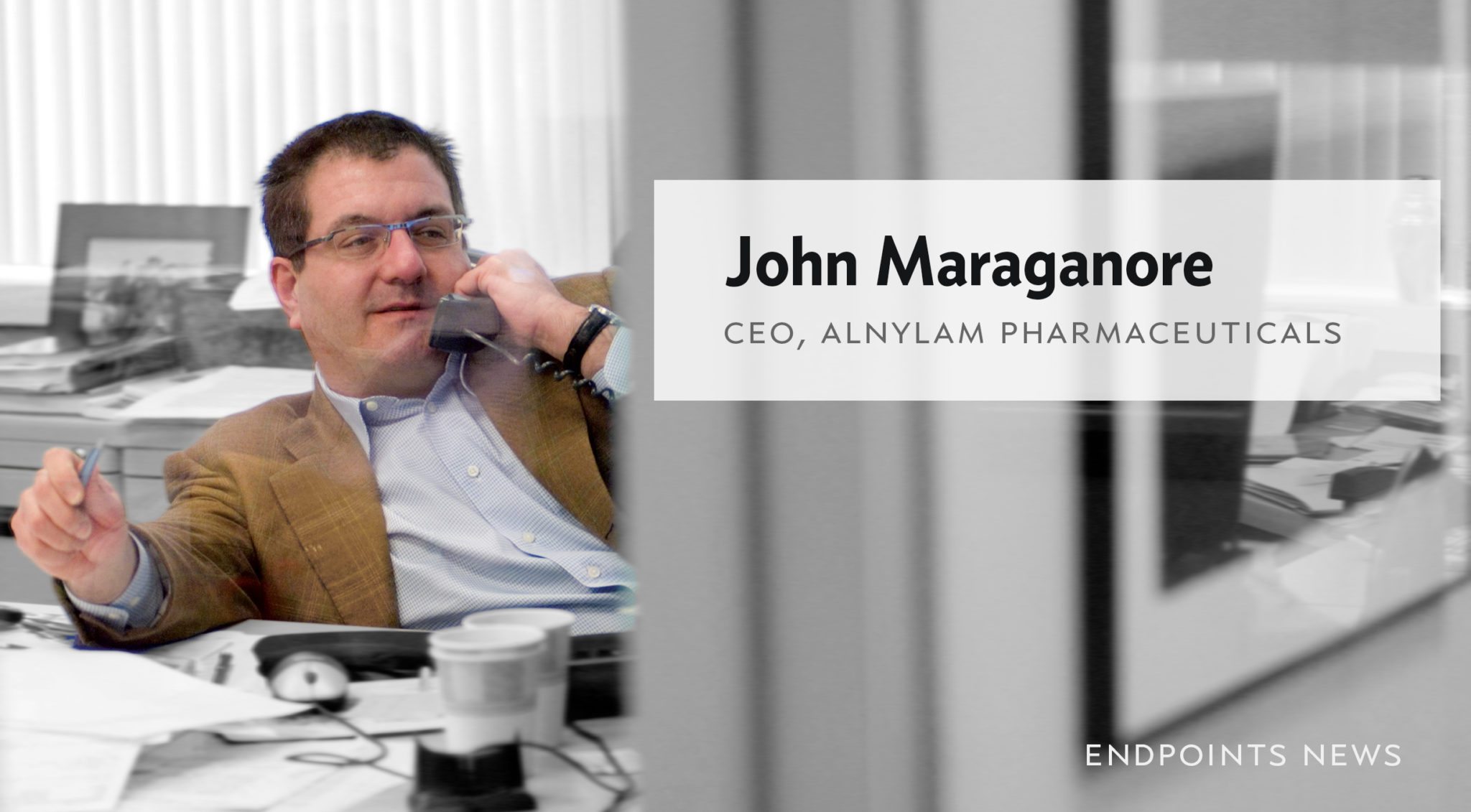 Al­ny­lam shares crater af­ter tri­al deaths force in­ves­ti­ga­tors to scrap PhI­II RNAi drug
Late Wednes­day Al­ny­lam shocked its in­vestors with news that it has de­cid­ed to scrap re­vusir­an, its sec­ond most ad­vanced RNAi ther­a­py in the pipeline, due to a spike in the num­ber of deaths among pa­tients tak­ing the drug in a late-stage tri­al. All dos­ing has been stopped and won't be re­sumed.
Shares in Al­ny­lam plunged 48% by late Thurs­day morn­ing, wip­ing out close to $3 bil­lion in mar­ket cap. Re­newed fears about the fate and fu­ture of RNAi al­so clawed back oth­er stocks, in­clud­ing ri­val Io­n­is $IONS, down 7%. The re­ac­tion dragged the Nas­daq biotech stock in­dex down 2%.
The drug was be­ing de­vel­oped for hered­i­tary AT­TR amy­loi­do­sis with car­diomy­opa­thy. But the biotech says that prob­lems with pe­riph­er­al neu­ropa­thy in an­oth­er study spurred the Cam­bridge, MA-based biotech to take a clos­er look at the Phase III da­ta it had been gath­er­ing.
Al­ny­lam in­ves­ti­ga­tors say that they did not find sol­id ev­i­dence of a drug-re­lat­ed neu­ropa­thy sig­nal. What they did find, af­ter un­blind­ing da­ta, was "an im­bal­ance of mor­tal­i­ty in the re­vusir­an arm as com­pared to place­bo." And they don't know why.
"This is drug de­vel­op­ment and these things do hap­pen," not­ed CEO John Maraganore in a call with an­a­lysts, de­clin­ing to break down how many pa­tients died in each arm. A to­tal of 18 pa­tients died in the study — which en­rolled 206 pa­tients — and there was an im­bal­ance, he added, which elim­i­nat­ed any chance of demon­strat­ing a ben­e­fit over risk for the drug. This is a par­tic­u­lar­ly sick, old­er pop­u­la­tion of pa­tients, he said. And none of the deaths have been de­ter­mined to be drug re­lat­ed.
This news comes just days af­ter Al­ny­lam took a nasty hit on its stock price af­ter a much ear­li­er-stage drug, the RNAi liv­er dis­ease drug ALN-AAT, was scrapped af­ter three pa­tients ex­pe­ri­enced spik­ing liv­er en­zymes in a Phase I/II. That's a clas­sic sign of pro­gram-killing tox­i­c­i­ty.
An­a­lysts didn't like the sound of any of this, and a few start­ed draw­ing lines be­tween the Phase III set­back and oth­er projects in the works at Al­ny­lam — ex­act­ly the kind of seep­age the biotech was try­ing hard to pre­vent.
"Re­vusir­an dis­con­tin­u­a­tion may have lim­it­ed read-through to the Patisir­an in FAP," not­ed Jef­feries' Gena Wang Thurs­day morn­ing, "how­ev­er, we see po­ten­tial­ly high risk to TTRsc02 pro­gram be­cause 1) same siR­NA se­quence as re­vusir­an; 2) in­crease in neu­ropa­thy in Ph2OLE and im­bal­ance of mor­tal­i­ty in Ph3 sug­gest lack of drug ac­tiv­i­ty for re­vusir­an even though the caus­es could be un­der­ly­ing dis­ease; 3) giv­en re­vusir­an's mor­tal­i­ty im­bal­ance and mor­tal­i­ty as pri­ma­ry end­point in tafadamis (PFE) Ph3 tri­al for FAC/SSA, the va­lid­i­ty of 6MWT as pri­ma­ry end­point re­mains to be seen."
Al­ny­lam has been one of the pi­o­neers of RNAi drug de­vel­op­ment, go­ing through plen­ty of ups and downs along the way. The com­pa­ny was once a dar­ling of Big Phar­ma, lost a lot of at­ten­tion when de­vel­op­ment times seemed too long and risky, then re­gained a lot of its verve with a big buy-in from Sanofi. Its two late-stage stud­ies have sparked high hopes among long­time in­vestors, who have been wait­ing years for the big pay­off.
Al­ny­lam al­so isn't the on­ly RNAi com­pa­ny to face safe­ty is­sues. Io­n­is CEO Stan­ley Crooke sparked a pan­ic ear­li­er in the year, ex­plain­ing dur­ing a call with an­a­lysts in May that their drug for TTR amy­loid car­diomy­opa­thy – at high dos­es — had been linked to per­plex­ing low platelet counts in pa­tients. That caused the FDA to trig­ger a clin­i­cal hold on a pro­gram, spurring Glax­o­SmithK­line to put a planned Phase III on a back burn­er.
Wednes­day evening, the com­pa­ny was try­ing to sound re­as­sur­ing. And in­ves­ti­ga­tors hit heav­i­ly on the dif­fer­ent tech­nolo­gies that dis­tin­guish this drug from the rest of Al­ny­lam's clin­i­cal-stage drugs. But that's go­ing to be a tough act to pull off.
"Pa­tient safe­ty comes first. We have stopped all dos­ing and are ac­tive­ly mon­i­tor­ing pa­tients across re­vusir­an stud­ies to en­sure their safe­ty. We will al­so con­tin­ue to eval­u­ate EN­DEAV­OUR da­ta to un­der­stand the po­ten­tial cause of these find­ings," said Maraganore in a state­ment. "While this out­come is dis­ap­point­ing giv­en the lack of avail­able treat­ment op­tions for pa­tients suf­fer­ing from this dev­as­tat­ing dis­ease, we re­main com­mit­ted to serv­ing the needs of the AT­TR amy­loi­do­sis com­mu­ni­ty. We would like to thank pa­tients, care­givers, in­ves­ti­ga­tors, and study staff who have been so sup­port­ive of the re­vusir­an pro­gram."