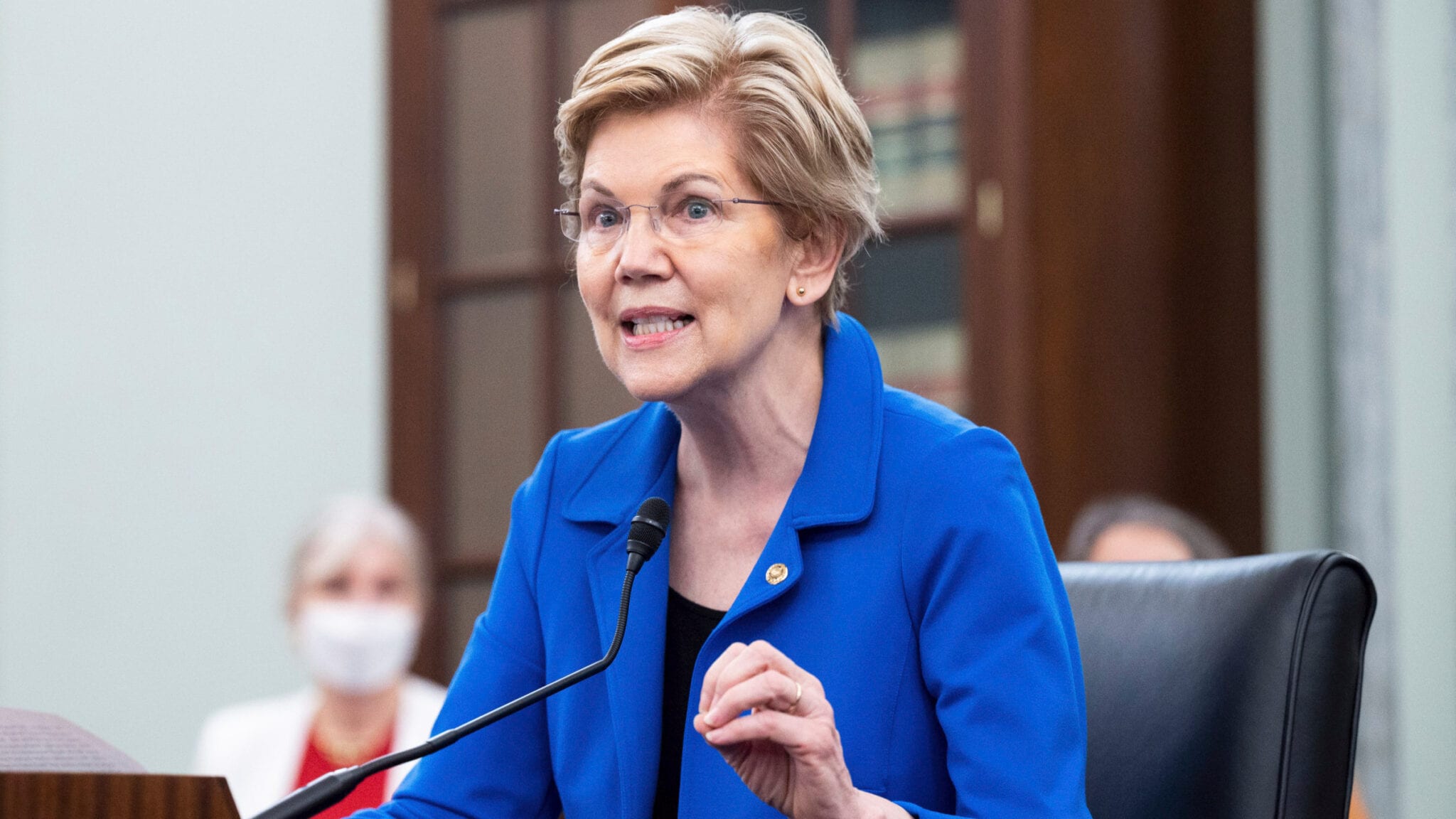 Sen. Elizabeth Warren (D-MA) (Michael Brochstein/Sipa USA/Sipa via AP Images)
De­moc­rats pe­ti­tion US patent of­fice to probe Mer­ck­'s new Keytru­da re­quests
De­moc­rats in both the House of Rep­re­sen­ta­tives and the Sen­ate are ask­ing the US Patent and Trade­mark Of­fice (PTO) to take a clos­er look at Mer­ck's pend­ing patents for its megablock­buster can­cer drug Keytru­da.
Sen. Eliz­a­beth War­ren (D-MA)'s of­fice an­nounced Thurs­day that the sen­a­tor, along­side Sen­ate Health com­mit­tee chair Bernie Sanders (I-VT) and Reps. Katie Porter (D-CA) and Prami­la Jaya­pal (D-WA), wrote a let­ter to PTO di­rec­tor Kathi Vi­dal on Wednes­day — ask­ing Vi­dal to scru­ti­nize any new patent re­quests from Mer­ck for Keytru­da, which hauled in $20.9 bil­lion last year.
The law­mak­ers ac­cused the phar­ma gi­ant of us­ing the US patent sys­tem to pro­tect its mo­nop­oly on the drug, say­ing that Mer­ck's at­tempts to patent a sub­cu­ta­neous for­mu­la­tion of Keytru­da is akin to "ex­tend­ing its mo­nop­oly pow­er over the drug" and seems to be an ex­am­ple of an­ti-com­pet­i­tive busi­ness prac­tices.
"What ac­tions will USP­TO take to en­sure that Mer­ck's at­tempt to seek dozens of patents 'does not un­nec­es­sar­i­ly de­lay get­ting gener­ic, biosim­i­lar and more af­ford­able ver­sions of those drugs in­to the hands of Amer­i­cans who need them?'" the politi­cians added, say­ing that the patent of­fice should re­ject any of Mer­ck's patent re­quests "that do not clear­ly meet the agency's stan­dards of nov­el­ty, util­i­ty, and non-ob­vi­ous­ness."
A Mer­ck spokesper­son told End­points News in re­sponse to the let­ter that "Mer­ck is con­tin­u­ous­ly in­no­vat­ing to en­hance the ben­e­fits of Keytru­da in or­der to reach greater num­bers of pa­tients and to in­crease ef­fi­ca­cy and con­ve­nience of the treat­ment."
The spokesper­son added, "When ap­pro­pri­ate, Mer­ck pro­tects this ad­di­tion­al in­no­va­tion through the fil­ing of patent ap­pli­ca­tions, par­tic­u­lar­ly when we view the in­no­va­tion as nov­el, use­ful and nonob­vi­ous."
War­ren and Sanders have spo­ken out against the phar­ma­ceu­ti­cal in­dus­try be­fore.
More re­cent­ly, War­ren asked the Fed­er­al Trade Com­mis­sion to in­ves­ti­gate cer­tain phar­ma buy­out deals last month — no­tably Am­gen's $28 bil­lion plan to take over Hori­zon Ther­a­peu­tics and In­di­v­ior's pro­posed ac­qui­si­tion of Opi­ant for $145 mil­lion up­front. The sen­a­tor, in a let­ter to FTC chair Lina Khan and two of the com­mis­sion­ers, called the deals "ram­pant con­sol­i­da­tion in the phar­ma­ceu­ti­cal in­dus­try."
Sanders, a long-time crit­ic of the phar­ma­ceu­ti­cal in­dus­try and new­ly-tapped chair­man of the Sen­ate Com­mit­tee on Health, Ed­u­ca­tion, La­bor and Pen­sions (HELP), has been proac­tive in his cri­tiques of in­dus­try. The sen­a­tor re­cent­ly con­demned re­port­ed plans from Covid vac­cine gi­ant Mod­er­na to price its vac­cine be­tween $110 and $130 per dose in the US, a 300% in­crease, and has plans to grill Mod­er­na CEO Stephane Ban­cel next month.
"The huge in­crease in price that you have pro­posed will have a sig­nif­i­cant­ly neg­a­tive im­pact on the bud­gets of Med­ic­aid, Medicare and oth­er gov­ern­ment pro­grams that will con­tin­ue cov­er­ing the vac­cine with­out cost-shar­ing for pa­tients," Sanders wrote at the time.
Mod­er­na lat­er said peo­ple won't need to pay out-of-pock­et for its Covid vac­cine, re­gard­less of in­sur­ance sta­tus.