De­nali grabs an­oth­er megaround while ink­ing a flur­ry of neu­rode­gen­er­a­tion R&D pacts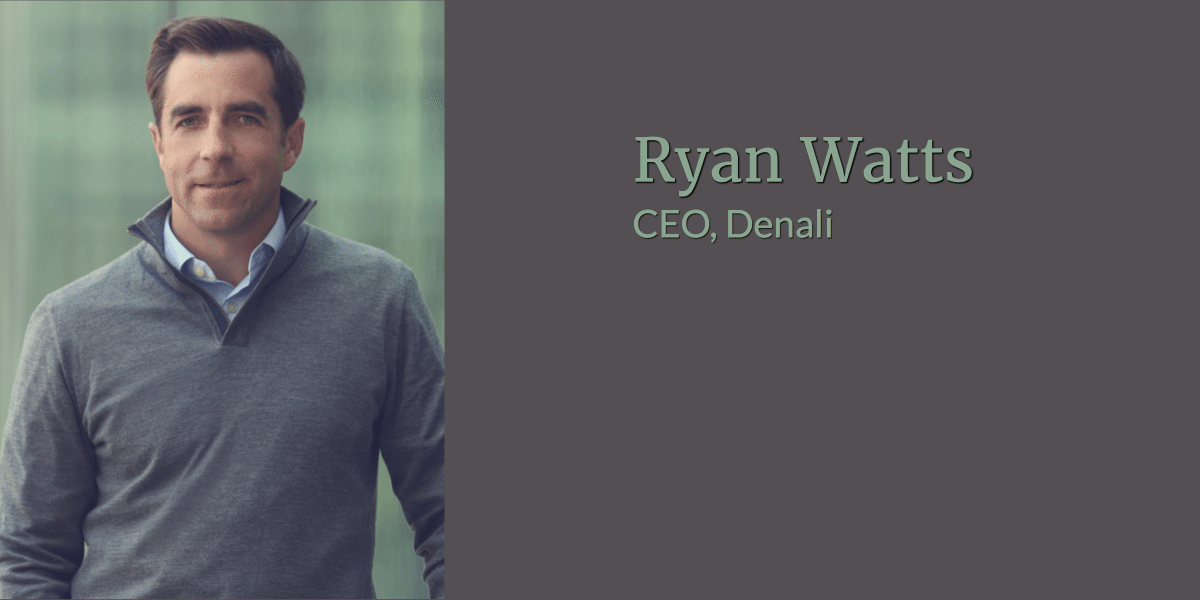 ---
South San Fran­cis­co-based up­start De­nali Ther­a­peu­tics has been busy. A lit­tle more than a year af­ter mak­ing a splash with its $217 mil­lion start­up round de­signed to fund a new breed of neu­rode­gen­er­a­tion drug de­vel­op­er, the biotech is back with an­oth­er megaround fi­nanc­ing and a string of deals topped by a move in­to the clin­ic for its lead drug.
De­nali is go­ing big, ear­ly on. The sec­ond chap­ter in De­nali's sto­ry starts with a $130 mil­lion Se­ries B, bring­ing its to­tal close to $350 mil­lion. And it's lin­ing up a Phase I study for a small mol­e­cule RIP1 in­hibitor tar­get­ing glial dys­func­tion, where De­nali hopes to start es­tab­lish­ing a track record for suc­cess against ALS and Alzheimer's.
Start­ing from scratch, the team at De­nali — large­ly ex-Genen­tech staffers who have struck out on their own — has set out to build a com­pa­ny that they be­lieve can suc­ceed af­ter many of the gi­ants in the in­dus­try have paid heav­i­ly for more than a decade of fail­ure.
"We've looked at part­ner­ing as a means to build­ing the port­fo­lio," Chief Op­er­at­ing Of­fi­cer Alex Schuth tells me, high­light­ing a first set that in­cludes two fo­cused on con­quer­ing the blood-brain bar­ri­er, which has thrown a host of ear­li­er drugs off tar­get. Here they are, in se­quence:
De­nali has ac­quired San Diego-based In­cro Phar­ma­ceu­ti­cals, a vir­tu­al, sin­gle-as­set af­fair that de­liv­ers a RIP1 drug out of Har­vard. And just days ago the biotech filed a tri­al ap­pli­ca­tion with Eu­ro­pean of­fi­cials with plans to start hu­man test­ing, con­cen­trat­ing on a ki­nase that reg­u­lates in­flam­ma­to­ry sig­nal­ing.

They struck a deal with their al­ma mater Genen­tech to de­vel­op and com­mer­cial­ize LRRK2 in­hibitors for the treat­ment of Parkin­son's dis­ease.

There's an­oth­er pact with Wash­ing­ton Uni­ver­si­ty School of Med­i­cine in St. Louis for the de­vel­op­ment and com­mer­cial­iza­tion of an­ti­bod­ies tar­get­ing ApoE, a big tar­get for Alzheimer's.

Cam­bridge, UK-based F-star, mean­while, is bring­ing its bis­pe­cif­ic an­ti­body de­vel­op­ment ex­per­tise to the ta­ble, as De­nali looks to break through the blood-brain bar­ri­er. That deal in­cludes an op­tion to buy out a new­ly formed group for $450 mil­lion, with an ear­ly-stage trig­ger on the de­ci­sion.

Seat­tle-based Blaze Bio­science, mean­while, is work­ing on some ther­a­peu­tics that F-star's bis­pecifics can hus­tle across the BBB.
There's more. Deals have been signed with the ALS Ther­a­py De­vel­op­ment In­sti­tute (ALS TDI), Ap­tu­it, Evotec, Mass­a­chu­setts Gen­er­al Hos­pi­tal, The Michael J. Fox Foun­da­tion, Pa­tients­LikeMe and the Uni­ver­si­ty of Cal­i­for­nia San Diego School of Med­i­cine.
The staff at De­nali, mean­while, has swelled to 80, says CEO Ryan Watts, who adds that that num­ber will con­tin­ue to grow as the biotech signs up with more col­lab­o­ra­tors and builds its first 10 pro­grams for the clin­ic.
Chief Med­ical Of­fi­cer Ca­r­ole Ho says she's been re­view­ing hun­dreds of pa­pers and some 80 failed stud­ies in this field to prep for the com­ing de­vel­op­ment work, look­ing to avoid the same pit­falls.
"This may sounds like Drug 101," she says, but De­nali's suc­cess af­ter so many fail­ures will get down to its abil­i­ty to en­gage the tar­get, with the right kind of bio­mark­ers in place to track their suc­cess. De­vel­op­ing bio­mark­ers ear­ly, she adds, is crit­i­cal. And the bi­ol­o­gy of these dis­eases is be­com­ing more clear through the rapid ad­vance of ge­net­ics re­search.
RIP1, ApoE and LRRK2 have nev­er re­al­ly been test­ed be­fore, adds the CEO, giv­ing De­nali a "much bet­ter start­ing point."
The deal with F-star starts small, but could wind up in the big leagues. De­nali is pay­ing $6 mil­lion to get a new op­er­a­tion dubbed F-star Gam­ma off the ground, F-star CEO John Hau­rum tells me. De­nali will al­so fund the re­search work, head­ing to a cross­roads where De­nali can ei­ther pick up an op­tion to buy the op­er­a­tion for $450 mil­lion or ink a li­cens­ing pact for the rights to its bis­pecifics. The op­tion de­ci­sion falls ahead of Phase I, says Hau­rum, and if the biotech choos­es to go the li­cens­ing route, the mile­stones could add up to more than $1 bil­lion.
This isn't the first of these kinds of deals for F-star, which has col­lab­o­ra­tions un­der­way with Bris­tol-My­ers Squibb and Ab­b­Vie. Hau­rum's been im­pressed with the De­nali crew, which came to him af­ter de­cid­ing that F-star's abil­i­ty to cre­ate both bis­pe­cif­ic as well as bi­va­lent an­ti­bod­ies gave it the best shot at hit­ting the tar­gets lined up once they get through the blood-brain bar­ri­er — a ma­jor ob­sta­cle in neu­rode­gen­er­a­tive re­search work.
"They bring as­pects of the Genen­tech cul­ture that every­one has re­spect­ed for years," says Hau­rum.
Bail­lie Gif­ford, a UK-based mu­tu­al fund, led the round, with all of De­nali's orig­i­nal in­vestors com­ing back in along with some un­named in­sti­tu­tion­al in­vestors. The found­ing in­vestors in­clude ARCH Ven­ture Part­ners, F-Prime Bio­sciences, Flag­ship Ven­tures and the Alas­ka Per­ma­nent Fund.
The in­ten­tion here is to get the right syn­di­cate to­geth­er to back a com­pa­ny that has years of ex­pen­sive re­search work ahead be­fore it can es­tab­lish a clear proof-of-con­cept case that its on the right track, says CFO Steve Krognes.
So is an IPO in sight? De­nali's ex­ec­u­tive team will on­ly say that it has plen­ty of re­sources at this stage, and more than enough of time to con­sid­er all the ways to con­tin­ue to fund the work, whether that means more mon­ey from the syn­di­cate, an IPO at some point, or a part­ner­ship or two with a ma­jor al­ly that could al­so sup­port their work.
The way they're go­ing, De­nali may take every­thing on the ta­ble.