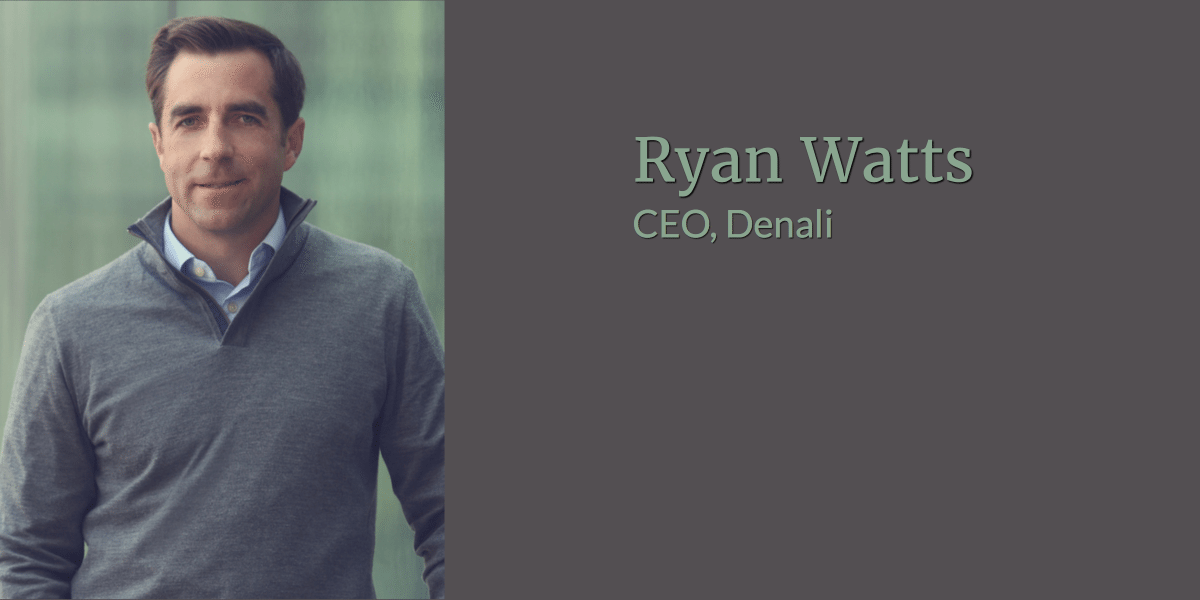 ---
South San Francisco-based upstart Denali Therapeutics has been busy. A little more than a year after making a splash with its $217 million startup round designed to fund a new breed of neurodegeneration drug developer, the biotech is back with another megaround financing and a string of deals topped by a move into the clinic for its lead drug.
Denali is going big, early on. The second chapter in Denali's story starts with a $130 million Series B, bringing its total close to $350 million. And it's lining up a Phase I study for a small molecule RIP1 inhibitor targeting glial dysfunction, where Denali hopes to start establishing a track record for success against ALS and Alzheimer's.
Starting from scratch, the team at Denali — largely ex-Genentech staffers who have struck out on their own — has set out to build a company that they believe can succeed after many of the giants in the industry have paid heavily for more than a decade of failure.
"We've looked at partnering as a means to building the portfolio," Chief Operating Officer Alex Schuth tells me, highlighting a first set that includes two focused on conquering the blood-brain barrier, which has thrown a host of earlier drugs off target. Here they are, in sequence:
Denali has acquired San Diego-based Incro Pharmaceuticals, a virtual, single-asset affair that delivers a RIP1 drug out of Harvard. And just days ago the biotech filed a trial application with European officials with plans to start human testing, concentrating on a kinase that regulates inflammatory signaling.

They struck a deal with their alma mater Genentech to develop and commercialize LRRK2 inhibitors for the treatment of Parkinson's disease.

There's another pact with Washington University School of Medicine in St. Louis for the development and commercialization of antibodies targeting ApoE, a big target for Alzheimer's.

Cambridge, UK-based F-star, meanwhile, is bringing its bispecific antibody development expertise to the table, as Denali looks to break through the blood-brain barrier. That deal includes an option to buy out a newly formed group for $450 million, with an early-stage trigger on the decision.

Seattle-based Blaze Bioscience, meanwhile, is working on some therapeutics that F-star's bispecifics can hustle across the BBB.
There's more. Deals have been signed with the ALS Therapy Development Institute (ALS TDI), Aptuit, Evotec, Massachusetts General Hospital, The Michael J. Fox Foundation, PatientsLikeMe and the University of California San Diego School of Medicine.
The staff at Denali, meanwhile, has swelled to 80, says CEO Ryan Watts, who adds that that number will continue to grow as the biotech signs up with more collaborators and builds its first 10 programs for the clinic.
Chief Medical Officer Carole Ho says she's been reviewing hundreds of papers and some 80 failed studies in this field to prep for the coming development work, looking to avoid the same pitfalls.
"This may sounds like Drug 101," she says, but Denali's success after so many failures will get down to its ability to engage the target, with the right kind of biomarkers in place to track their success. Developing biomarkers early, she adds, is critical. And the biology of these diseases is becoming more clear through the rapid advance of genetics research.
RIP1, ApoE and LRRK2 have never really been tested before, adds the CEO, giving Denali a "much better starting point."
The deal with F-star starts small, but could wind up in the big leagues. Denali is paying $6 million to get a new operation dubbed F-star Gamma off the ground, F-star CEO John Haurum tells me. Denali will also fund the research work, heading to a crossroads where Denali can either pick up an option to buy the operation for $450 million or ink a licensing pact for the rights to its bispecifics. The option decision falls ahead of Phase I, says Haurum, and if the biotech chooses to go the licensing route, the milestones could add up to more than $1 billion.
This isn't the first of these kinds of deals for F-star, which has collaborations underway with Bristol-Myers Squibb and AbbVie. Haurum's been impressed with the Denali crew, which came to him after deciding that F-star's ability to create both bispecific as well as bivalent antibodies gave it the best shot at hitting the targets lined up once they get through the blood-brain barrier — a major obstacle in neurodegenerative research work.
"They bring aspects of the Genentech culture that everyone has respected for years," says Haurum.
Baillie Gifford, a UK-based mutual fund, led the round, with all of Denali's original investors coming back in along with some unnamed institutional investors. The founding investors include ARCH Venture Partners, F-Prime Biosciences, Flagship Ventures and the Alaska Permanent Fund.
The intention here is to get the right syndicate together to back a company that has years of expensive research work ahead before it can establish a clear proof-of-concept case that its on the right track, says CFO Steve Krognes.
So is an IPO in sight? Denali's executive team will only say that it has plenty of resources at this stage, and more than enough of time to consider all the ways to continue to fund the work, whether that means more money from the syndicate, an IPO at some point, or a partnership or two with a major ally that could also support their work.
The way they're going, Denali may take everything on the table.
---
The best place to read
Endpoints News

? In your inbox.

Comprehensive daily news report for those who discover, develop, and market drugs. Join 47,900+ biopharma pros who read Endpoints News by email every day.

Free Subscription
---
---
---