Ebo­la! Zi­ka! ATM! In­ovio CEO Kim called out for gam­ing pan­dem­ic pan­ic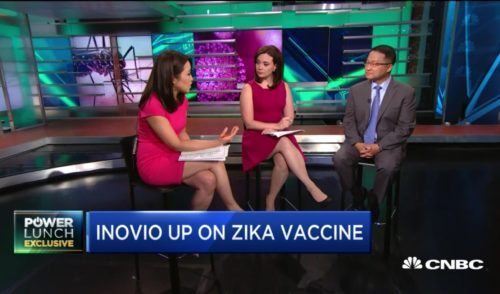 CN­BC's Melis­sa Lee and Meg Tir­rell with In­ovio CEO Joseph Kim.
"You seem to be John­ny-on-the-spot when it comes to in­fec­tious dis­eases. When­ev­er some­thing pops up it seems In­ovio comes back in­to the news" and says its work­ing on a vac­cine.
That com­ment from CN­BC's Melis­sa Lee set the stage for an un­usu­al­ly blunt in­ter­view with In­ovio ($INO) CEO Joseph Kim, with her col­league Meg Tir­rell jump­ing in with a se­ries of tough ques­tions.
The two CN­BC re­porters were all busi­ness in the in­ter­view, high­light­ing In­ovio's habit of scram­bling on­to every pan­dem­ic wag­on that gets rolling and is­su­ing a string of bull­ish pro­jec­tions about lead­ing the race for a new vac­cine—all while rais­ing more cash from in­vestors.
Now that Zi­ka has come along, spurring scary head­lines around the plan­et, the com­pa­ny has a pipeline with 14 projects, but noth­ing has been ap­proved in the 37 years since the biotech was found­ed.
The ques­tions may have been tough, but the an­swers were all soft and fuzzy.
Spread too thin?

Kim: "I think our pipeline is very full and very pro­duc­tive."

That yet-to-be-start­ed Phase III piv­otal study for cer­vi­cal dys­pla­sia. The Phase II was wrapped two years ago. Why the de­lay?

Kim: The FDA meet­ing was just a cou­ple of months ago, and be­sides, "it takes a long time to take new, dis­rup­tive tech­nolo­gies for these im­por­tant dis­eases for­ward."

Our CN­BC Ebo­la in­ter­view oc­curred in No­vem­ber, 2014. Do you have the fund­ing and fo­cus nec­es­sary to com­plete the work?

Kim: There are 200 ded­i­cat­ed sci­en­tists and vac­cine de­vel­op­ers.

"We have a fab­u­lous tech make this prod­uct and ad­vance them."
And lest any­one for­get: "The med­ical prod­uct de­vel­op­ment is a long and ar­du­ous road."
In the mean­time, In­ovio con­tin­ues to match fundrais­ing with its pan­dem­ic PR. The biotech end­ed last week by fil­ing a $50 mil­lion ATM. It start­ed this week by an­nounc­ing that it was ready to roll on a Phase I study for its Zi­ka vac­cine, af­ter tout­ing pre­clin­i­cal da­ta.
With Zi­ka spread­ing fast, In­ovio wants you to know it's rac­ing as fast as it can.
"We plan to dose our first sub­jects in the next weeks and ex­pect to re­port phase I in­ter­im re­sults lat­er this year," not­ed the com­pa­ny's PR.
And if Zi­ka doesn't pan out, there's an­oth­er pan­dem­ic ly­ing around the next cor­ner.