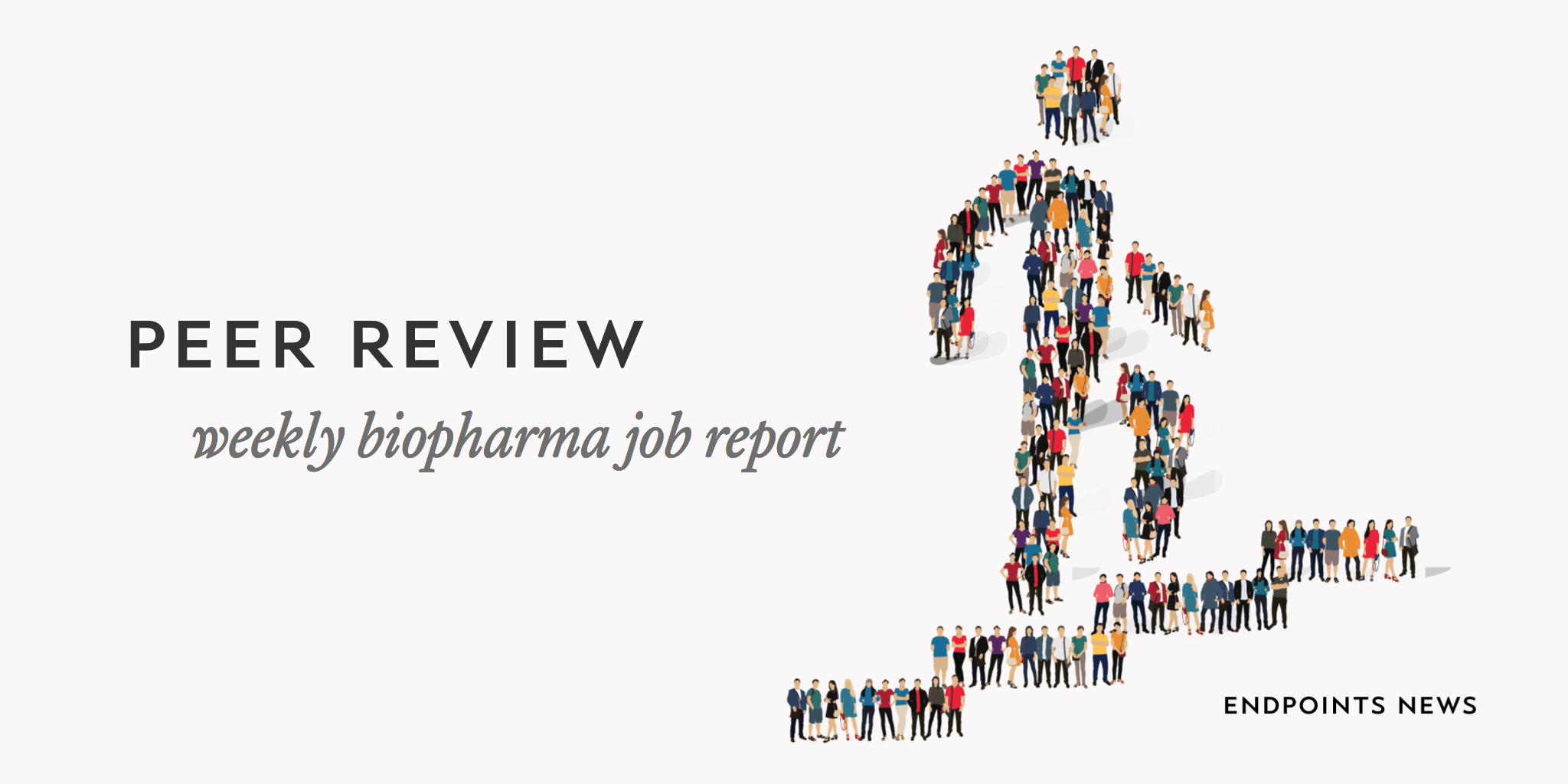 Ed­i­tas CMO to ex­it as CRISPR tech gears up; Roche di­ag­nos­tics di­vi­sion CEO Roland Diggel­mann is out
→ Roland Diggel­mann is step­ping down as CEO of Roche's di­ag­nos­tics di­vi­sion to "pur­sue his ca­reer out­side of the com­pa­ny." The Swiss drug­mak­er $RHH­BY, which part­ed ways with R&D chief John Reed in re­cent months, has ap­point­ed Michael Heuer — the re­gion head of Eu­rope, Mid­dle East, Africa, and Latin Amer­i­ca — to fill the role ad in­ter­im. This year marks the 10th year of Diggel­man's ca­reer at Roche Di­ag­nos­tics, where he pre­vi­ous­ly led the Asia Pa­cif­ic re­gion.
→ Bris­tol-My­ers Squibb $BMY found a re­place­ment for Mur­do Gor­don, the ex-com­mer­cial chief who re­cent­ly jumped ship to take the same reins at Am­gen. And CEO Gio­van­ni Caforio didn't have to go far to find him. Christo­pher Boern­er, a sea­soned vet who's been in charge of in­ter­na­tion­al sales at Bris­tol-My­ers, is get­ting the big pro­mo­tion to com­mer­cial chief and ex­ec­u­tive vice pres­i­dent. Boern­er — who's worked at Seat­tle Ge­net­ics, Den­dreon and Genen­tech in the past — will like­ly be giv­en the chance of push­ing Bris­tol's new PD-1 ap­proach on tu­mor mu­ta­tion bur­den in­to the mar­ket, where it will like­ly face a con­sid­er­able amount of con­fu­sion and kick­back over the tests that would be re­quired to iden­ti­fy pa­tients. But to his ad­van­tage, he knows the port­fo­lio bet­ter than most.
→ In the lat­est move in a reshuf­fle of se­nior ex­ecs among the biggest play­ers in bio­phar­ma, Gilead has tapped long­time Am­gen vet Lau­ra Hamill to head its com­mer­cial team. Hamill fills a po­si­tion va­cat­ed by the re­tire­ment of James Mey­ers, whose ca­reer tra­jec­to­ry was quite sim­i­lar to hers: He joined Gilead in 1996 as a re­gion­al sales di­rec­tor, climb­ing all the way up to EVP, com­mer­cial op­er­a­tions. Hamill had been with Am­gen since 2002, most re­cent­ly serv­ing as SVP, US busi­ness op­er­a­tions. Her new role gives her broad au­thor­ity over Gilead's mar­ket­ing strat­egy and prod­uct launch­es around the world. Hamill joins Gilead at a time the big biotech is un­der­go­ing a ma­jor soul search­ing amidst a C-suite ex­o­dus.
→ Ed­i­tas Med­i­cine is search­ing for a new ex­ec to steer the first clin­i­cal tests of its CRISPR gene edit­ing tech as CMO Ger­ald Cox plans to de­part the com­pa­ny at the end of the year. Cox, a 16-year Sanofi Gen­zyme vet who joined Ed­i­tas in 2016, did not give a rea­son for his res­ig­na­tion ex­cept that it "felt like a nat­ur­al tran­si­tion point." Cox will con­tin­ue to lead the ef­forts in sub­mit­ting Ed­i­tas' first IND, which is ex­pect­ed in 2018.
→ Last we heard from Arc­turus Ther­a­peu­tics, CEO Joseph Payne was cel­e­brat­ing his vic­to­ry against the board of di­rec­tors that oust­ed him. Now, he's ready to build up his own team in the af­ter­math of the bat­tle royale, putting An­drew Sas­sine — one of the new board mem­bers he brought on to re­place his old foes — in the CFO seat tem­porar­i­ly while he search­es for a per­ma­nent hire. For­mer­ly of Fi­deli­ty In­vest­ments, Sas­sine has spent the past few ears on the boards of sev­er­al life sci­ence com­pa­nies.
→ As the PDU­FA date for Ve­rastem On­col­o­gy's PI3K drug ap­proach­es, it has re­cruit­ed Robert Gagnon to han­dle its fi­nances as CFO. A for­mer chief ac­count­ing of­fi­cer at Bio­gen, Gagnon has since worked in two CFO roles at an in­dus­tri­al ser­vices com­pa­ny and a life sci­ence re­search tools provider. It will on­ly be weeks be­fore we know whether du­velis­ib, an Ab­b­Vie castoff with a no­madic past, will fi­nal­ly get an OK at the FDA de­spite mixed re­sults.
→ Toron­to-based top­i­cal cream de­vel­op­er De­liv­ra has pro­mot­ed Pas­cal At­tard to CFO af­ter two years as VP of fi­nance.
→ Longeveron, a Mi­a­mi-based com­pa­ny de­vel­op­ing stem cell ther­a­pies for age-re­lat­ed dis­eases, has named Arin Maer­cks chief com­mer­cial of­fi­cer. With their lead prod­uct for ag­ing frailty in Phase II, ex­ecs be­lieve Maer­cks' ex­pe­ri­ence guid­ing growth in a slate of in­dus­tries — from med­ical de­vice to point of care tech­nol­o­gy — will come in­to play. Oth­er pro­grams in the pipeline in­clude an Alzheimer's treat­ment.
→ The hir­ing spree at Al­lo­gene Ther­a­peu­tics is con­tin­u­ing with the ap­point­ment of David Tillet as SVP, head of qual­i­ty. Tillet shares the same Am­gen roots with Al­lo­gene's new chief tech­ni­cal of­fi­cer, Al­li­son Moore, though he's been work­ing as a con­sul­tant in the past few years — Al­lo­gene be­ing one of his clients. "I look for­ward to build­ing and over­see­ing the qual­i­ty func­tion and be­ing a part of this ex­cit­ing time at Al­lo­gene," he said in a state­ment, as the up­start looks to claim the fron­trun­ner po­si­tion in CAR-T with a pipeline of cell ther­a­pies from Pfiz­er.
→ Look­ing to up its IT game, Ei­sai has tapped Stephen Davies to over­see its glob­al tech­nol­o­gy in­fra­struc­ture and app de­vel­op­ment as well as the IT func­tion for its Amer­i­c­as re­gion. Jump­ing from a re­search di­rec­tor role at ad­vi­so­ry firm Gart­ner's life sci­ence di­vi­sion, Davies' of­fi­cial ti­tle will be VP, Ei­sai strat­e­gy in­for­ma­tion sys­tems.
→ Chi-Chang Wung is the new di­rec­tor of an­a­lyt­i­cal de­vel­op­ment at UPM Phar­ma­ceu­ti­cals. Pri­or to the con­tract de­vel­op­ment and man­u­fac­tur­ing or­ga­ni­za­tion, he's worked at Alk­er­mes and Siga Tech­nolo­gies.
→ Af­ter a stint at gener­ics mak­er Lupin Phar­ma, Mer­ck vet Jef­fery Palmer has land­ed at Tris Phar­ma. As VP of qual­i­ty and com­pli­ance, he will build up a qual­i­ty team as the com­pa­ny looks to piv­ot to com­mer­cial­iza­tion with a pair of cold meds.
→ Cana­da's Tetra Bio-Phar­ma has hired Steeve Neron to strate­gize mar­ket­ing for its cannabi­noid-based drug can­di­dates. The new VP jumps from Bausch Health Cana­da — bet­ter known by its for­mer iden­ti­ty as Valeant.
→ Not­ed CAR-T in­ves­ti­ga­tor Michel Sade­lain is lend­ing his cell ther­a­py ex­per­tise to the plat­form builders at Berke­ley Lights, where he's the lat­est mem­ber of its strate­gic sci­en­tif­ic ad­vi­so­ry board.