At first blush, Eisai and Biogen posted the kind of promising data for BAN2401 that might have overcome some doubts about its potential as a treatment for Alzheimer's, a field marked by the wreckage of repeated, high profile failures. But instead of cheering on evidence of success, a large group of analysts last night zeroed in on a crucial change in the study that could have confounded the data presented — and now we have a brand new controversy to add to the literature of Alzheimer's.
After building sky high expectations over the course of the past few days, Eisai investigators allied with Biogen $BIIB said Wednesday afternoon that the high dose of BAN2401 produced positive data in a mid-stage study with a statistically significant 30% slowing in the rate of decline compared to the placebo arm in the high dose arm of the study at 18 months.
That 30% slowing was based on a unique set of goals outlined in their bespoke ADCOMS measure of the clinical decline experienced by patients with Alzheimer's, which is another reason why there's so much debate over the value of the results. But the research team also noted that there was a remarkable 47% improvement in the rate of decline at 18 months when the high dose arm was measured by the standard ADAS-Cog test.
A winner? No, because it turns out there was a big catch.
Critics quickly began pulling apart the data, finding enough holes in it to squelch Biogen's share price, which plunged 12%. Eisai would quickly follow with its own drubbing after questions were raised in a call with Biogen execs about a decision by European regulators to move APOe4 carriers out of the high dose arm as they were worried by the threat of brain swelling — or ARIA-E — which they are prone to. APOe4 carriers are at higher risk of the disease as well as faster progression, and putting them in lower dose arms — while leaving APOe4 patients in the placebo group — raised the possibility that the researchers had made it possible for the high dose arm to hit statistical significance.
Otherwise, it could have all been just another failure.
Geoffrey Porges notes this morning:
The disparity between the 30% rate of APOe4 carriers in the highest 10mg/kg Q2 week arm, and the 71% rate in the placebo arm, and the 73-91% rate of APOe4 carriers in the other active arms, provides a putative explanation for the difference in cognition decline seen in the highest dose arm compared to placebo and other active arms. If Eisai's sub group analysis suggests that this difference in decline persists even in the patients in all the arms who are not APOe4 carriers, this program may have a future, but if not, it could easily turn out to be an interesting artefact in the ongoing beta amyloid Alzheimer's disease saga.
And Biogen CMO Al Sandrock didn't exclude the possibility.
"It's one of the first things we're going to look at, is the subgroup analysis of APOE4 carriers versus non carriers," he told analysts. "I'm sure my colleagues at Eisai are working on it right now."
And the $BIIB sub-group analysis won't be informative because there's not enough pts to compare in either E4+ group (cos only 30% of high dose group) or E4- (cos only 30% of placebo). Effectively a 3:1 randomisation bias in either subgroup. Equals zero power

— David Grainger (@sciencescanner) July 26, 2018
What Eisai wanted to focus on is this: The drug clearly separated from placebo at 6 months for ADAS-Cog and continued out for 18 months, as you can see here: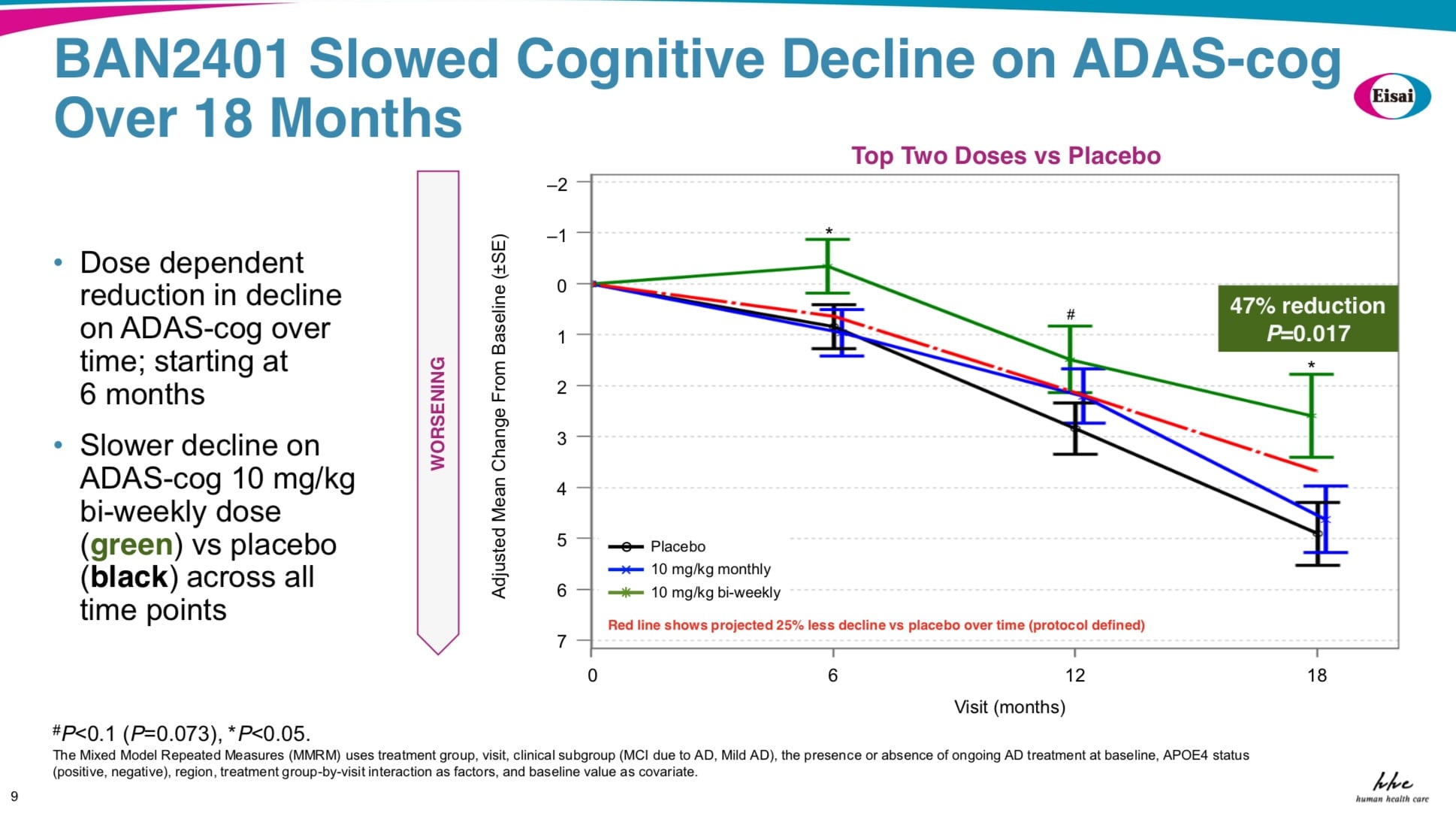 ---
That hit a p-value of 0.017, which was better than their own internally created measurement, specifically designed to pick up cognitive signals in early-stage patients.
The data were reviewed at the Alzheimer's Association International Conference in Chicago. And Eisai has been enthusiastically seizing on the possibility of an accelerated approval — which is now highly unlikely.
"The goal is to bring this to patients as soon as possible," says Ivan Cheung — who runs the US group for Eisai. But that's going to take some work, and close talks with the FDA.
The data also remained positive when pulled out at 6 and 12 months, he adds. "The curve expands over time," he notes, though the company is not detailing the hard numbers on those endpoints, other than saying they are statistically significant.
Investors, though, were in a critical frame of mind, looking at the downside after all the chatter.
Thanks to all those who shared $BIIB/Eisai BAN-2401 slides. My take – lots of hints now of anti-amyloid mAb efficacy, with clear target engagement. Not really clinically meaningful though.

— Dr. Adam D. Kline (@DrADKline) July 25, 2018
Why would the ADAS-Cog test look better than ADCOMS? 
"At this early stage of disease you have more cognitive than functional decline," Cheung tells me, which is why a cognitive test is more likely to pick it up. 
Promising data in mid-stage Alzheimer's are not new, but it's also rare to see statistically significant numbers like these. After more than a decade of failure, some skeptics will require solid pivotal data from two studies to convince them, but the development partners say they are ready to start exploring pathways to an accelerated approval at a time the FDA has been saying they are increasingly open to providing an approval based on cognition alone, rather than both cognition and function — a longtime gold standard.
Baird's Brian Skorney said Thursday morning there's no chance of that happening now.
Now that we have seen it, we're actually shocked that Biogen hadn't cleared up any speculation about filing on this data when it first came up following the top line announcement a couple of weeks ago. Ron Farkas may not be there any longer but Billy Dunn and Eric Bastings are no pushovers in FDA's Division of Neurology Products and we don't see any way that this study meets the regulatory threshold of "substantial evidence of efficacy."
The Phase II controversy comes as hopes for the amyloid beta hypothesis have dwindled, especially after twin setbacks for BACE drugs by both Merck and an Eli Lilly/AstraZeneca team.
Any approval here would likely green-light an instant blockbuster, with millions of patients eager to try anything that might be able to bend the curve of this awful, memory-wasting disease.
So here come some added caveats. The study failed the primary endpoint at 12 months already, which was established as a Bayesian analysis intended to spot success at an earlier stage. But pushing ahead, they switched to more standard techniques.
Here's the way the market was betting ahead of the review.
At a 10% improvement over the control arm, you could expect plenty of skepticism. Mizuho said it wouldn't be surprised — but would be pleased — with a 15% slowing.  
But wait. Leerink's Geoffrey Porges believed that anything under 15% was likely to be seen as a weak response, with damaging results for the developers' stocks. Anything over 30%, he said, would drive a major rally, on top of the one already seen on the top line data.
I asked USC Alzheimer's expert Lon Schneider for his take. His response:
This is what I've been telling people.
Not a verdict. Not a binary event. The sponsors learned what they needed to re dose range, 64% probability of being superior to placebo by a 25% reduction on their composite score. The drug does what it was engineered to do.
It's full speed ahead at Eisai.
"We are doing a bunch of subgroup analysis," says Eisai chief medical officer for neurology Lynn Kramer, "looking for bigger effects and so on. We will be taking that to FDA in the fall about next steps and what we may do. Options include an accelerated approval," but that would require an ongoing Phase III to nail down.
All that has yet to play out.
---
The best place to read
Endpoints News

? In your inbox.

Comprehensive daily news report for those who discover, develop, and market drugs. Join 47,900+ biopharma pros who read Endpoints News by email every day.

Free Subscription
---
---
---