Eli Lil­ly wins a quick OK for new sar­co­ma drug olara­tum­ab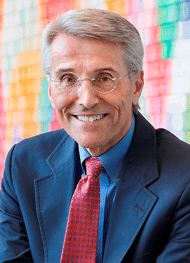 Richard Paz­dur, FDA
Eli Lil­ly has won an ac­cel­er­at­ed FDA ap­proval of its soft tis­sue sar­co­ma drug olara­tum­ab with set of pos­i­tive re­sults from a small mid-stage study. Lil­ly plans to sell the drug as Lartru­vo to a slice of pa­tients for front­line use — the first such ap­proval to come along in decades for this dis­ease.
The drug tar­gets PDGF re­cep­tors which cause tu­mor growth.
The agency's green light comes just a month af­ter the EU's CHMP of­fered a pos­i­tive opin­ion about a sim­i­lar move in Eu­rope, set­ting up a like­ly transAt­lantic sweep for Lil­ly, which has been pour­ing re­sources in­to its on­col­o­gy pipeline in re­cent years.
The FDA ap­proved the drug, on­ly its 18th OK so far this year, in com­bi­na­tion with dox­oru­bicin among pa­tients who can't be treat­ed by ra­di­a­tion or surgery and in a group with a type of STS that can be treat­ed with the chemo an­thra­cy­cline.
"For these pa­tients, Lartru­vo, added to dox­oru­bicin, pro­vides a new treat­ment op­tion," said Richard Paz­dur, MD, di­rec­tor of the Of­fice of Hema­tol­ogy and On­col­o­gy Prod­ucts in the FDA's Cen­ter for Drug Eval­u­a­tion and Re­search and act­ing di­rec­tor of the FDA's On­col­o­gy Cen­ter of Ex­cel­lence. "This is the first new ther­a­py ap­proved by the FDA for the ini­tial treat­ment of soft tis­sue sar­co­ma since dox­oru­bicin's ap­proval more than 40 years ago."
Lil­ly, which has be­gun to rack up a few new drug ap­provals af­ter a long drought in the clin­ic, was able to present stats show­ing that the me­di­an sur­vival rate for pa­tients hit 26.5 months for the com­bo com­pared to 14.7 months for pa­tients who re­ceived dox­oru­bicin alone. In­ves­ti­ga­tors al­so post­ed a me­di­an pro­gres­sion-free sur­vival time of 8.2 months for the com­bo com­pared to 4.4 months for pa­tients who re­ceived on­ly dox­oru­bicin. Tu­mor shrink­age reg­is­tered at 18.2 per­cent against 7.5 per­cent.
This OK marks an­oth­er im­por­tant step for­ward for Lil­ly, which had been a peren­ni­al lag­gard in R&D. Lat­er this year Lil­ly will fol­low up with its lat­est round of Phase III da­ta for solanezum­ab, its big ex­per­i­men­tal ther­a­py for Alzheimer's. Most an­a­lysts ex­pect mixed da­ta at best as Lil­ly looks to break the lock on new Alzheimer's meds af­ter a decade-long run of fail­ures.
Back in March Lil­ly won an ap­proval for the pso­ri­a­sis drug Taltz (ix­ek­izum­ab) and still faces a de­ci­sion on baric­i­tinib for rheuma­toid arthri­tis as well as the CDK 4/6 drug abe­maci­clib, now sched­uled to wrap a Phase III next year as Lil­ly is forced to wait for the full da­ta set.