Eli Lil­ly's new CEO is ready to start part­ner­ing on R&D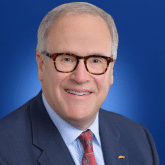 Eli Lil­ly CEO John Lech­leit­er
Dur­ing John Lech­leit­er's rule as CEO of Eli Lil­ly, the com­pa­ny's em­pha­sis was al­ways on its own in­ter­nal pipeline. Lil­ly did a few pacts, al­most sole­ly with big play­ers on deals that in­clud­ed a pricey late-stage agree­ment to part­ner with Pfiz­er on tanezum­ab for pain, but it large­ly stayed away from the main ac­tion.
That might be about to change.
"I wouldn't look for a dra­mat­ic change, but maybe (ex­pect) an ac­cel­er­a­tion of in­ter­est in part­ner­ing ex­ter­nal­ly," David Ricks told Reuters. "There are a lot of good ideas out there."
Quick fol­lowup: No, Eli Lil­ly isn't do­ing megamerg­ers. That field still ap­pears to be al­most ex­clu­sive­ly re­served for Pfiz­er's Ian Read, who's 0 for 2 in megamerg­er at­tempts.
When Lech­leit­er did do a deal, he of­ten stuck with the ma­jors. So Boehringer tied up on di­a­betes and he bought a BACE drug for Alzheimer's from As­traZeneca, which has been wind­ing down neu­ro. Lil­ly turned to Mer­ck and As­traZeneca on can­cer pacts.

David Ricks, SVP, Pres­i­dent, Lil­ly Bio-med­i­cines
Putting Lil­ly more square­ly in the part­ner­ing game could well help a line­up of biotechs fo­cused on the same key ar­eas as the phar­ma gi­ant. Most no­tably that would be can­cer along with di­a­betes, im­muno­log­i­cal dis­eases, neu­ro­science and pain, and car­dio­vas­cu­lar dis­ease.
Biotechs would love to be part­nered with a mar­quee play­er like Lil­ly, even though the R&D group has a rep for be­ing very slow to move on oc­ca­sion. It's care­ful and sen­si­tive to fail­ure. Some new CEOs like to come in and do a long-shot pact just to show that they have an ap­petite for risk (like Pas­cal So­ri­ot's ear­ly tie-up with Mod­er­na). But that hasn't been Lil­ly's style at all.
The neu­ro­sciences com­pa­nies would be par­tic­u­lar­ly pleased to see an­oth­er po­ten­tial part­ner like Lil­ly to come along. Can­cer has been a deal fest for years now. Di­a­betes, though, is al­most ex­clu­sive­ly a big com­pa­ny ap­proach, and most ven­ture play­ers wouldn't touch a pro­gram fac­ing mon­u­men­tal Phase III costs. Car­dio is an­oth­er tough field for biotechs, where the bar on safe­ty is high.