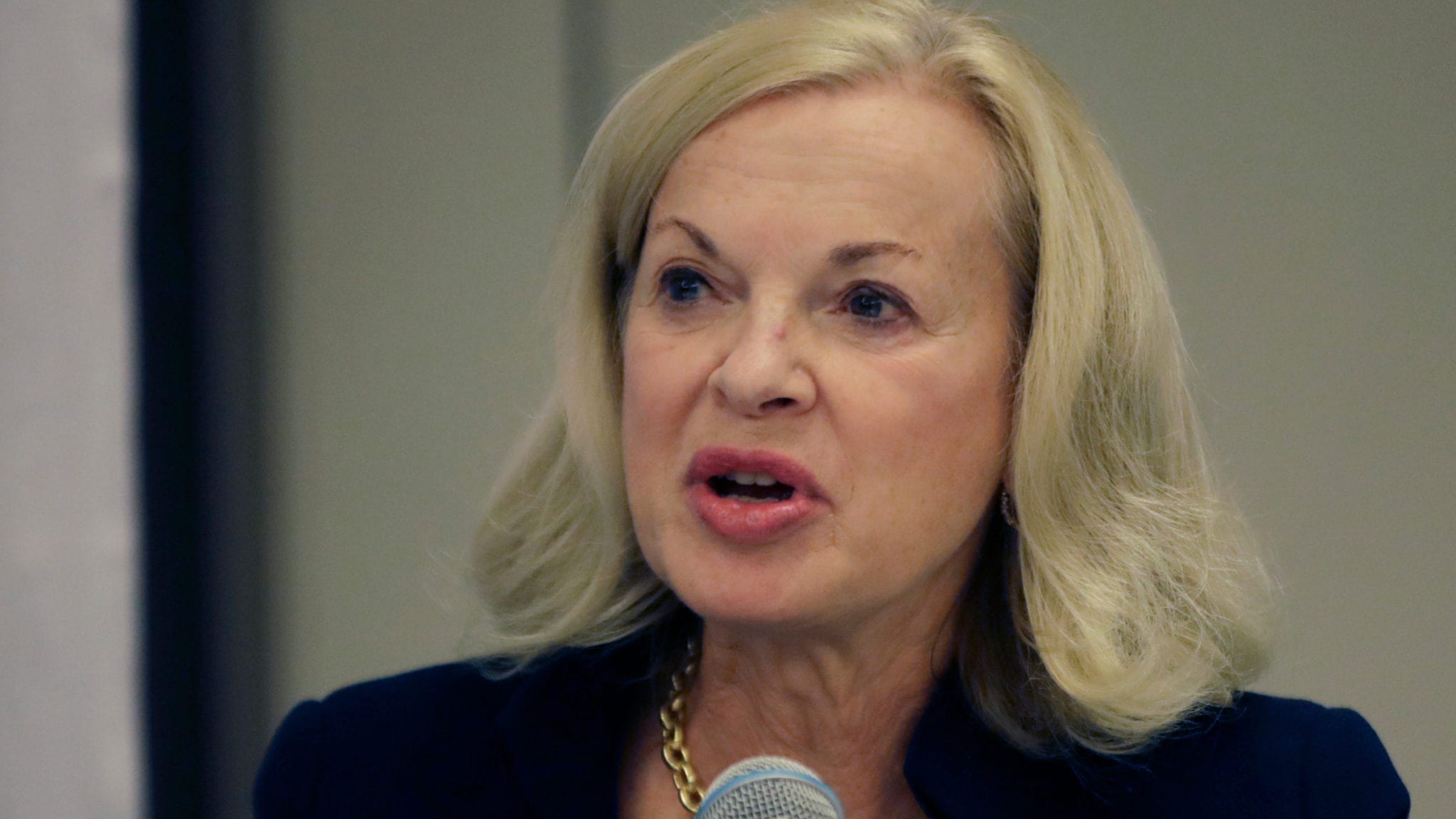 Elizabeth Nabel (Elise Amendola/AP Images)
Eliz­a­beth Nabel steps down as pres­i­dent of Brigham and Wom­en's Hos­pi­tal to team up with hus­band's biotech joint — re­port
The pres­i­dent of Brigham and Women's Hos­pi­tal, a renowned non­prof­it med­ical cen­ter in Boston, is re­port­ed­ly step­ping down from her po­si­tion to join her hus­band — Sanofi's for­mer CSO — in the biotech sec­tor.
Eliz­a­beth Nabel and BWH an­nounced she would de­part as pres­i­dent on March 1 af­ter spend­ing 11 years at the hos­pi­tal. She will team up with her hus­band, Gary Nabel, who left the top R&D job at Sanofi in Oc­to­ber to launch his own biotech de­vel­op­ing im­mune ther­a­pies for can­cer and in­fec­tious dis­eases, ac­cord­ing to the Boston Globe.
"I re­al­ly want to spend time dri­ving biotech in­no­va­tion by ad­vis­ing com­pa­nies and serv­ing on boards," she told the Globe. "This is where I be­lieve I can have the great­est im­pact."
It's not im­me­di­ate­ly clear how far off the ground the Nabels' new biotech is. BWH de­clined to com­ment to End­points News on Eliz­a­beth Nabel's be­half.
Nabel has served as the pres­i­dent of BWH for the last 11 years, and told the Globe she had planned to step down af­ter a decade at the helm. But the Covid-19 pan­dem­ic com­pli­cat­ed mat­ters and she de­cid­ed to stay on un­til the first vac­cines had been au­tho­rized.
Her run at BWH has been high­ly suc­cess­ful for the hos­pi­tal, as she led fundrais­ing ef­forts since 2010 that have brought in $1.75 bil­lion, rough­ly half of which went to re­search. She al­so helped grow the hos­pi­tal's rev­enue to $5 bil­lion per year.
Nabel's role as pres­i­dent hasn't been her on­ly job over that time pe­ri­od, how­ev­er, as she was a board mem­ber for Mod­er­na from 2015 un­til this past Ju­ly. She re­signed from that po­si­tion, fol­low­ing OWS chief Mon­cef Slaoui out the door, af­ter in­creas­ing scruti­ny in­to the tim­ing of Mod­er­na ex­ec­u­tives' stock trans­ac­tions.
Specif­i­cal­ly with re­gards to Nabel, con­cerns arose over the op­tics of Nabel run­ning a hos­pi­tal where Mod­er­na test­ed its Covid-19 vac­cines. At the time, Flag­ship chief and Mod­er­na chair Noubar Afeyan said the move was made out of "an abun­dance of cau­tion" to avoid the ap­pear­ance of a con­flict of in­ter­est.
BWH had not be­gun re­cruit­ing par­tic­i­pants for Mod­er­na's Phase III study when Nabel re­signed, and was one of 87 sites na­tion­wide where vol­un­teers re­ceived dos­es of the now-au­tho­rized vac­cine.
On Ju­ly 15, Nabel re­deemed about 60,000 of an avail­able 168,868 Mod­er­na stock op­tions, and sub­se­quent­ly sold 73,975 shares as part of a trad­ing plan re­vised in late May. The sale net­ted Nabel $6.5 mil­lion.
Sim­i­lar trad­ing plans en­act­ed by Mod­er­na ex­ecs Stéphane Ban­cel, Stephen Hoge and Tal Zaks drew heavy me­dia at­ten­tion last year, as Zaks' plan was amend­ed in March and Hoge's in June. Ban­cel's had been in place since 2018.