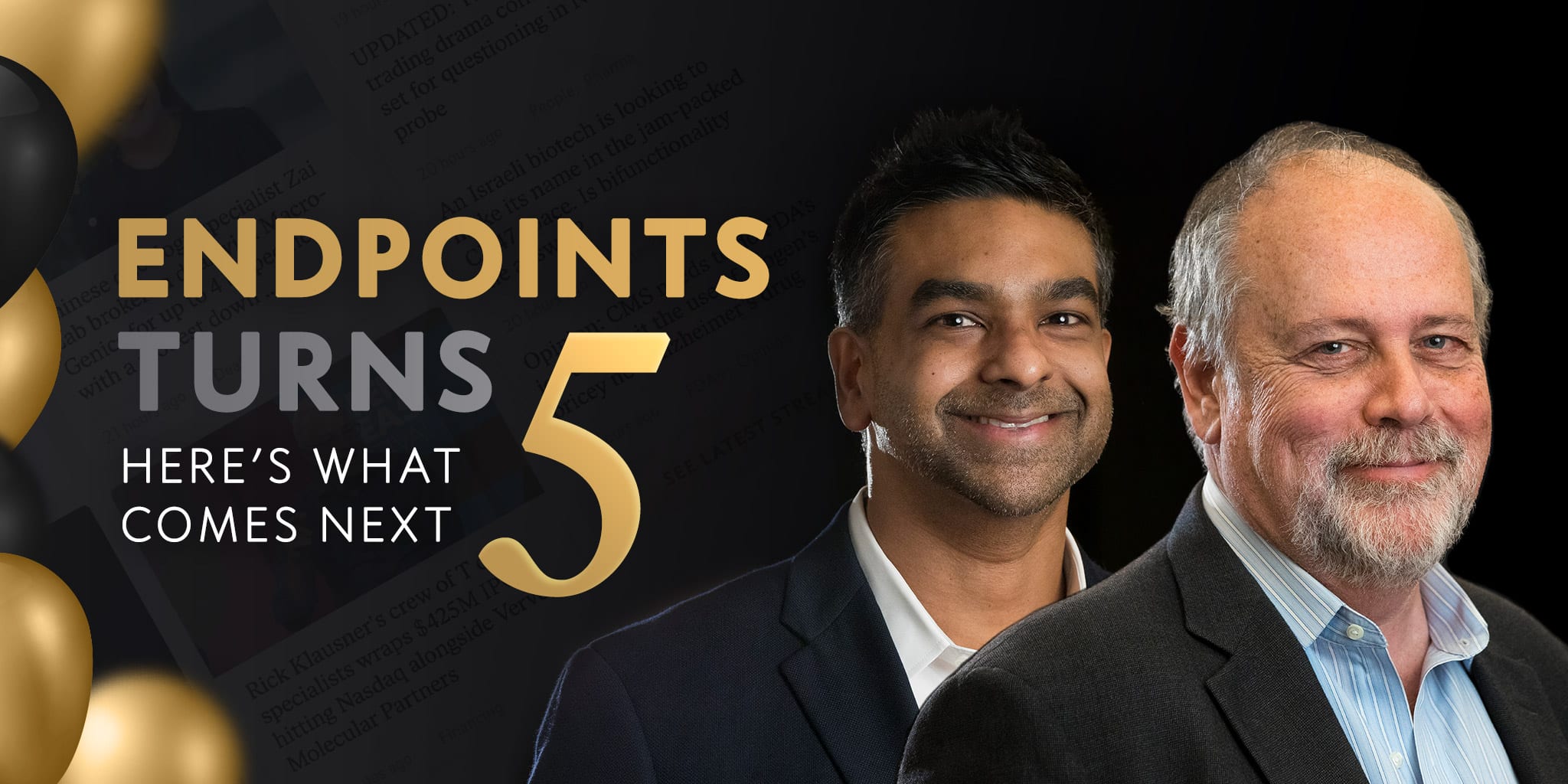 End­points News is now 5 years old. Here's how you can sup­port us for the next phase of growth
End­points News turned five years old over the week­end. I want­ed to mark the hap­py oc­ca­sion by ex­tend­ing our deep­est grat­i­tude to End­points' pre­mi­um sub­scribers while out­lin­ing sev­er­al oth­er ways to sup­port us as we go broad­er and get big­ger this year and be­yond.
Same as any busi­ness, we've got to cre­ate val­ue and get paid for de­liv­er­ing it. So if you de­pend on End­points to stay abreast on bio­phar­ma de­vel­op­ments, we de­pend on you too.
The best way to sup­port us is by up­grad­ing to a pre­mi­um sub­scrip­tion. It's our most im­por­tant source of rev­enue be­cause it ties our ed­i­to­r­i­al in­cen­tives di­rect­ly to read­er ex­pec­ta­tions — fo­cus­ing on qual­i­ty over quan­ti­ty. We work to de­liv­er some­thing worth pay­ing for every day. Not just an­oth­er email clog­ging your in­box.
We have two plans: In­sid­er for in­di­vid­u­als ($225/year) and En­ter­prise for com­pa­nies ($1,000/year). Both of them un­lock the com­plete End­points ex­pe­ri­ence and con­tent li­brary. The En­ter­prise plan is a flat rate that cov­ers all em­ploy­ees, and you don't need to ne­go­ti­ate rates with us or pick who on your team gets ac­cess. Every­one does. Check out our en­tire pre­mi­um cat­a­log here.
And if you have ques­tions, our cus­tomer ser­vice team is quick to re­spond — you can chat with them here.
This year we launched three new ti­tles. End­points FDA+ and End­points Man­u­fac­tur­ing — spear­head­ed by se­nior ed­i­tor Zachary Bren­nan and man­ag­ing ed­i­tor Kyle Blanken­ship, re­spec­tive­ly — is your one-stop look at the most crit­i­cal de­vel­op­ments in those fields and what they mean for bio­phar­ma. And se­nior ed­i­tor Am­ber Tong is be­hind our new End­points Week­ly, which re­caps the busy week in bio­phar­ma every Sat­ur­day morn­ing. You can add these ti­tles to your sub­scrip­tion by vis­it­ing your Read­er Pro­file, or if you're new to End­points, via our sign-up page.
If a pre­mi­um sub­scrip­tion isn't in the cards yet, but you'd still like to sup­port us, please help spread the word and share End­points with your col­lab­o­ra­tors. Noth­ing is bet­ter than re­fer­rals, and it's where we get most of our new sub­scribers. Just share our URLs and for­ward our email re­ports to your col­leagues. Most End­points cov­er­age is free to read, with no pay­ment re­quired for a ba­sic sub­scrip­tion.
We've al­so spent the past five years op­ti­miz­ing our ad­ver­tis­ing prod­ucts. So for mar­ket­ing lead­ers who need to reach ei­ther a large or tar­get­ed au­di­ence in the life sci­ences, we'd love to talk.
End­points is dif­fer­ent in that we in­ten­tion­al­ly keep ad­ver­tis­ing space tight. That helps pop the brand ad­ver­tis­ing cam­paigns on our site. It re­duces spon­sor­ship fa­tigue from the read­ers and in­creas­es con­ver­sions. Our chief rev­enue of­fi­cer Mike Peck has built a sales team where re­la­tion­ships mat­ter most. We're in­ter­est­ed in get­ting more from clients who see ex­cel­lent re­sults with us, not milk­ing every deal for pen­nies. And End­points' cus­tomer ser­vice, led by our tal­ent­ed COO Shelly Whit­field, is sec­ond-to-none. Her team works to ex­e­cute cam­paigns for 200+ ad­ver­tis­ing clients, and they do great work.
Af­ter five years in busi­ness, we've grown to 32 full-time em­ploy­ees with more on the way. 100,000+ in­dus­try pros get our news di­rect­ly in their in­box dai­ly. Dur­ing the pan­dem­ic, our vir­tu­al events at­tract­ed 32,000 at­ten­dees. And yet, End­points' mis­sion hasn't changed since day one: In­form and con­nect the bio­phar­ma world with re­lent­less dai­ly re­port­ing.
To all of our cur­rent pre­mi­um sub­scribers who've di­rect­ly fund­ed our growth: Thank you. Get­ting to this mile­stone was im­pos­si­ble with­out your sup­port. To every­one who is con­sid­er­ing get­ting one to­day for them­selves or their com­pa­ny: We'll work hard to con­tin­ue earn­ing your sup­port every day.