Evelo Bio grabs $85M as the lat­est ear­ly-stage biotech de­buts on Nas­daq
Evelo Bio­sciences be­came the lat­est ear­ly-stage biotech com­pa­ny to make the leap in­to Nas­daq. The Cam­bridge, MA-based com­pa­ny priced 5.3 mil­lion shares at $16 — smack dab in the mid­dle of the range — to add $85 mil­lion to its re­serves.
The stock will start trad­ing to­day un­der the $EV­LO sym­bol, fresh ev­i­dence that the mar­ket for new biotech stocks con­tin­ues to have legs in 2018.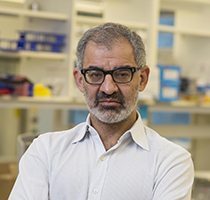 Sim­ba Gill
The com­pa­ny is helmed by CEO Sim­ba Gill, who's out to make "mon­o­clon­al mi­cro­bials" in­to a new drug class. And that's the kind of sto­ry that has been float­ing dozens of new biotechs over the past 18 months.
The sci­ence at Flag­ship-based Evelo fo­cus­es on the in­ter­sec­tion of the gut and body; specif­i­cal­ly how the gut op­er­ates in di­rect­ing the im­mune sys­tem. By de­sign­ing the right mi­cro­bial strains that op­er­ate in the gut, Evelo's sci­en­tists be­lieve that they can up-reg­u­late the im­mune sys­tem to go af­ter, say, can­cer, or down-reg­u­late it to pre­vent in­flam­ma­to­ry dis­eases like pso­ri­a­sis or atopic der­mati­tis, rheuma­toid arthri­tis and Crohn's dis­ease.
Mor­gan Stan­ley, Cowen and BMO Cap­i­tal Mar­kets are act­ing as book-run­ning man­agers for the of­fer­ing. JMP Se­cu­ri­ties is act­ing as lead man­ag­er.