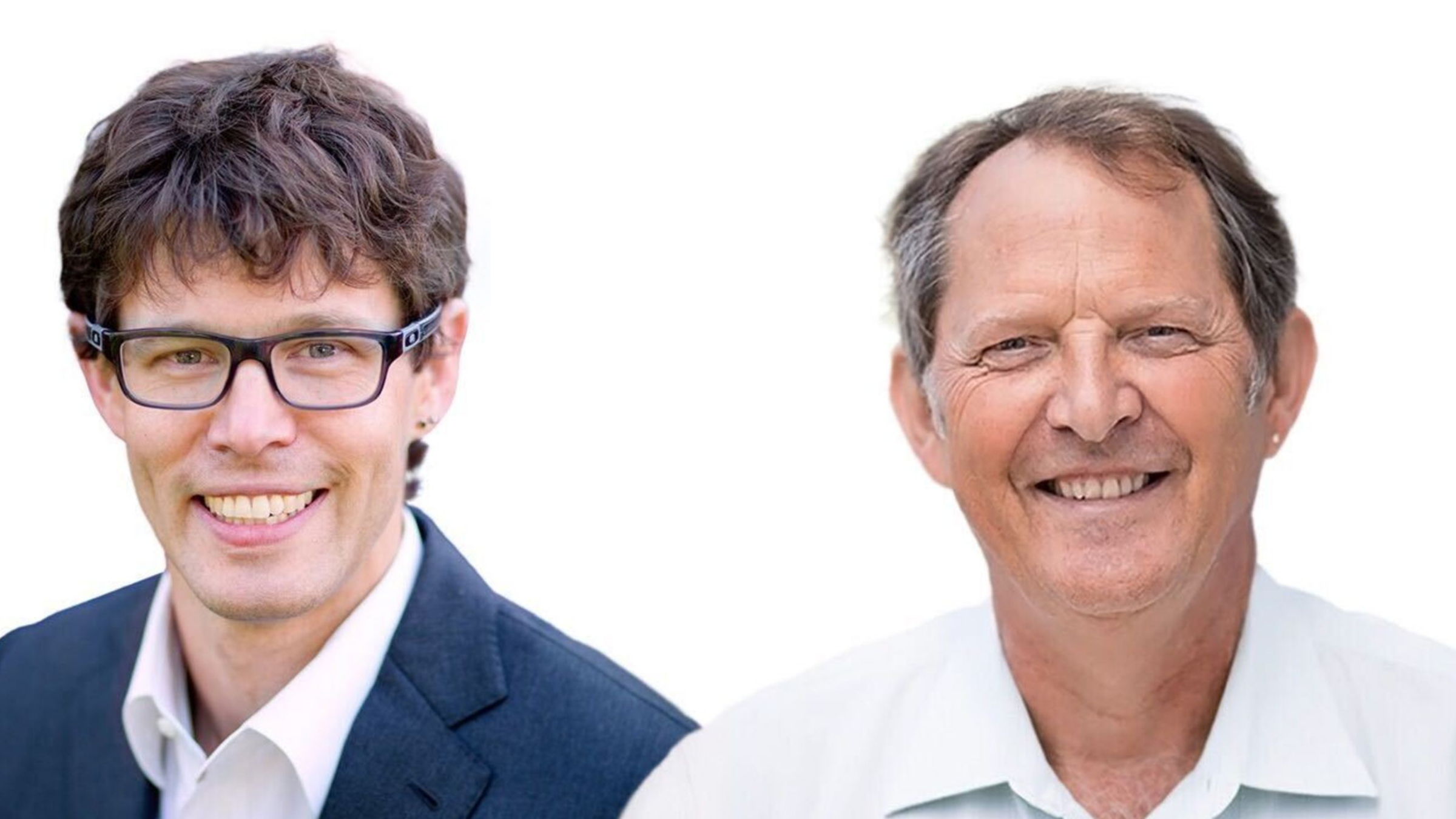 Ancora Biotech's founders, CMO Ben Buelow (L) and CEO Roland Buelow
Ex­clu­sive: Af­ter Am­gen ex­it, fa­ther-son duo gets Light­speed back­ing to fund re­main­ing Teneo­bio 'ba­bies'
The fa­ther-son duo be­hind Teneo­bio is back with an­oth­er biotech, com­pris­ing three bis­pe­cif­ic an­ti­bod­ies that nei­ther Am­gen want­ed when dish­ing out $900 mil­lion up­front last year, nor Ab­b­Vie want­ed when ac­quir­ing a mul­ti­ple myelo­ma as­set in 2019.
Tech­ni­cal­ly, An­co­ra Biotech is three shell com­pa­nies, one for each of its an­ti­bod­ies or "Teneo ba­bies," CEO Roland Buelow told End­points News. The "un­con­ven­tion­al" route is meant to give each as­set op­tion­al­i­ty on its path to mar­ket, just like the path set by Teneo­bio, said CMO Ben Buelow, Roland's son.
"We are in a po­si­tion even­tu­al­ly to take these com­pa­nies ei­ther pub­lic and get them fund­ed for reg­is­tra­tional tri­als and even­tu­al ap­proval, or we have the pos­si­bil­i­ty to sell them off like we have done so far," the CEO said.
The 10-per­son start­up is get­ting $60 mil­lion in back­ing from Light­speed Ven­ture Part­ners — one of the orig­i­nal Teneo­bio in­vestors — and SR One. Buelow fu­eled An­co­ra with $10 mil­lion when it first kicked in­to gear af­ter last year's Am­gen ex­it, he said.
"When I tell peo­ple about the sto­ry of Teneo­bio, I al­ways talk about the movie 'The Blues Broth­ers,' get­ting the band back to­geth­er, be­cause Roland pulled all of the best peo­ple he'd worked with over his 25-30 years of biotech ex­pe­ri­ence in­to that com­pa­ny," the younger Buelow said. Oth­er Teneo­bio ex­ecs have gone on to launch biotechs, in­clud­ing Ron­do Ther­a­peu­tics.
The el­der Buelow has a his­to­ry of con­struct­ing biotechs and sell­ing them off. Pri­or to Teneo­bio, he built up hu­man an­ti­body de­vel­op­er Open Mon­o­clon­al Tech­nol­o­gy, which sold to Lig­and Phar­ma­ceu­ti­cals for $178 mil­lion in 2015. It's now go­ing pub­lic via a SPAC spin­off at an $850 mil­lion val­u­a­tion.
Back to An­co­ra: Two of the biotech's "ba­bies" are al­ready in the clin­ic. A dose-es­ca­la­tion study is un­der­way for CD19- and CD3-tar­get­ing TNB-486, which is an­tic­i­pat­ed to be a lym­phoma treat­ment, the CEO said. Close to 30 pa­tients have been en­rolled and the first round of da­ta will come out at ASH this year or the an­nu­al AS­CO con­fer­ence next year, the CMO said, not­ing the com­pa­ny is close to choos­ing the rec­om­mend­ed Phase II dose.
Right now, TNB-486 is in the third-line-plus set­ting, but An­co­ra hopes to move in­to ear­li­er lines by com­bin­ing it with oth­er ther­a­pies, the CMO not­ed. About 80 pa­tients are ex­pect­ed to en­roll in the ear­ly-stage study be­ing con­duct­ed in the US and Ko­rea, ac­cord­ing to the clin­i­cal tri­als reg­is­ter.
An­co­ra's sec­ond clin­i­cal-stage as­set, TNB-738, is a CD38 en­zyme in­hibitor de­signed to tamp down in­flam­ma­tion in fi­bro­sis and treat­ing age-re­lat­ed dis­eases, the CEO said. Ben Buelow said the drug is in a Phase I healthy vol­un­teer study. The Aus­tralia-based tri­al aims to en­roll 64 pa­tients and col­lect the last pri­ma­ry out­come da­ta in De­cem­ber, ac­cord­ing to the clin­i­cal tri­als data­base.
"It's a re­al­ly nov­el mech­a­nism and of­ten­times, when you have some­thing like that, we be­lieve in that mol­e­cule in a very sub­stan­tial way and un­til oth­er peo­ple see the light on that, we may have to take it for quite a ways our­selves," the med­ical chief ex­plained.
A "bas­ket-like ap­proach" is an­tic­i­pat­ed for the bis­pe­cif­ic, the CMO said, as mul­ti­ple Phase Ib/II stud­ies will con­sid­er var­i­ous "clin­i­cal in­di­ca­tions of in­ter­est."
At the bot­tom of the pipeline is a pre­clin­i­cal an­ti-HB­sAg x CD3 an­ti­body be­ing con­sid­ered for chron­ic he­pati­tis B in­fec­tions. Ex­pect a 2024 hu­man tri­al en­try, Light­speed said.
With just 10 em­ploy­ees, half on the clin­i­cal de­vel­op­ment team, An­co­ra is steer­ing the ship with a lean crew. It will stay that way.
"We are plan­ning to con­tin­ue to run these stud­ies as much as pos­si­ble re­mote­ly, vir­tu­al­ly, to keep costs down," the CMO said, "so cur­rent­ly there is no plan to in­crease our team size."
An­co­ra de­rives its name from the Ital­ian word for an­chor and again. An an­chor re­sem­bles the shape of an an­ti­body, the CMO said, so the com­pa­ny "thought that was cute" when com­ing up with the brand.
The start­up isn't to be con­fused with An­co­ra Bio, the fifth biotech to come out of ex-No­var­tis CEO Joe Jimenez's Adi­tum in­cu­ba­tor, which is test­ing a failed Taisho de­pres­sion drug.