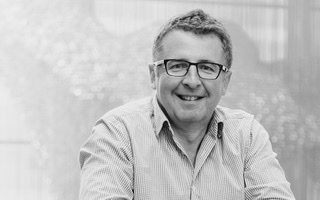 Ex­clu­sive: Pfiz­er vet grabs $25M seed round to 'in­te­grate' ma­chine learn­ing, ge­nomics tech in drug R&D
Hav­ing been in­volved in a num­ber of at­tri­tion task force ef­forts dur­ing his tenure as Eu­ro­pean R&D chief at Pfiz­er, David Rob­lin tells me there's a quote that res­onates with him, ut­tered 20 years ago by South African bi­ol­o­gist Syd­ney Bren­ner when he ac­cept­ed a No­bel Prize.
"We are drown­ing in a sea of da­ta but thirsty for knowl­edge," is how Rob­lin re­mem­bers it.
But the way those da­ta have been used to date — by drug dis­cov­ery sci­en­tists try­ing to val­i­date their ideas — hasn't re­al­ly im­proved the rate at which pre­clin­i­cal com­pounds be­come mar­ket­ed drugs, he reck­ons. The po­ten­tial he sees for ma­chine learn­ing and new tech­nolo­gies like sin­gle-cell tran­scrip­tomics to change that is the rea­son why, af­ter eight years as chief of sci­en­tif­ic trans­la­tion at Lon­don's Fran­cis Crick In­sti­tute, he's mov­ing down the road to Re­la­tion Ther­a­peu­tics, which has just closed a $25 mil­lion seed round.
"We're not go­ing to sit here and tell you that ma­chine learn­ing is the sin­gle an­swer and every­thing will be de­signed in the ma­chine and that ma­chine will send a file to the FDA," he said. "The key ques­tion for a com­pa­ny like ours is, where do you best de­ploy ma­chine learn­ing that af­fords max­i­mum im­pact? Where do you use tran­scrip­tomics? And where do you see the link­age?"
Rob­lin, the CEO, is joined in the C-suite by Lind­say Ed­wards, CTO and pres­i­dent of plat­form. The for­mer head of AI for res­pi­ra­to­ry and im­munol­o­gy at As­traZeneca, Ed­wards al­so led one of GSK's first da­ta sci­ence groups be­fore that.
Com­ing out of stealth at a time the idea of de­ploy­ing AI/ML in drug R&D has al­ready gone through a cou­ple cy­cles of hype and bust, Re­la­tion's ap­proach will be ground­ed in ac­tive learn­ing, where ma­chine learn­ing sys­tems will go through the da­ta gen­er­at­ed in its wet and in sil­i­co labs, and then tell the sci­en­tists what new ex­per­i­ments to run for it to come up with new in­sight.
Specif­i­cal­ly, Ed­wards not­ed, the com­pa­ny will be us­ing a frame­work called ac­tive-graph ma­chine learn­ing, or Meta­graph, us­ing the con­cept of graphs as a back­bone so as to map out the com­plex re­la­tion­ships be­tween genes, pro­teins and drugs.
"What Lind­say is do­ing, large­ly, is tak­ing al­go­rithms, ideas that have been de­ployed else­where, par­tic­u­lar­ly in con­sumer so­cial net­work­ing, and turn­ing them to the pur­pose of gene vari­ant bi­ol­o­gy, iden­ti­fi­ca­tion," Rob­lin said, adding, "So in that sense, I'm quite hap­py to say like, a lot of that stuff is not ab­solute­ly break­through. What we're go­ing to be do­ing is cre­at­ing a plat­form of in­te­gra­tion which is sec­ond to none, es­sen­tial­ly."
Based in the Knowl­edge Quar­ter in Lon­don — sur­round­ed by UCL, King's and Fran­cis Crick as well as sev­er­al hos­pi­tals — Re­la­tion is look­ing to crunch ge­nom­ic da­ta on the in­di­vid­ual cell lev­el with sam­ples pro­vid­ed by neigh­bor­ing biobanks.
As its first big project, the team is de­vel­op­ing a cell at­las of the bone, an area where sig­nif­i­cant gaps in bi­o­log­i­cal un­der­stand­ing still ex­ist, ac­cord­ing to Rob­lin. It is im­por­tant, in his words, to ful­ly grasp the trans­la­tion­al route and en­sure the cell mod­els used in Re­la­tion's labs are "as close to re­ca­pit­u­la­tion of dis­ease as pos­si­ble."
"Mak­ing sure you work on the right things is a re­al­ly crit­i­cal prob­lem," Ed­wards said.
Re­la­tion will al­so get help from Nvidia, which is giv­ing it ac­cess to the NVIDIA Cam­bridge-1 GPU su­per­com­put­er, which helps opens up new pos­si­bil­i­ties for look­ing at large stretch­es of DNA.
"Every­body runs in­to a com­pute lim­i­ta­tion, and that ba­si­cal­ly sets the width of the amount of DNA that you can look at in a sin­gle go," he said. "So ac­cess to Cam­bridge lab, we ex­pect will give us some kind of break­through re­cep­tive fields with our mod­els."
With "re­al­ly good R&D peo­ple" at the cen­ter of it all, Rob­lin said Re­la­tion will aim to grow from 15 to 40 staffers with the new cash. The com­pa­ny has al­so put to­geth­er a hefty sci­en­tif­ic ad­vi­so­ry board, in­clud­ing Michael Bron­stein (Ox­ford pro­fes­sor and head of graph AI at Twit­ter), as well as Alex Shalek and Car­o­line Uh­ler of the Broad In­sti­tute.
DCVC and Mag­net­ic Ven­tures co-led the fi­nanc­ing, with par­tic­i­pa­tion from Khosla Ven­tures, OMERS Ven­tures, and first­minute Cap­i­tal, plus a num­ber of in­di­vid­ual in­vestors.