Eye­ing Eylea's $5B sales, No­var­tis touts sol­id 12-week dos­ing da­ta for its ri­val RTH258
No­var­tis is rolling out new da­ta that build on its case for the com­pa­ny's block­buster hope­ful RTH258, an in­ves­ti­ga­tion­al ther­a­py that might carve away a con­sid­er­able chunk of Re­gen­eron's $5 bil­lion Eylea fran­chise if ap­proved.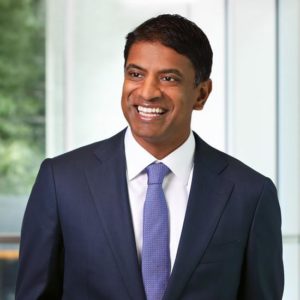 Vas Narasimhan
The new da­ta, which came from a sec­ondary analy­sis of two Phase III tri­als, show a com­pelling case for the drug as a treat­ment for wet age-re­lat­ed mac­u­lar de­gen­er­a­tion. The drug al­ready showed im­pres­sive suc­cess in those tri­als last fall, when it per­formed well in a head-to-head com­par­i­son to Eylea. Sim­ply put, No­var­tis' CEO Vas Narasimhan said the drug was "con­sis­tent­ly su­pe­ri­or" to its Re­gen­eron ri­val.
Now, No­var­tis is call­ing at­ten­tion to RTH258's con­ve­nience fac­tor com­pared to Eylea and oth­er ther­a­pies.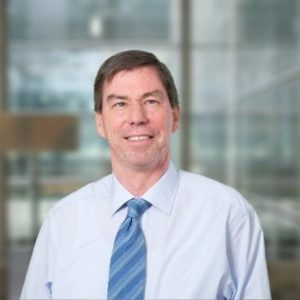 Dirk Sauer
"Ever since Lu­cen­tis was first in­tro­duced more than 10 years ago as a month­ly in­jec­tion, physi­cians have been try­ing to find a way to space out treat­ments," said Dirk Sauer, head of No­var­tis' oph­thal­mol­o­gy unit. "They're try­ing to find a way to re­duce the bur­den for the pa­tient, but al­so to re­duce the bur­den for the physi­cian — they have lots of pa­tients com­ing back every month for in­jec­tions."
Re­gen­eron's Eylea can be tak­en once every 8 weeks, which is nicer for pa­tients and docs, but No­var­tis plans to go a step fur­ther. The com­pa­ny is bet­ting that its 12-week reg­i­men will win over a big slice of the mar­ket. In the da­ta rolled out to­day, No­var­tis said pa­tients in the tri­als had an 87% and 83% prob­a­bil­i­ty of suc­cess­ful­ly con­tin­u­ing a 12-week in­ter­val through week 48.
That's big, Sauer said, con­sid­er­ing Re­gen­eron and oth­ers' ap­par­ent dif­fi­cul­ty with this dos­ing sched­ule. Not to be out­done, Re­gen­eron told End­points News back in No­vem­ber that it was test­ing its own 12-week treat­ment cy­cle with Eylea. I checked back with Re­gen­eron last week, and a com­pa­ny spokesper­son said Re­gen­eron's sBLA for its 12-week Eylea treat­ment was ac­cept­ed by the FDA and has a PDU­FA date of Au­gust 11.
But Sauer said that doesn't nec­es­sar­i­ly steal No­var­tis' edge.
"I can't spec­u­late on the FDA la­bel for Eylea or for ours, but the da­ta are not the same," Sauer said. "We did a prospec­tive analy­sis, while they went back and did a ret­ro­spec­tive analy­sis. Ret­ro­spec­tive analy­ses, from an an­a­lyt­i­cal and sta­tis­ti­cal point of view, are weak­er."
Plus, Sauer said, Re­gen­eron doesn't have 12-week treat­ment da­ta from its first year, on­ly its sec­ond. In the third year, the com­pa­ny went back to an 8-week reg­i­men, Sauer said, which might mean pa­tients lost vi­su­al acu­ity.
Still, Re­gen­eron may be slight­ly ahead in the race for ap­proval. Sauer said RTH258 should be filed with the FDA lat­er this year. But it could take a year to 18 months for the drug ac­tu­al­ly reach­es the mar­ket.