Eyes on Chi­na stocks: Lon­car loads new ETF with his picks for most promis­ing biotechs on HKEX and Nas­daq
An in­vestor group based in the Mid­west is tap­ping the boom­ing biotech scene in Chi­na to launch a new in­vest­ment ve­hi­cle for traders in­ter­est­ed in promis­ing Chi­nese ven­tures.
Lon­car In­vest­ments, found­ed by in­de­pen­dent biotech in­vestor Brad Lon­car, se­lect­ed 28 com­pa­nies — some list­ed on the Hong Kong Stock Ex­change and the rest on the Nas­daq — to wrap up in­to an ex­change-trad­ed fund: Lon­car Chi­na Bio­Phar­ma ETF. The tick­er is Nas­daq: $CHNA.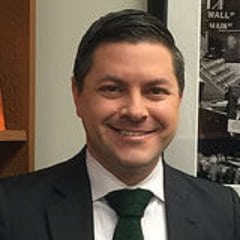 Brad Lon­car
"Reg­u­la­to­ry re­form and a new rule al­low­ing pre-rev­enue biotech com­pa­nies to list on the Hong Kong Stock Ex­change may sig­nal a new era for in­no­v­a­tive drug de­vel­op­ment in the re­gion," Lon­car said in a state­ment. "We think this is an im­por­tant trend in health­care, as it has the po­ten­tial to spur growth and ben­e­fit pa­tients world­wide."
The ETF tracks Lon­car's $LCHI­NA in­dex, which he launched ear­li­er this year. At the time, Lon­car said he cre­at­ed the in­dex in re­sponse to mas­sive growth in Chi­na's glob­al biotech scene.
"Chi­na's bio­phar­ma in­dus­try is on the cusp of a true rev­o­lu­tion that has glob­al im­pli­ca­tions," Lon­car said. "Un­til to­day, no good stock mar­ket in­dex ex­ist­ed as a bench­mark for fol­low­ing this im­por­tant trend."
The three largest com­po­nents of the in­dex are CSPC Phar­ma­ceu­ti­cal Group (5.37%), Guangzhou Baiyun­shan Phar­ma­ceu­ti­cal Hold­ings (5.16%), and Sino Bio­phar­ma­ceu­ti­cal (4.94%), as of Au­gust 7, ac­cord­ing to this SEC fil­ing.
Here at End­points News, we've been chron­i­cling the rise of Chi­na biotech: from Chi­nese VC funds rush­ing in­to US biotech this year, to our lat­est E100 sur­vey not­ing that biotech ex­ec­u­tives are pay­ing a lot more at­ten­tion to the East.
"Chi­na's goal of mov­ing its life sci­ences in­dus­try to­wards in­no­va­tion is one of the most ex­cit­ing themes with­in biotech­nol­o­gy, and the Lon­car Chi­na Bio­Phar­ma ETF gives in­vestors a front row seat to this trans­for­ma­tion," said Gar­rett Stevens, CEO of Ex­change Trad­ed Con­cepts, Lon­car's part­ner on the ETF.