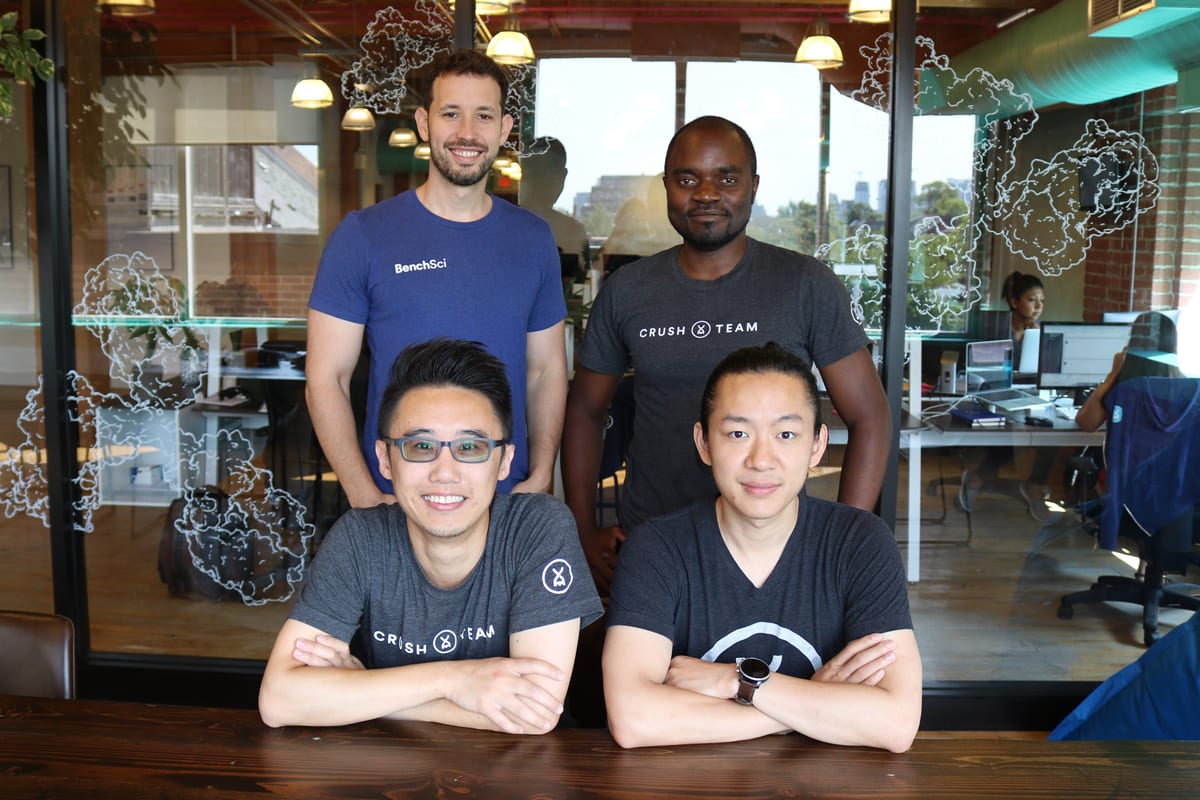 BenchSci founders, clockwise from top left: Liran Belenzon, Elvis Wianda, David Chen and Tom Leung
F-Prime backs a niche AI soft­ware start­up hunt­ing lofty goals in $22M Se­ries B
For many of the AI com­pa­nies sprout­ing on the bio­phar­ma field, val­i­da­tion — of­ten mean­ing con­fir­ma­tion of whether the tar­gets and drugs they iden­ti­fied or gen­er­at­ed would ac­tu­al­ly work — won't come in years, if at all. But for Bench­Sci, the drug hunt­ing field is their home turf.
To be sure, the Toron­to-based start­up is do­ing some­thing very dif­fer­ent from the rest of the pack. Rather than stak­ing claims about the re­sults of drug dis­cov­ery, it's out to change the process by hun­ker­ing down on a spe­cif­ic prob­lem: help­ing sci­en­tists se­lect the right reagents to con­duct their pre­clin­i­cal ex­per­i­ments.
Hav­ing start­ed out with an an­ti­body se­lec­tion ser­vice 18 months ago, Bench­Sci is now ready to roll out a broad­er reagent se­lec­tion plat­form and ex­pand the clien­tele from aca­d­e­m­ic in­sti­tu­tions and Big Phar­ma to biotechs — thanks to a $22 mil­lion cash in­jec­tion.
In con­trast with the clin­i­cal or com­mer­cial realm, Bench­Sci found that its chal­lenge wasn't to com­pete with ri­val ven­dors but to con­vince in­vestors that there's a mar­ket, CEO Li­ran Be­len­zon told End­points News.
"There is no soft­ware com­pa­ny in pre­clin­i­cal," he said, leav­ing sci­en­tists to work on soft­ware with in­ter­faces that "look like they're from the 1990s."
But the ex­pe­ri­ence of his co-founder and CSO Tom Le­ung, who saw first hand how an in­ap­pro­pri­ate an­ti­body could cost him rare pa­tient sam­ples and lead to month­long de­lays, and sub­se­quent chats with oth­er re­searchers con­vinced them there's an op­por­tu­ni­ty here. Col­lat­ing da­ta from open ac­cess jour­nals and ink­ing deals with big name pub­lish­ers like Springer Na­ture, Wi­ley and JA­MA, Bench­Sci came up with a data­base of sci­en­tif­ic lit­er­a­ture that they then teach the com­put­er to read.
"So the sci­en­tist ba­si­cal­ly asks our sys­tem the ques­tion: Out of those 5,000 reagents or an­ti­bod­ies that are out there, which one will work on BR­CA1, in this tis­sue, in this spe­cif­ic cell line, in this mod­el, with this spec­i­fi­ca­tion," Be­len­zon said, "and we re­al­ly nar­row down these 4 or 5,000 to 2 or 3 and then we say, hey, these are the an­ti­bod­ies most like­ly to work in your ex­per­i­ment, and here's all the sci­en­tif­ic da­ta and the ex­per­i­men­tal re­sults that this spe­cif­ic reagent has gen­er­at­ed and sci­en­tists can ac­tu­al­ly see those re­sults and val­i­date it as well."
That means con­dens­ing the whole process of se­lect­ing reagents — tra­di­tion­al­ly done by tri­al and er­ror — from 12 weeks to 30 sec­onds, ac­cord­ing to the com­pa­ny, re­duc­ing waste by 70% and sav­ing mil­lions of dol­lars in hard cost.
It's not quite shav­ing years and tens of mil­lions off the drug dis­cov­ery process as oth­ers have promised (and many have doubt­ed). Yet Bench­Sci still cites some big num­bers: a $10.2 bil­lion per year op­por­tu­ni­ty for sav­ings on reagents, de­duced from the es­ti­mate that $28 bil­lion each year is wast­ed on ir­re­pro­ducible re­search, with reagents and ref­er­ence ma­te­ri­als ac­count­ing for 36.1%.
F-Prime Cap­i­tal, which led the Se­ries B, and oth­er in­vestors in­clud­ing North­leaf Cap­i­tal Part­ners, Gra­di­ent Ven­tures, In­ovia Cap­i­tal, Gold­en Ven­tures and Re­al Ven­tures would love to see them get there. But will they?
"They would be a per­fect ac­qui­si­tion tar­get for Gene­script, Qi­a­gen, Ther­mo Fish­er, or oth­er an­ti­body and reagent mak­er," Alex Zha­voronkov, founder and CEO of AI drug dis­cov­ery start­up In­sil­i­co Med­i­cine, wrote to End­points. "With this mod­el they can quick­ly get to sub­stan­tial rev­enue pos­si­bly in tens of mil­lions but the mar­ket size is rather lim­it­ed and it will be dif­fi­cult to grow."
As he pre­pares to dou­ble the size of his team to 140 to sup­port the growth in­to re­com­bi­nant pro­teins, RNAi, CRISPR, cell lines and more, Be­len­zon sees oth­er­wise.
"To­day in an age where you have AI com­pa­nies gen­er­at­ing more and more and more po­ten­tial­ly great tar­gets to study, there needs to be a com­pa­ny that helps to study those tar­gets faster and bet­ter and cheap­er," he said. "That's re­al­ly what we are fo­cus­ing on."