EMA warns HQ move may cause ma­jor tur­moil, se­ri­ous­ly de­lay­ing new drug ap­provals
The Eu­ro­pean Med­i­cines Agency on Tues­day warned that it could lose a ma­jor­i­ty of its staff based on which of the 19 cities vy­ing to host the med­i­cines reg­u­la­tor is se­lect­ed by the Eu­ro­pean Coun­cil in No­vem­ber, threat­en­ing the pace of new drug ap­provals even in best-case sce­nar­ios for at least two years.
Based on the re­sults of a sur­vey com­plet­ed by 92% of EMA's staff ear­li­er this month, the agency says it could lose be­tween 19% and 94% of its staff de­pend­ing on which city is se­lect­ed as its fu­ture host. Politi­co first re­port­ed that Am­s­ter­dam is the top choice among EMA staff.
Af­ter Am­s­ter­dam, just three ad­di­tion­al un­named cities are pro­ject­ed to pro­vide enough cov­er to main­tain the reg­u­la­tor's ba­sic safe­ty mon­i­tor­ing mis­sion. "For cer­tain lo­ca­tions staff re­ten­tion rates could be sig­nif­i­cant­ly less than 30% [re­ten­tion]. This would mean that the Agency is no longer able to func­tion and, as there is no back­up, this would have im­por­tant con­se­quences for pub­lic health in the EU," the EMA says.
The Eu­ro­pean Com­mis­sion is ex­pect­ed the com­plete its as­sess­ment of the 19 of­fi­cial of­fers to host EMA in the next few days. And, fol­low­ing a po­lit­i­cal dis­cus­sion in Oc­to­ber, the 27 EU mem­ber states, mi­nus the UK, will vote on the agency's fu­ture lo­ca­tion at the EU Gen­er­al Af­fairs Coun­cil meet­ing in No­vem­ber.
For the sur­vey, EMA staff were asked to rate how like­ly they were to stay with the agency for each of the 19 can­di­date cities. EMA then took the re­sults of the sur­vey and di­vid­ed the cities in­to four groups based on the lev­el of ex­pect­ed em­ploy­ee re­ten­tion.
Five cities fell in group 1 with 65% or greater em­ploy­ee re­ten­tion, an­oth­er five fell in group 2 with a 50-65% re­ten­tion rate, one city fell in group 3 with a 30-50% re­ten­tion rate and eight cities fell in group 4 with a less than 30% re­ten­tion rate.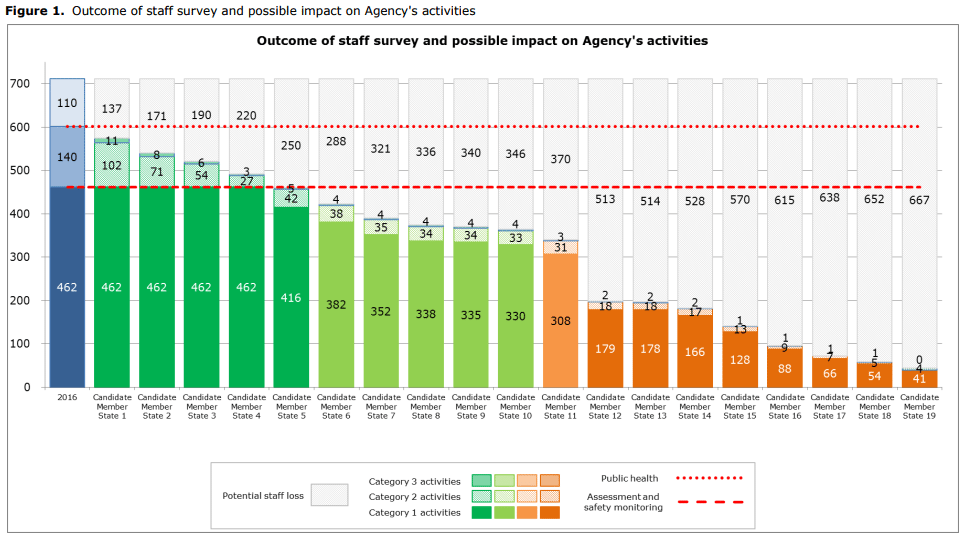 ---
While the sur­vey re­port does not iden­ti­fy the cities by name, EMA says the re­sults re­flect staff mem­bers' per­son­al as­sess­ments of whether the can­di­date cities meet their needs based on the in­for­ma­tion pre­sent­ed in the cities' of­fi­cial bids and staff mem­bers' own re­search in­to the lo­ca­tions.
Ac­cord­ing to EMA, the agency needs at least 462 full-time equiv­a­lent em­ploy­ees to per­form its high­est pri­or­i­ty ac­tiv­i­ties, which in­clude as­sess­ing new drugs and safe­ty mon­i­tor­ing, and an­oth­er 140 FTEs to han­dle medi­um pri­or­i­ty pub­lic health ac­tiv­i­ties, such as curb­ing an­timi­cro­bial re­sis­tance and work­ing with health tech­nol­o­gy as­sess­ment bod­ies. An ad­di­tion­al 110 FTEs are need­ed for low­er pri­or­i­ty ac­tiv­i­ties, such as cor­po­rate gov­er­nance, au­dits and ad­min­is­tra­tive sup­port.
With those re­quire­ments, on­ly four cities would like­ly re­tain enough staff to per­form EMA's high­est pri­or­i­ty ac­tiv­i­ties, and no cities would ful­ly meet the agency's staffing needs for medi­um and low pri­or­i­ty ac­tiv­i­ties with­out ad­di­tion­al re­cruit­ment.
Even in the best case sce­nar­ios, EMA says to ex­pect de­lays in ap­prov­ing new med­i­cines and slowed progress on oth­er pub­lic health ini­tia­tives for the next two to three years.
In the worst cas­es, EMA says it would be "un­able to op­er­ate" and the EU and mem­ber states would need to im­ple­ment emer­gency mea­sures to pro­tect pub­lic health, such as re­ly­ing on third coun­tries for ap­proval de­ci­sions.
---
First pub­lished here. Reg­u­la­to­ry Fo­cus is the flag­ship on­line pub­li­ca­tion of the Reg­u­la­to­ry Af­fairs Pro­fes­sion­als So­ci­ety (RAPS), the largest glob­al or­ga­ni­za­tion of and for those in­volved with the reg­u­la­tion of health­care and re­lat­ed prod­ucts, in­clud­ing med­ical de­vices, phar­ma­ceu­ti­cals, bi­o­log­ics and nu­tri­tion­al prod­ucts. Email news@raps.org for more in­for­ma­tion.
Im­age: EMA's cur­rent head­quar­ters in Lon­don. Shut­ter­stock