The European Medicines Agency on Tuesday warned that it could lose a majority of its staff based on which of the 19 cities vying to host the medicines regulator is selected by the European Council in November, threatening the pace of new drug approvals even in best-case scenarios for at least two years.
Based on the results of a survey completed by 92% of EMA's staff earlier this month, the agency says it could lose between 19% and 94% of its staff depending on which city is selected as its future host. Politico first reported that Amsterdam is the top choice among EMA staff.
After Amsterdam, just three additional unnamed cities are projected to provide enough cover to maintain the regulator's basic safety monitoring mission.  "For certain locations staff retention rates could be significantly less than 30% [retention]. This would mean that the Agency is no longer able to function and, as there is no backup, this would have important consequences for public health in the EU," the EMA says.
The European Commission is expected the complete its assessment of the 19 official offers to host EMA in the next few days. And, following a political discussion in October, the 27 EU member states, minus the UK, will vote on the agency's future location at the EU General Affairs Council meeting in November.
For the survey, EMA staff were asked to rate how likely they were to stay with the agency for each of the 19 candidate cities. EMA then took the results of the survey and divided the cities into four groups based on the level of expected employee retention.
Five cities fell in group 1 with 65% or greater employee retention, another five fell in group 2 with a 50-65% retention rate, one city fell in group 3 with a 30-50% retention rate and eight cities fell in group 4 with a less than 30% retention rate.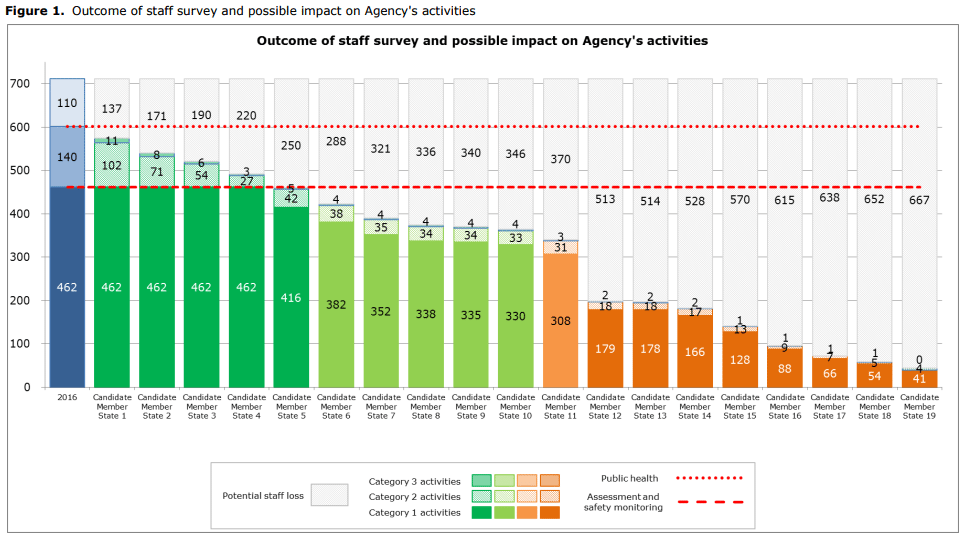 ---
While the survey report does not identify the cities by name, EMA says the results reflect staff members' personal assessments of whether the candidate cities meet their needs based on the information presented in the cities' official bids and staff members' own research into the locations.
According to EMA, the agency needs at least 462 full-time equivalent employees to perform its highest priority activities, which include assessing new drugs and safety monitoring, and another 140 FTEs to handle medium priority public health activities, such as curbing antimicrobial resistance and working with health technology assessment bodies. An additional 110 FTEs are needed for lower priority activities, such as corporate governance, audits and administrative support.
With those requirements, only four cities would likely retain enough staff to perform EMA's highest priority activities, and no cities would fully meet the agency's staffing needs for medium and low priority activities without additional recruitment.
Even in the best case scenarios, EMA says to expect delays in approving new medicines and slowed progress on other public health initiatives for the next two to three years.
In the worst cases, EMA says it would be "unable to operate" and the EU and member states would need to implement emergency measures to protect public health, such as relying on third countries for approval decisions.
---
First published here. Regulatory Focus is the flagship online publication of the Regulatory Affairs Professionals Society (RAPS), the largest global organization of and for those involved with the regulation of healthcare and related products, including medical devices, pharmaceuticals, biologics and nutritional products. Email news@raps.org for more information.
Image: EMA's current headquarters in London. Shutterstock
---
The best place to read
Endpoints News

? In your inbox.

Comprehensive daily news report for those who discover, develop, and market drugs. Join 51,000+ biopharma pros who read Endpoints News by email every day.

Free Subscription
---
---
---