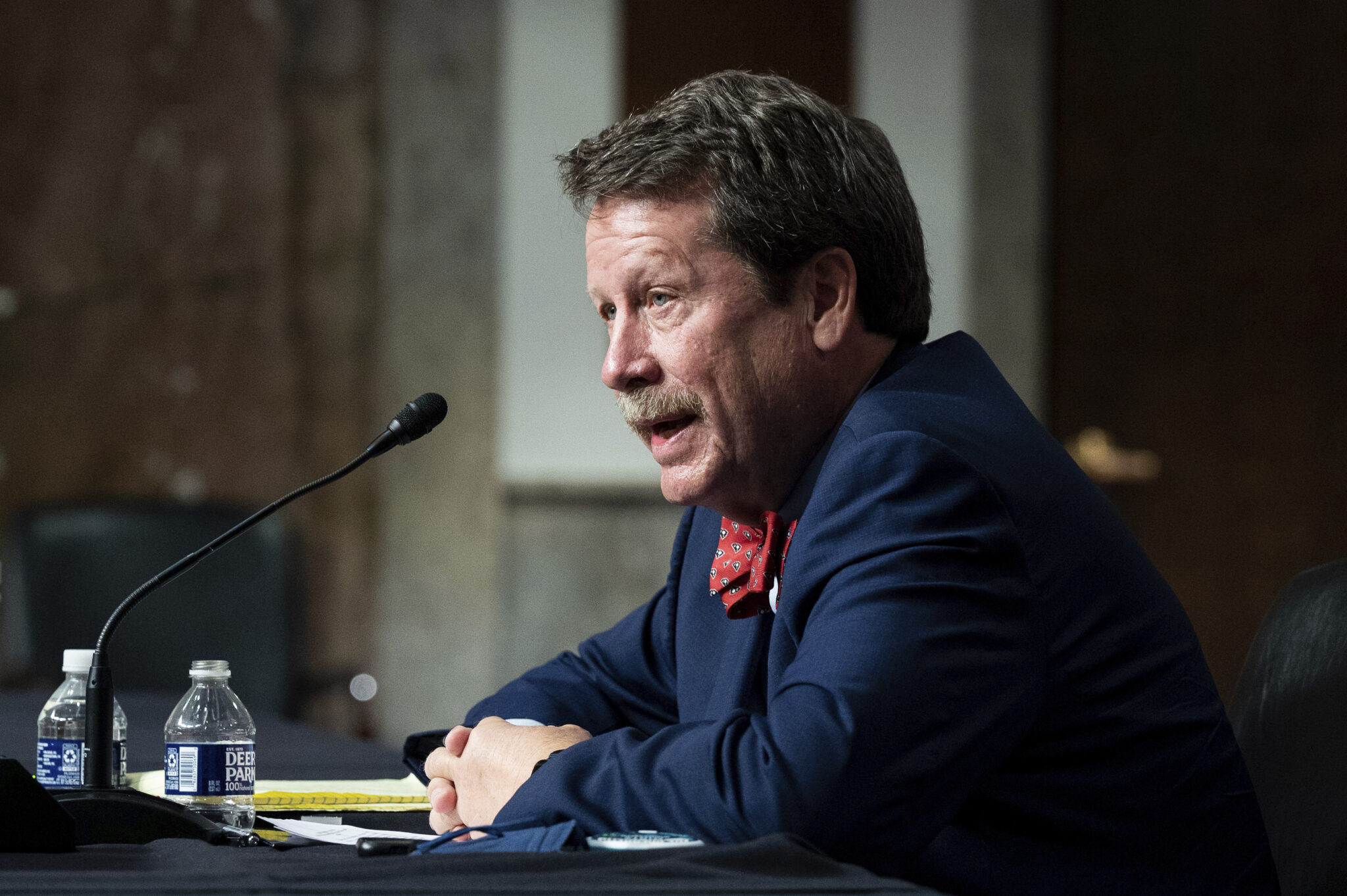 Robert Califf, FDA commissioner (Michael Brochstein/Sipa USA/Sipa via AP Images)
FDA chief Rob Califf: The busi­ness of health is boom­ing but peo­ple's out­comes aren't im­prov­ing
While re­fer­ring to him­self as liv­ing in the prover­bial "over­time" of life at the age of 70, new­ly Sen­ate-con­firmed FDA chief Rob Califf said his hope, at the end of his sec­ond run at the agency, is to leave the sys­tem in a way that en­ables peo­ple to bet­ter find out the truth about the risks and ben­e­fits of prod­ucts the FDA reg­u­lates.
The famed clin­i­cal tri­al­ist from Duke, who al­so re­cent­ly spent time at Google's par­ent com­pa­ny Al­pha­bet, made clear that his vi­sion is to fair­ly eval­u­ate the re­al val­ue and worth of new prod­ucts, and to quick­ly dis­pose of in­ves­ti­ga­tion­al prod­ucts that aren't use­ful.
"We do not have that sys­tem now," Califf said, al­though he said com­pared to "where we were, we have a great sys­tem."
On the part not done as well in the US vs. the rest of the world, Califf point­ed to the fact that the US is one of the great­est in­ven­tors in the world but in last place for life ex­pectan­cy among oth­er high-in­come coun­tries.
"I'm in love with the term sub-op­ti­miza­tion," Califf said, defin­ing the term as a sys­tem with many parts that are in­cen­tivized to op­ti­mize their own well-be­ing, but the sys­tem as a whole is less than the sum of the parts.
"I think that is an Amer­i­can prob­lem right now," he said re­fer­ring to sub-op­ti­miza­tion, not­ing that the busi­ness of health care has nev­er been bet­ter but the out­comes of the peo­ple the sys­tem is try­ing to serve are not do­ing bet­ter.
On his promis­es to Con­gress re­gard­ing ac­cel­er­at­ed ap­proval re­forms, Califf told Matt Her­p­er at a STAT News event Thurs­day that "the amount of heat gen­er­at­ed in the dis­cus­sion is in­verse­ly pro­por­tion­al to qual­i­ty of the stud­ies done."
He al­so made clear that he doesn't think it's with­in the role of the FDA com­mis­sion­er, as a po­lit­i­cal ap­pointee, to make de­ci­sions on spe­cif­ic prod­ucts (al­though this in­ter­pre­ta­tion has been dis­put­ed, as was the case with his de­ci­sion to ap­prove Sarep­ta's DMD drug eteplirsen). The peo­ple who make the de­ci­sions on prod­ucts are full-time civ­il ser­vants who have no con­flicts of in­ter­ests, he not­ed, and it's their job to make these ap­proval de­ci­sions.
"My job is to make sure what the rules are of the game, and the in­ter­ac­tion with the out­side world, and look­ing across at sys­tem­at­ic poli­cies that would im­prove things," he said.
In the cas­es men­tioned, he said, re­fer­ring to the re­cent ALS drug that went be­fore an ad­comm ear­li­er this week and Bio­gen's con­tro­ver­sial Alzheimer's drug, "there were re­al im­per­fec­tions in the way the stud­ies were done that make it hard." Pa­tients who need ther­a­pies des­per­ate­ly need to be sure the stud­ies ac­tu­al­ly an­swer the ques­tion rel­e­vant to their needs, he added.
While not­ing that the de­f­i­n­i­tion of an ac­cel­er­at­ed ap­proval is that an in­ves­ti­ga­tion­al drug is "rea­son­ably like­ly" that an un­val­i­dat­ed sur­ro­gate would lead to clin­i­cal ben­e­fit, he ex­plained that the path­way does lead lots of com­pa­nies to get in­to sur­ro­gate end­points, which might not nec­es­sar­i­ly be a low­er qual­i­ty study, but it's a dif­fer­ent study.
But he said he thought it's usu­al­ly naïve com­pa­nies that are go­ing af­ter these un­val­i­dat­ed sur­ro­gates with low­er-qual­i­ty stud­ies, rather than com­pa­nies try­ing to get away with less clin­i­cal work.
So how to im­prove the sys­tem for ac­cel­er­at­ed ap­provals?
"I think you're aware there's con­sid­er­a­tion of im­prove­ments cur­rent­ly," he said, re­fer­ring to FDA's leg­isla­tive pro­pos­als. "It's that space in be­tween the ap­proval and the fi­nal de­ter­mi­na­tion of clin­i­cal risks/ben­e­fits. Right now the sys­tem is painful­ly slow to get good an­swers. Reg­u­la­to­ry sci­ence stud­ies have come to dif­fer­ent con­clu­sions, but es­sen­tial­ly we need to get good stud­ies done af­ter the ap­proval in a very ef­fi­cient way, as quick­ly as pos­si­ble."
On the top­ic of FDA-CMS re­la­tions, which have been a point of in­ter­est in re­cent months as CMS has so far balked at cov­er­ing Aduhelm wide­ly, Califf called for "a smooth hand-off from FDA to CMS," as the two "need to co­or­di­nate so CMS is equipped to make the right de­ci­sion."
In the lead up to his Sen­ate con­fir­ma­tion, Califf pre­vi­ous­ly dis­cussed the need for con­fir­ma­to­ry tri­als to speed up af­ter these ac­cel­er­at­ed OKs. Com­par­ing the ac­cel­er­at­ed path­way to a re­lay race, Califf ar­gued the "FDA runs the first lap, gets to the end, drops the ba­ton down on the ground, and some­one else like CMS has to fig­ure out where the ba­ton is, pick it up and start all over."
A ques­tion from the au­di­ence at the Stat event al­so asked Califf if he might re­lease the agency's com­plete re­sponse let­ters, or re­jec­tions to phar­ma com­pa­nies, a move Califf's pre­de­ces­sor Scott Got­tlieb vowed to do but didn't.
"The com­plete re­sponse let­ters — there aren't that many of them," Califf said, while not­ing that he's not op­posed to re­leas­ing them, it's "not as big of a deal as many peo­ple make it." Bad ap­pli­ca­tions get weed­ed out more fre­quent­ly now ear­li­er in the ap­proval process, and the CRLs of­ten have to do with man­u­fac­tur­ing is­sues, which are redact­ed, he said.
"One of the many things I want to work on is mis­in­for­ma­tion," Califf said. "I want to be very proac­tive."