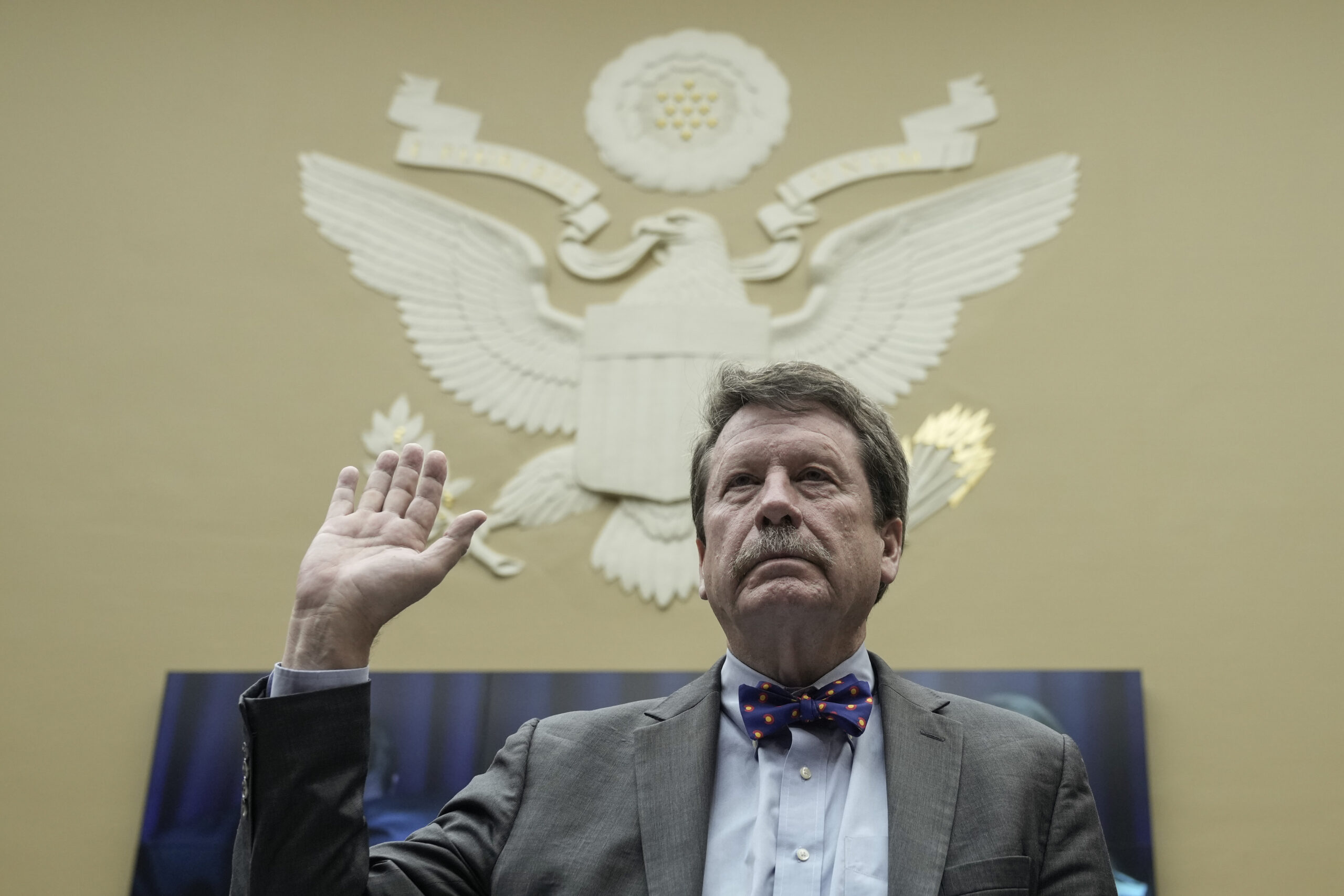 FDA Commissioner Robert Califf on Capitol Hill, Feb. 8, 2023 (Drew Angerer/Getty Images)
FDA com­mis­sion­er floats ideas on how to bet­ter han­dle the pan­dem­ic
FDA Com­mis­sion­er Rob Califf joined the heads of the CDC and NIH in the hot seat to­day be­fore a key House sub­com­mit­tee, ex­plain­ing that there needs to be a much faster, more co­or­di­nat­ed way to over­see vac­cine safe­ty, and that for­eign bio­phar­ma in­spec­tions, halt­ed for years due to the pan­dem­ic, are slow­ly ramp­ing up again.
Califf, who stressed to the House En­er­gy and Com­merce's Sub­com­mit­tee on Health that the CDC al­so needs bet­ter da­ta, made clear that the FDA's abil­i­ty to mon­i­tor the safe­ty of vac­cines "would al­so ben­e­fit great­ly by a co­or­di­nat­ed fed­er­al pub­lic health da­ta re­port­ing au­thor­i­ty."
FDA cur­rent­ly us­es its Bi­o­log­ics Ef­fec­tive­ness and Safe­ty (BEST) Ini­tia­tive, to an­a­lyze health in­sur­ance claims or elec­tron­ic health records (EHRs) from large da­ta sys­tems. But Califf made clear there are still lim­its to these us­es.
"While the BEST Ini­tia­tive has been es­sen­tial for our work and pro­vid­ed us with a ro­bust pic­ture of safe­ty da­ta, our abil­i­ty to an­a­lyze claims in­for­ma­tion is lim­it­ed by the fact that some vac­ci­na­tions are not record­ed in health in­sur­ance claims da­ta," Califf's writ­ten tes­ti­mo­ny says, adding:
Fur­ther, when in­sur­ance claims data­bas­es or EHRs de­tect an ad­verse event, FDA of­ten needs to quick­ly ver­i­fy in­for­ma­tion or ac­cess ad­di­tion­al in­for­ma­tion to eval­u­ate the ad­verse events of in­ter­est. When we re­quest records to ver­i­fy ad­verse events de­tect­ed by the BEST Ini­tia­tive data­bas­es it has tak­en FDA around 8-12 weeks in some cas­es to re­ceive vol­un­tary ac­cess to these records. Ad­di­tion­al­ly, co­or­di­nat­ed fed­er­al pub­lic health da­ta re­port­ing au­thor­i­ty would help the Agency to more swift­ly iden­ti­fy ad­verse event pat­terns and trends as­so­ci­at­ed with the use of vac­cines or oth­er MCMs, and swift­ly be able to com­mu­ni­cate with health care providers and pa­tients about safe­ty sig­nals.
Com­mit­tee Chair Cathy Mc­Mor­ris Rodgers (R-WA) ques­tioned Califf on why there aren't more FDA staffers com­ing in­to the agency's cam­pus in White Oak, MD, and Califf de­fend­ed his team, and in his writ­ten tes­ti­mo­ny, adding:
Our staff have had to be pulled off oth­er work and have been work­ing re­lent­less­ly on pan­dem­ic is­sues for the past three years, lead­ing to a sig­nif­i­cant back­log and fa­tigue.
But he al­so called for the cre­ation of a spe­cial­ized pro­gram with­in CBER to de­fend against emerg­ing pathogens to bet­ter po­si­tion FDA to deal with these kinds of threats.
"In con­sul­ta­tion with HHS part­ners, the pro­gram could: pro­vide rec­om­men­da­tions and guid­ance to de­vel­op­ers of vac­cines and oth­er med­ical prod­ucts and rel­e­vant fed­er­al part­ners; use re­al-world da­ta or re­al-world ev­i­dence to study the safe­ty and ef­fec­tive­ness of prod­ucts for ad­dress­ing bi­o­log­i­cal in­ci­dents and iden­ti­fy which prod­ucts may be best suit­ed for spe­cif­ic pathogens or for use in dif­fer­ent pop­u­la­tions; and fa­cil­i­tate prod­uct de­vel­op­ment in­clud­ing ad­vances in man­u­fac­tur­ing," Califf wrote.
Rep. Gus Bili­rakis (R-FL) ques­tioned Califf on FDA's for­eign in­spec­tions, which have rapid­ly de­clined dur­ing the pan­dem­ic. Be­tween April and Sep­tem­ber 2021, the FDA said it com­plet­ed just 37 for­eign drug in­spec­tions, which com­pares with more than 1,200 in 2019.
Califf ac­knowl­edged there's more work to do on sup­ply chains, but it should be an in­ter­ac­tion be­tween FDA and in­dus­try. He not­ed that FDA now has ad­di­tion­al hir­ing au­thor­i­ty to ramp up the num­ber of in­spec­tors,"and we're catch­ing up, par­tic­u­lar­ly in Chi­na due to lack of ac­cess un­til very re­cent­ly. We'll have a lot to dis­cuss on how to make this bet­ter. It's frag­ile," Califf said.
As far as thoughts on the man­u­fac­tur­ing boom in Chi­na and In­dia over the last decade or so, Califf said, "We've got to be there … and I hope we can fix that and bring it back to the US."
In his writ­ten tes­ti­mo­ny, Califf called on Con­gress to do more to align fed­er­al and state of­fi­cials on the sup­ply chain too.
"Al­low­ing for dis­clo­sure of non-pub­lic in­for­ma­tion to these agen­cies with com­ple­men­tary func­tions re­lat­ed to FDA-reg­u­lat­ed prod­ucts could achieve faster and more ef­fec­tive ac­tion to pro­tect the pub­lic health dur­ing na­tion­al pub­lic health emer­gen­cies, oth­er state/lo­cal dis­as­ter de­c­la­ra­tions, out­breaks or oth­er pub­lic health events, and for rou­tine reg­u­la­to­ry over­sight," he wrote.