FDA ex­e­cutes a 180 on Ther­a­peu­tic­sMD ther­a­py, hand­ing it an OK — and stok­ing con­cerns about po­lit­i­cal in­flu­ence
A year af­ter the FDA hand­ed Ther­a­peu­tic­sMD $TXMD a re­jec­tion let­ter for its ther­a­py pre­vent­ing vagi­nal pain dur­ing sex, the agency has done a com­plete 180 — ap­prov­ing the treat­ment af­ter wav­ing off the safe­ty con­cerns that had once war­rant­ed a CRL.
The de­ci­sion to drop the CRL and al­low the ap­pli­ca­tion to pro­ceed with­out meet­ing spec­i­fied hur­dles is one of three the FDA ex­e­cut­ed in the weeks af­ter Scott Got­tlieb jumped in­to the top job at the FDA, rais­ing con­cerns that po­lit­i­cal in­flu­ence was chang­ing the for­tunes of some of the com­pa­nies with busi­ness be­fore the agency. In this case, Got­tlieb — hand­ed a man­date to speed ap­provals — won the nom­i­na­tion the day af­ter the re­jec­tion was an­nounced by Ther­a­peu­tic­sMD.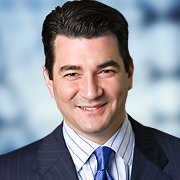 Scott Got­tlieb
Two oth­er com­pa­nies al­so earned a re­prieve un­der Got­tlieb: Am­i­cus, where CEO John Crow­ley had lob­bied of­fi­cials claim­ing that their re­jec­tion of its ex­per­i­men­tal Fab­ry drug mi­gala­s­tat would de­lay it by 5 to 7 years, far more than the 2 years he told share­hold­ers; and Eli Lil­ly, which re­cent­ly won over an ex­pert pan­el on a ques­tion­able low dose of baric­i­tinib.
In Am­i­cus' case, the FDA put the drug on the agency's in­side track, of­fer­ing a fast pri­or­i­ty re­view ahead of an ex­pect­ed ap­proval.
In this case, Ther­a­peu­tic­sMD — which is chaired by ex-HHS sec­re­tary Tom­my Thomp­son, who ran a group of promi­nent Bush ad­min­is­tra­tion Re­pub­li­cans back­ing Don­ald Trump for pres­i­dent — told in­vestors last year that the agency had flagged con­cerns about the ab­sence of safe­ty da­ta be­yond the 12-week stretch test­ed in the clin­ic. It al­so didn't help ini­tial­ly that there are oth­er prod­ucts for the con­di­tion, less­en­ing the ur­gency of an ap­proval.
The agency doesn't pub­lish CRLs and nev­er of­fered an ex­pla­na­tion for its re­ver­sal, an agency stan­dard on in­di­vid­ual com­pa­nies.
Their estra­di­ol vagi­nal in­serts will be sold as Imvexxy.