Prep­ping for a rapid-fire launch, Kite Phar­ma gets a pass from FDA on axi-cel pan­el re­view
The FDA has ev­i­dent­ly learned all it wants at this point from its out­side on­col­o­gy ex­perts on CAR-T. Kite Phar­ma's close­ly-watched CAR-T drug axi-cel is get­ting a pass on an ad­comm meet­ing, which may sig­nal a quick thumbs up from reg­u­la­tors.
Kite $KITE ex­ecs think so, say­ing to­day that they will be ful­ly launch-ready by Sep­tem­ber in case an ear­ly OK comes through. And that bull­ish stance earned a 7% boost to its share price to­day.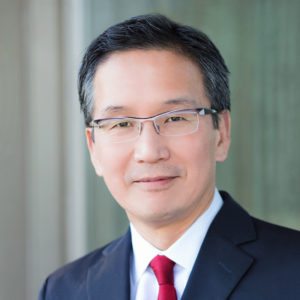 David Chang, Kite
In a Q2 call with an­a­lysts Tues­day morn­ing, Kite R&D chief David Chang told an­a­lysts the FDA had no­ti­fied the biotech that reg­u­la­tors will not be or­ga­niz­ing a pan­el re­view with out­side ex­perts for axi-cel. No­var­tis was first up in Ju­ly, gain­ing unan­i­mous back­ing for CTL019 from an FDA pan­el in the lead­up to an ear­ly-Oc­to­ber PDU­FA date.
No­var­tis had been seen as the clear front-run­ner in the race to get on the mar­ket first, but with the FDA fin­ish line blur­ring, they may now both launch al­most si­mul­ta­ne­ous­ly.
"We are ex­treme­ly en­cour­aged by the re­cent ad­vi­so­ry com­mit­tee meet­ing" for No­var­tis, Chang said, which he sees as a like­ly har­bin­ger for Kite. "The FDA has in­formed us that they will not sched­ule an ad­vi­so­ry com­mit­tee meet­ing" for axi-cel. This fol­lows an FDA in­spec­tion of its man­u­fac­tur­ing fa­cil­i­ty and its treat­ment cen­ters in the lead-up to an ac­cel­er­at­ed re­view and fi­nal de­ci­sion.
Kite faces a No­vem­ber 29 dead­line for its mar­ket­ing de­ci­sion from the FDA, but the com­pa­ny says it's ready to start mak­ing the per­son­al­ized ther­a­py and start ship­ping al­most im­me­di­ate­ly.
These pi­o­neer­ing CAR-T drugs of­fer a prover­bial game-chang­ing ap­proach in treat­ing blood can­cers. T cells are ex­tract­ed from pa­tients and armed with chimeric anti­gen re­cep­tors, turn­ing them in­to can­cer fight­ers that are pumped in­to a po­tent mix that is then in­fused in­to the pa­tient.
To say that Kite has been an­tic­i­pat­ing the launch for sev­er­al years now is an un­der­state­ment. Axi-cel is wide­ly viewed as a block­buster in the mak­ing, and Kite has been build­ing man­u­fac­tur­ing op­er­a­tions and a com­mer­cial group with plans to hit the ground run­ning, hit­ting a vein-to-vein turn­around time on this ther­a­py of 17 days. In the mean­time, its R&D group to­day sig­naled that they have filed for an IND to start Phase I work on KITE-585, its next-gen ap­proach that tar­gets BC­MA.
"With the an­tic­i­pat­ed events on the hori­zon for the re­main­der of 2017," said CEO Arie Bellde­grun, "the po­ten­tial for CAR-T to be­come one of the most pow­er­ful an­ti-can­cer agents for cer­tain pa­tients may fi­nal­ly be re­al­ized."