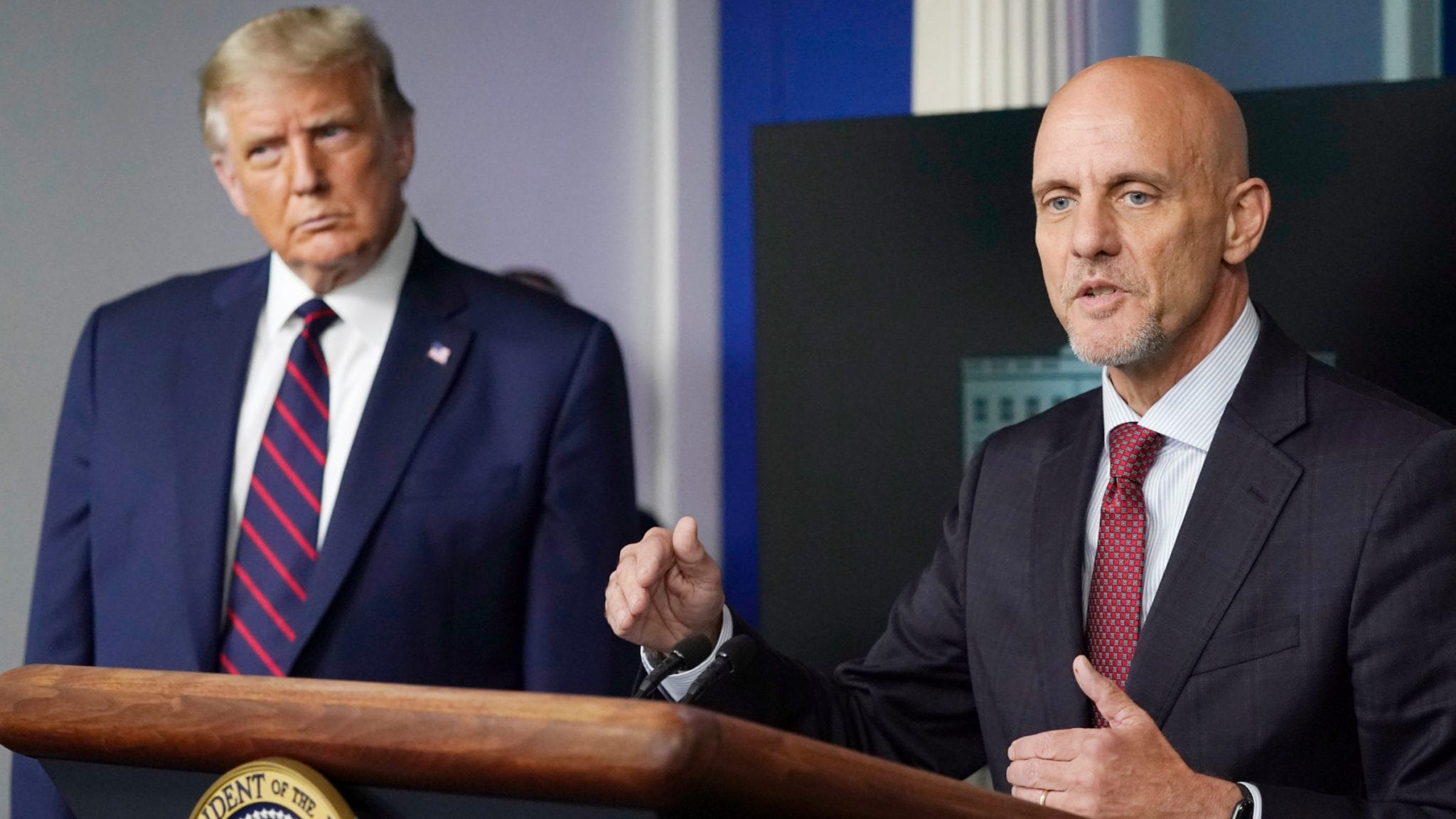 President Donald Trump and FDA Commissioner Stephen Hahn (AP Images)
FDA is­sues fi­nal rule al­low­ing im­por­ta­tion of drugs from Cana­da — but al­so keeps the pow­er to re­voke it
Just over a month away from the pres­i­den­tial elec­tion, the FDA has is­sued a fi­nal reg­u­la­tion ful­fill­ing Pres­i­dent Trump's promise to let states im­port cer­tain pre­scrip­tion drugs from Cana­da.
On Thurs­day, Trump told a crowd in North Car­oli­na that the new rule goes in­to ef­fect "to­day." But the pub­lished reg­u­la­tion states that it won't take ef­fect for 60 days. And even then, it could be a while be­fore cheap­er drugs make it across the bor­der.
Ac­cord­ing to the rule, states, ter­ri­to­ries, tribes, phar­ma­cists and whole­salers would need to set up new pro­grams and ap­ply to im­port the drugs, which would have to meet sev­er­al spec­i­fi­ca­tions. The prod­ucts would need to be re­la­beled and test­ed for "au­then­tic­i­ty and degra­da­tion," ac­cord­ing to the FDA. And the pro­grams must demon­strate "sig­nif­i­cant cost re­duc­tions" to the con­sumer.
"If you put Cana­di­an drugs on a dogsled and point­ed it in the di­rec­tion of Flori­da, the dogs would ar­rive long be­fore any drugs through this reg­u­la­to­ry pro­pos­al," for­mer HHS of­fi­cial Chris Meekins told the Wash­ing­ton Post back in De­cem­ber.
Trump signed an ex­ec­u­tive or­der in Ju­ly di­rect­ing the FDA to com­plete the "rule­mak­ing process" to al­low the im­por­ta­tion of Cana­di­an pre­scrip­tion drugs. Un­der a law es­tab­lished in 2003, such im­por­ta­tion is on­ly al­lowed if cer­ti­fied by the HHS sec­re­tary. Alex Azar has be­come the first sec­re­tary to for­mal­ly do so.
Drugs that have been ap­proved by Cana­da's Health Prod­ucts and Food Branch and meet the con­di­tions of an FDA-is­sued NDA or AN­DA will be el­i­gi­ble. In a press brief­ing on Fri­day, HHS chief of staff Bri­an Har­ri­son said that safe­ty has been "at the fore­front of our ef­forts."
"We've cre­at­ed smart safe op­por­tu­ni­ties for Amer­i­cans to se­cure low­er cost of drugs through im­por­ta­tion as no pres­i­dent has ever done be­fore," Har­ri­son said in the brief­ing.
But oth­ers are skep­ti­cal that the reg­u­la­tion will be ef­fec­tive in low­er­ing drug costs. In a New Eng­land Jour­nal of Med­i­cine Per­spec­tive piece pub­lished in May, Wash­ing­ton Uni­ver­si­ty as­so­ciate law pro­fes­sor Rachel Sachs and Uni­ver­si­ty of Michi­gan law pro­fes­sor Nicholas Bagley sug­gest­ed the Trump ad­min­is­tra­tion could be do­ing more to make drugs af­ford­able.
"Far from a bold ini­tia­tive to help peo­ple af­ford their pre­scrip­tion drugs, the pro­pos­al seems de­signed to al­low the Trump ad­min­is­tra­tion to claim that it is tak­ing ac­tion, even as it op­pos­es con­gres­sion­al leg­is­la­tion that would sharply curb some drug prices," the piece states.
Bagley and Sachs al­so point­ed out that the ini­tial pro­pos­al lacked guid­ance on how states can prove the im­port­ed drugs will re­duce costs. Cana­di­an reg­u­la­tors could change their rules to dis­cour­age ex­por­ta­tion, or sav­ings could ben­e­fit the whole­salers or the health care providers pre­scrib­ing the drugs, rather than pa­tients, they said. "Im­por­ta­tion might still save mon­ey, at least for some drugs, but a raw com­par­i­son of prices in the Unit­ed States and Cana­da pro­vides very thin sup­port for that con­clu­sion."
Alexan­der Gaffney of Politi­co's Agen­cy­IQ not­ed that the fi­nal­ized reg­u­la­tion in­cludes lan­guage which could al­low the FDA to re­voke im­por­ta­tion pro­grams.
There's al­so a bunch of new lan­guage that al­lows the FDA to re­voke im­por­ta­tion pro­grams be­cause – get this – it is "too much of a bur­den on FDA or HHS re­sources."

That seems like a blank check to end these pro­grams when­ev­er it wants. pic.twit­ter.com/CP2QmW2D5s

— Alexan­der Gaffney (@Alec­Gaffney) Sep­tem­ber 25, 2020
"This will be a game-chang­er for Amer­i­can se­niors," Trump tout­ed Thurs­day in a speech pre­sent­ing his Amer­i­ca First health­care plan. "And by al­low­ing you to do this through Cana­da, we're do­ing it very, very quick­ly. So it goes very fast."
The pres­i­dent al­so promised $200 pre­scrip­tion drug coupons to Medicare ben­e­fi­cia­ries, which he said will come from $6.6 bil­lion in sav­ings that do not cur­rent­ly ex­ist — or from phar­ma's cof­fers.