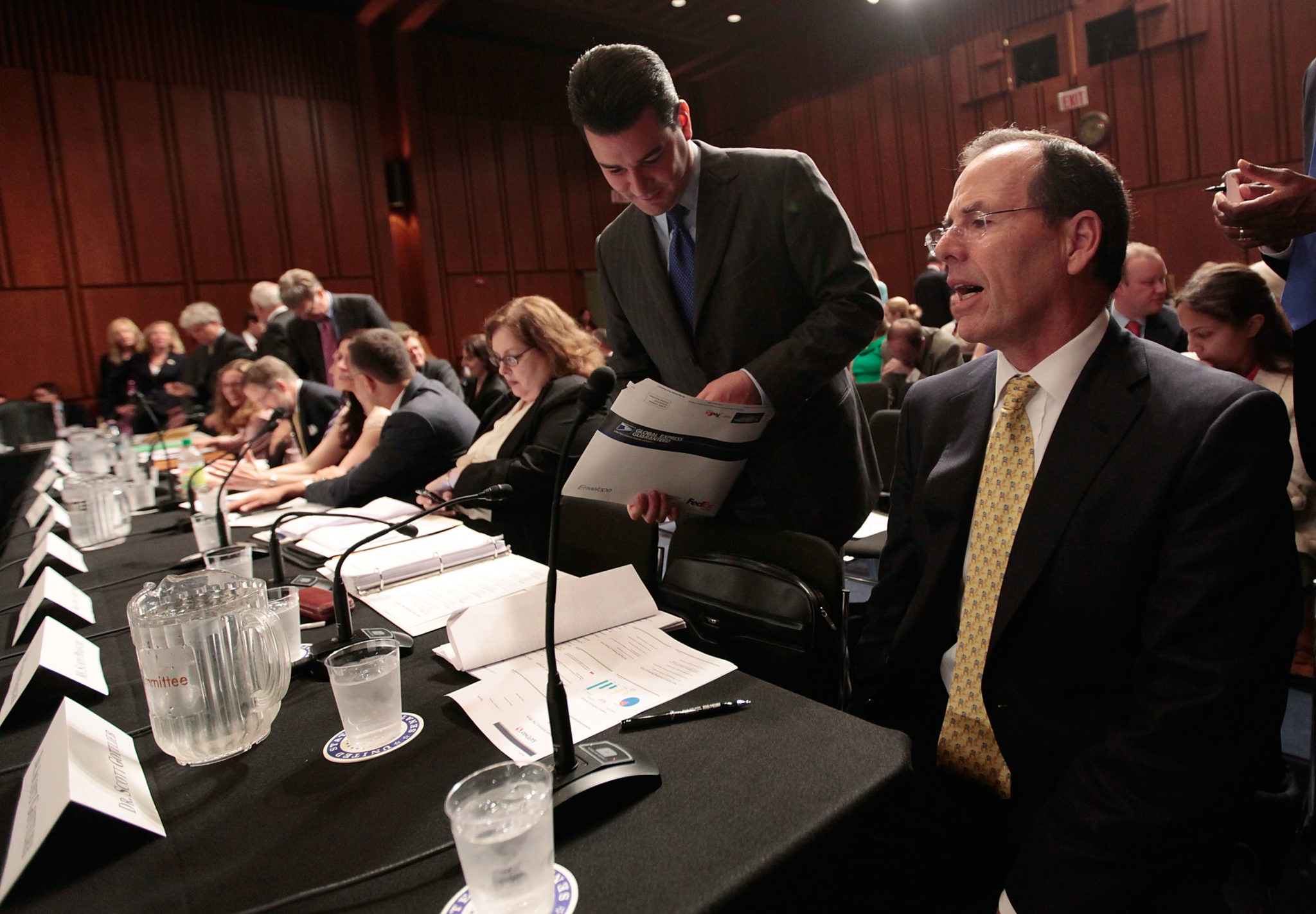 FDA nom­i­na­tion in hand, Got­tlieb pre­pares to dis­en­tan­gle him­self from a long list of bio­phar­ma jobs and in­vest­ments
Steve Burd (R), pres­i­dent and CEO, Safe­way, Inc. and Scott Got­tlieb (L), res­i­dent fel­low at Amer­i­can En­ter­prise In­sti­tute par­tic­i­pate in a Sen­ate Health, Ed­u­ca­tion, La­bor and Pen­sions Com­mit­tee hear­ing on Capi­tol Hill, June 11, 2009 in Wash­ing­ton, DC. (Cred­it: Mark Wil­son/Get­ty Im­ages)
---
Scott Got­tlieb wasn't idle dur­ing the eight years of the Oba­ma ad­min­is­tra­tion. With De­moc­rats in the White House and Re­pub­li­cans out, the for­mer agency of­fi­cial turned to a busy ca­reer work­ing with quite a range of bio­phar­ma in­vestors and com­pa­nies.
Now that Got­tlieb has se­cured Trump's nom­i­na­tion as the next FDA com­mis­sion­er and lined up an April 5th hear­ing at the Sen­ate, he's be­gun the process of un­wind­ing those in­vest­ments and busi­ness re­la­tion­ships in bio­phar­ma. Got­tlieb filed a dis­clo­sure form yes­ter­day with the Of­fice of Gov­ern­ment Ethics that will sure­ly pro­vide fod­der for a De­mo­c­ra­t­ic at­tack dur­ing his con­fir­ma­tion hear­ings.
And there's a lot to see.
Got­tlieb's con­sult­ing work with Glax­o­SmithK­line is well known, and he's put the phar­ma gi­ant on a long list of com­pa­nies he will steer clear of dur­ing his first year as com­mis­sion­er, re­cus­ing him­self from any FDA ac­tion re­gard­ing GSK. He's al­so been a board mem­ber of Me­dA­vante, a med­ical de­vice com­pa­ny. Me­dA­vante owes him some com­pen­sa­tion, he says in the ethics form, but he'll for­feit that if it doesn't ar­rive ahead of his con­fir­ma­tion. And if it does, he'll re­cuse him­self for two years.
There were board po­si­tions with Tolero and the clin­i­cal di­ag­nos­tic lab Com­bi­Ma­trix, which he re­signed from last De­cem­ber. And he set up a com­pa­ny to com­plete a sin­gle con­sult­ing con­tract with Bris­tol-My­ers Squibb. More con­sult­ing was done for Ver­tex and he wrote a se­ries of ar­ti­cles for Forbes.
He al­so has a po­si­tion with Amer­i­can Pathol­o­gy Part­ners and Col­lec­tive Health, but he plans to re­sign from those po­si­tions once he is con­firmed, then re­cuse him­self from ac­tions re­lat­ed to those com­pa­nies.
There are stock op­tions in Gradalis, Glytec and Strike Bio. He's re­signed re­cent­ly from po­si­tions at Gradalis and Strike, and plans to re­cuse him­self from all three, di­vest­ing his in­vest­ments in 90 days af­ter he is con­firmed as com­mis­sion­er.
Got­tlieb was a part­ner at T.R. Win­ston, a bou­tique in­vest­ment bank, where he picked up in­vest­ments in Cell Bio­ther­a­py, An­gion Phar­ma­ceu­ti­cals, Chan­ti­cleer Hold­ings and:
Em­maus Life Sci­ences
In­spyr Ther­a­peu­tics
Kure
Lil­lis En­er­gy
Neu­ral­stem
Phar­ma-Bio Serv
Pros­et­ta Bio­sciences
So­cial Re­al­i­ty
Syn­the­sis En­er­gy Sys­tems
Tivor­san Phar­ma­ceu­ti­cals
All of that will go when he gets the nod from law­mak­ers.
He will still need to re­sign from po­si­tions at Amer­i­can En­ter­prise In­sti­tute, the New York Uni­ver­si­ty School of Med­i­cine, the So­ci­ety of Hos­pi­tal Med­i­cine, the BDO Cen­ter for Health­care Ex­cel­lence and In­no­va­tion, and Daichii Sankyo US.
(Whew.)
And he'll re­cuse him­self from any ac­tions in­volv­ing all of them.
Chances are that the De­moc­rats will do what it can to paint these ties as an ex­am­ple of Got­tlieb's too cozy re­la­tion­ship with an in­dus­try he plans to reg­u­late. But with the Re­pub­li­cans in charge of Con­gress and the White House, and bio­phar­ma of­fer­ing sol­id sup­port for the nom­i­na­tion, it's un­like­ly he'll be blocked.
The in­dus­try learned to yearn for Got­tlieb at the helm of the FDA pre­cise­ly be­cause his ex­pe­ri­ence had to make him aware of the re­al­i­ties in­volved in de­vel­op­ing ther­a­pies — a per­spec­tive that of­ten seems lack­ing in the White House. There's no ques­tion his port­fo­lio took him on a glob­al jour­ney in bio­phar­ma that makes him a safe bet to run the agency.
But ex­pect to hear a lot more about this in the weeks to come.