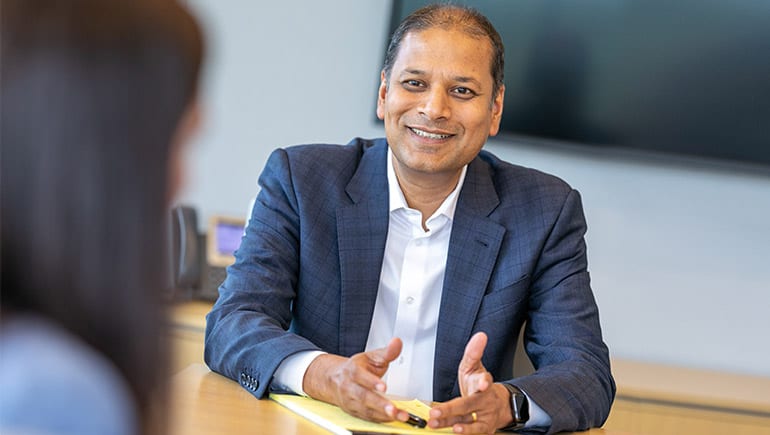 Samit Hirawat, Bristol Myers CMO
FDA OKs Bris­tol My­ers Squibb's LAG-3 drug, ap­prov­ing first new class of check­point in­hibitor in 8 years
For the first time in near­ly a decade, the FDA has ap­proved a new type of check­point in­hibitor to treat cer­tain pa­tients with can­cer.
The drug, de­vel­oped by Bris­tol My­ers Squibb and known as re­latlimab, is ap­proved for pa­tients with metasta­t­ic melanoma or melanoma that can't be treat­ed with surgery. It's giv­en in com­bi­na­tion with Op­di­vo, Bris­tol's block­buster PD-1 in­hibitor.
Mar­ket­ed as Op­du­alag, the an­ti­body com­bo will cost $27,389 per in­fu­sion. A Bris­tol spokesper­son said the price is in line with oth­er com­bi­na­tion treat­ments for metasta­t­ic melanoma.
Re­latlimab is no­table be­cause it has the same prin­ci­ple mech­a­nism of ac­tion — known as check­point block­ade —as block­buster CT­LA-4 and PD-1 im­munother­a­pies, such as Yer­voy and Keytru­da. But it goes af­ter a new tar­get on T cells, called LAG-3.
It's the first new check­point tar­get to reach pa­tients since the first PD-1 drugs were ap­proved in 2014. Re­searchers hope it could be the be­gin­ning of a se­ries of new im­munother­a­py tar­gets that im­prove re­spons­es to and ex­pand the use of check­point ther­a­pies, al­though they cau­tion that the field has faced more than its share of fail­ures in re­cent years.
Like the two pre­vi­ous class of drugs, re­latlimab is de­signed to take the brakes off the im­mune sys­tem, un­leash­ing it to at­tack tu­mors. Bris­tol My­ers showed it could do so in a piv­otal tri­al of 714 Stage III and Stage IV melanoma pa­tients, no­tably with­out trig­ger­ing un­to­ward side ef­fects.
The study ran­dom­ized pa­tients to re­ceive ei­ther a com­bi­na­tion of Op­di­vo and re­latlimab or Op­di­vo alone. Pa­tients who re­ceived the com­bi­na­tion went a me­di­an of 10.1 months be­fore their can­cers pro­gressed, com­pared to 4.6 months for Op­di­vo alone.
The pro­gres­sion da­ta is sim­i­lar to what re­searchers see when they com­bine Op­di­vo and Yer­voy, Bris­tol My­ers' CT­LA-4 in­hibitor, but that com­bi­na­tion can be high­ly tox­ic, leav­ing on­col­o­gists to on­ly pre­scribe it for a sub­set of pa­tients.
Re­latlimab, though, showed com­par­a­tive­ly few ad­verse events. The most com­mon were el­e­vat­ed liv­er en­zymes and fa­tigue, each of which oc­curred in just over 1% of pa­tients.
That means on­col­o­gists can now pre­scribe LAG-3/PD-1 for pa­tients who are too sick or oth­er­wise don't want to han­dle the side ef­fects of CT­LA-4. Ex­ec­u­tives and oth­er re­searchers cau­tion, though, that they will need more and longer-term da­ta be­fore con­clud­ing the LAG-3 com­bo is the new stan­dard of care.
If fu­ture sur­vival da­ta for LAG-3 com­bo look sim­i­lar to the CT­LA-4 com­bo, it would re­in­force "as the new stan­dard of care for pre­vi­ous­ly un­treat­ed pa­tients with ad­vanced melanoma," two UK can­cer re­searchers wrote in an New Eng­land Jour­nal of Med­i­cine ed­i­to­r­i­al. "It is un­like­ly that there will be a head-to-head tri­al be­tween the two com­bi­na­tions, since the dif­fer­ence in tox­ic ef­fects is stark."
Bris­tol My­ers is now run­ning ad­di­tion­al tri­als test­ing LAG-3 in lung, colon and oth­er can­cers in hopes that it will al­so prove ef­fec­tive there. How­ev­er, some ex­perts doubt it will prove ef­fec­tive in many oth­er can­cer types and com­pa­nies de­vel­op­ing ri­val LAG-3 drugs, such as Re­gen­eron, have con­cen­trat­ed their ef­forts on skin can­cer.
"My un­der­stand­ing of what's been at least pub­licly re­leased is there's not a slam dunk in­di­ca­tion, where you get the same kick in ac­tiv­i­ty, as melanoma," Is­rael Lowy, Re­gen­eron's head of on­col­o­gy, told End­points News in Jan­u­ary.
Miri­am Mer­ad, head of Mount Sinai's Pre­ci­sion Im­munol­o­gy In­sti­tute, agreed, telling End­points at the time: "I think it's go­ing to be very tu­mor spe­cif­ic."