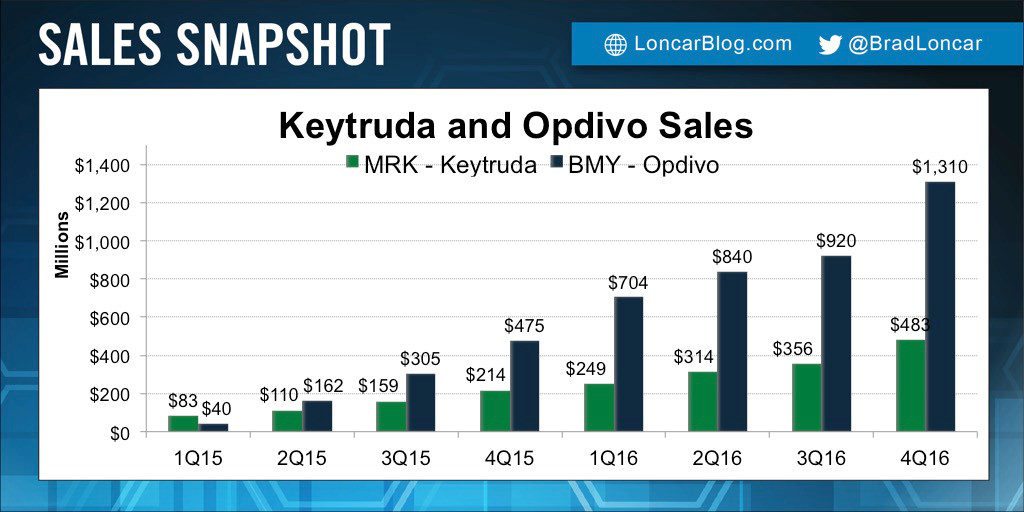 ---
Merck has racked up another FDA approval for Keytruda, this time for classical Hodgkin lymphoma, marking the PD-1 blocker's first green-light for use in liquid tumors.
Regulators handed out the OK for patients who had already failed at least three therapies.
The agency based this approval on the data Merck collected in 210 patients from the KEYNOTE-087 trial, which demonstrated an overall response rate of 69%, with a complete remission rate — no detectable cancer — of 22% and a partial remission rate of 47%.
The approval was a first for Merck, but it comes 9 months after Opdivo was approved in cHL. SunTrust suggests that Merck's label could have implications for Seattle Genetics' Adcetris. They wrote:
We believe Keytruda's broad label provides a new alternative to classical Hodgkin lymphoma patients who have primary refractory disease, an indication for which Adcetris is not yet approved. For advanced cHL, we believe primary refractory disease occurs in up to 20% of patients on standard front-line regimens (ABVD, alternative ABVD/MOPP) and in ~10% of patients on more intensive regimens,
Merck had been relegated to the number two position in the big checkpoint market, trailing well behind adoption of Bristol-Myers Squibb's Opdivo. Then Opdivo experienced a series of setback late last year that turned the market upside down, favoring Keytruda and forcing Bristol-Myers to shake up its research organization.
Said Dr. Roger M. Perlmutter, president, Merck Research Laboratories:
Today's approval – the first for Keytruda in a hematologic malignancy – reinforces the hope that immunotherapy will prove useful in a wide variety of cancers.
"For the patients with classical Hodgkin lymphoma who are not cured with existing treatments, there are limited options, and treating their disease becomes more challenging," added Dr. Craig Moskowitz, clinical director, division of hematologic oncology, Memorial Sloan Kettering Cancer Center. "This approval is an important step forward in treating these patients, who are generally young and have a particularly poor prognosis, and gives us the opportunity to help patients in their fight against this devastating disease."
---
The best place to read
Endpoints News

? In your inbox.

Comprehensive daily news report for those who discover, develop, and market drugs. Join 51,200+ biopharma pros who read Endpoints News by email every day.

Free Subscription
---
---
---