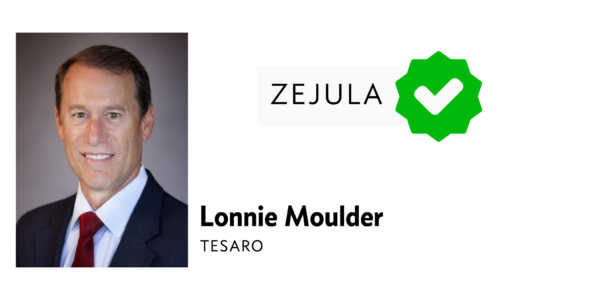 ---
The FDA has wasted no time in giving Tesaro $TSRO a broad approval for the use of its PARP drug niraparib, which will now be marketed as Zejula as a maintenance therapy for recurrent ovarian cancer.
The OK and the label that came with it represents a setback for Myriad Genetics $MYGN, which had argued that its companion diagnostic would be needed to identify a specific group of ovarian cancer patients with a biomarker indicating that they would most likely benefit. But regulators blew past any diagnostic qualification in giving Tesaro the label that it was looking for, vindicating CEO Lonnie Moulder's vow that he could get an OK aimed at a large segment of the market.
Tesaro had argued that the efficacy data for niraparib qualified for an approval for use in patients who are either HRD positive or HRD negative. But they were opposed by a partner who had a solid business case for arguing that the drug should be reserved for patients who would be most likely to benefit.
In the end, though, Tesaro is left with a big boast in its favor: "Zejula is the only PARP inhibitor that has demonstrated a clinically meaningful increase in progression-free survival (PFS) in women with recurrent ovarian cancer, regardless of BRCA mutation or biomarker status."
The OK also helps position Tesaro against AstraZeneca, which just delivered stellar Phase III data on its PARP Lynparza. Clovis, meanwhile, gained an approval for its PARP Rubraca late last year as a treatment for BRCA-mutated ovarian cancer that had proved resistant to at least two prior therapies.
It's a transformational moment for Tesaro. Its drug was listed by EvaluatePharma as one of the top drugs in the industry's pipeline this year, with peak sales expectations hovering close to $2 billion a year. And its stock climbed about 6% in after-market trading.
The approval came months ahead of the FDA's PDUFA deadline in June, indicating its interest and understanding of the field.
Zejula's label notes that it is indicated for the maintenance treatment of adult patients with recurrent epithelial ovarian, fallopian tube, or primary peritoneal cancer who are in a complete or partial response to platinum-based chemotherapy. And Tesaro immediately followed the news of the OK with plans to open up on the R&D program for the drug.
"Based on the unprecedented results of the NOVA trial in women with recurrent ovarian cancer, we previously announced the expansion and refinement of our PRIMA and QUADRA trials to include a broad patient population, and in the case of PRIMA, eliminated the enrollment requirement for a biomarker selected tumor. With the approval of ZEJULA in hand, we will now begin to execute on our plans to pursue potentially transformational applications of niraparib in a broad range of metastatic cancer indications," said Mary Lynne Hedley, president and COO of TESARO. "We plan to expand our first-line ovarian cancer strategy to include a combination study that assesses the potential benefit of niraparib plus an anti-PD-1 antibody in the maintenance setting and initiate a clinical study of niraparib in combination with bevacizumab in patients with a first recurrence of ovarian cancer, with an intent to replace chemotherapy in this setting. We remain strongly committed to studying niraparib in the breast cancer setting and also expect to initiate a new trial of niraparib in combination with an anti-PD-1 antibody in women with metastatic triple-negative breast cancer. Finally, our goal to move niraparib into indications beyond ovarian and breast cancers encompasses plans to initiate a registration strategy for the first-line treatment of patients with metastatic non-small cell lung cancer that includes a phase 2 trial of niraparib in combination with an anti-PD-1 antibody in patients, regardless of PDL-1 tumor expression, and a phase 3 trial of niraparib in combination with an anti-PD-1 antibody in patients with high levels of PDL-1 tumor expression."
---
The best place to read
Endpoints News

? In your inbox.

Comprehensive daily news report for those who discover, develop, and market drugs. Join 47,400+ biopharma pros who read Endpoints News by email every day.

Free Subscription
---
---
---