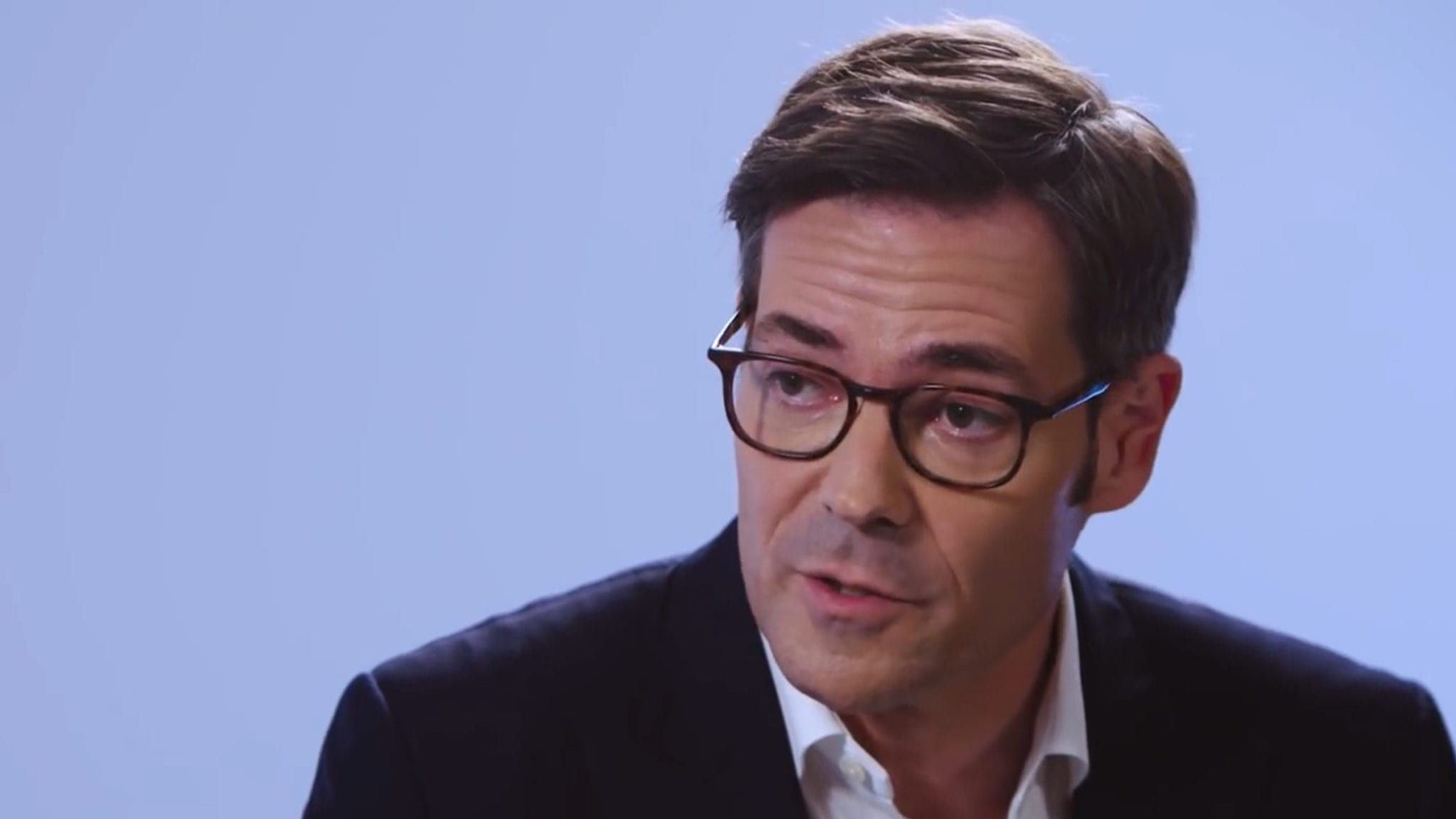 Mark Pruzanski, Intercept CEO (GlobeNewswire via YouTube)
FDA re­jects In­ter­cept's pitch for NASH as CEO fires back at the agency's 'evolv­ing' guide­lines
In a ma­jor set­back for an al­ready ail­ing field, the FDA has re­ject­ed obeti­cholic acid, the In­ter­cept Phar­ma­ceu­ti­cals com­pound that would have been the first drug specif­i­cal­ly ap­proved to treat NASH.
The In­ter­cept drug had, in Feb­ru­ary of 2019, yield­ed the first pos­i­tive Phase III re­sults for the obe­si­ty-re­lat­ed liv­er con­di­tion and its sub­se­quent NDA sub­mis­sion was close­ly watched around the in­dus­try as the first test for how reg­u­la­tors would treat the nascent but fast-grow­ing field.
Yet con­fi­dence that an ap­proval would come had been wan­ing for months. The drug was sched­uled for an ad­vi­so­ry com­mit­tee hear­ing on April 22, but in March In­ter­cept an­nounced the meet­ing was de­layed to June 9th due to Covid-19. Then in May, In­ter­cept said that hear­ing was post­poned again to "ac­com­mo­date the re­view of ad­di­tion­al da­ta re­quest­ed by the FDA." In­ter­cept didn't spec­i­fy what da­ta the FDA want­ed, but shares flagged and an­a­lysts were di­vid­ed over how omi­nous the de­lay was. SVB Leerink's Thomas Smith wrote it "in­jects ad­di­tion­al un­cer­tain­ty" on "po­ten­tial ap­proval/la­bel/tim­ing."
Now, In­ter­cept says, the FDA re­ject­ed the drug be­cause they were un­cer­tain if the sur­ro­gate end­point from their Phase III tri­al — re­duc­tion in liv­er fi­bro­sis — would ac­tu­al­ly trans­late in­to ben­e­fit for pa­tients. The FDA in­vit­ed them to re-sub­mit with longer term da­ta from the Phase III tri­al, but In­ter­cept spoke harsh­ly against the de­ci­sion.
In a state­ment that could lay the ground­work for an ap­peal, CEO Mark Pruzan­s­ki crit­i­cized the agency for can­cel­ing the ad­vi­so­ry com­mit­tee hear­ing, said their re­view as "in­com­plete," and ar­gued the agency re­peat­ed­ly moved the goal­posts for ap­proval in a way that could pre­vent the de­vel­op­ment of new ther­a­pies.
At no point dur­ing the re­view did the FDA com­mu­ni­cate that OCA was not ap­prov­able on an ac­cel­er­at­ed ba­sis, and we strong­ly be­lieve that the to­tal­i­ty of da­ta sub­mit­ted to date both meet the re­quire­ments of the Agency's own guid­ance and clear­ly sup­port the pos­i­tive ben­e­fit-risk pro­file of OCA. We are dis­ap­point­ed to see the de­ter­mi­na­tion the Agency has reached based on an ap­par­ent­ly in­com­plete re­view, and with­out hav­ing pro­vid­ed med­ical ex­perts and pa­tients the op­por­tu­ni­ty to be heard at the an­tic­i­pat­ed Ad­com on the mer­its of OCA, which is a des­ig­nat­ed Break­through Ther­a­py. The FDA has pro­gres­sive­ly in­creased the com­plex­i­ty of the his­to­log­ic end­points, cre­at­ing a very high bar that on­ly OCA has so far met in a piv­otal Phase 3 study. On be­half of the he­pa­tol­ogy com­mu­ni­ty, we are very con­cerned that the Agency's ap­par­ent­ly still evolv­ing ex­pec­ta­tions will make it ex­ceed­ing­ly chal­leng­ing to bring in­no­v­a­tive ther­a­pies to NASH pa­tients with high un­met med­ical need.
Shares of the com­pa­ny nose­dived on the news from $77 to to $48, shav­ing off over a $1 bil­lion in mar­ket cap. Pro­ject­ing In­ter­cept to trend to­ward $50, Jef­feries' Michael Yee called the news "a sur­prise down­side sce­nario that was not ex­pect­ed and un­for­tu­nate­ly leaves in­vestors in a pro­longed pe­ri­od of chal­leng­ing un­cer­tain­ty now."
On a con­fer­ence call Mon­day morn­ing, Pruzan­s­ki told an­a­lysts that the last he heard from the agency was that they would get back to In­ter­cept about resched­ul­ing an ad­vi­so­ry hear­ing. Then on the PDU­FA date of June 26, they re­ceived a let­ter that an im­prove­ment in fi­bro­sis — which, In­ter­cept said, the FDA had in­di­cat­ed would be enough for ap­proval — wasn't enough to prove the drug was worth its risk.
"What's new here is the ques­tion­ing — with­out re­al­ly sub­stan­ti­a­tion, as far as we could tell — on the ben­e­fit side," Pruzan­s­ki said. "It's hard to know what's go­ing on."
Al­though mixed in their re­ac­tions to the news, an­a­lysts ex­pressed ex­pressed broad sur­prise the FDA and In­ter­cept would be on such marked­ly dif­fer­ent pages, giv­en that the drug had achieved a break­through des­ig­na­tion that is sup­posed to open close chan­nels be­tween the par­ties. The frac­ture, they said, could be spe­cif­ic to In­ter­cept, but could al­so point to where the bar will be for fu­ture NASH sub­mis­sions.
"It is un­clear at this point how sig­nif­i­cant­ly the CRL af­fects OCA's reg­u­la­to­ry path for­ward in NASH," Smith wrote in a note fol­low­ing the news, "nor are the broad­er im­pli­ca­tions on the reg­u­la­to­ry path­way for oth­er drugs be­ing de­vel­oped in NASH clear at this time."
The re­jec­tion is the lat­est in a se­ries of strug­gles for the NASH field. NASH, or non­al­co­holic steato­hep­ati­tis, refers to fat buildup in the liv­er that caus­es in­flam­ma­tion and scar­ring. It was lit­tle known in the biotech world be­fore the 2014 JP Mor­gan con­fer­ence, when In­ter­cept re­leased a batch of Phase II da­ta that sent their stock soar­ing. With mil­lions of Amer­i­cans po­ten­tial­ly suf­fer­ing from the con­di­tion, the dis­ease has since at­tract­ed sig­nif­i­cant buzz, but in the past year, it's seen a string of tri­al fail­ures, most no­tably from Gilead.
Al­though nu­mer­ous drug­mak­ers have ear­ly-stage can­di­dates in the pipeline, the In­ter­cept CRL could push the first ap­proval back sig­nif­i­cant­ly. The oth­er ma­jor late-stage ef­fort, from the French biotech Gen­Fit, failed in May.
Al­though it's im­pos­si­ble to know the pre­cise guid­ance the FDA gave In­ter­cept and oth­er com­pa­nies, sig­nif­i­cant ques­tions did ex­ist for the ef­fi­ca­cy of their drug and oth­er NASH com­pounds. Com­pa­nies have large­ly fo­cused on test­ing to see if their med­i­cines can halt fi­bro­sis or fat ac­cu­mu­la­tion, but they have not yet proven that those will then lead to im­proved sur­vival or pre­vent cir­rho­sis.
In a note, Stifel's Derek Archi­la ar­gued the CRL was a re­sult of a sin­gle ad­verse event: raised LDL cho­les­terol, which in turn raised car­dio­vas­cu­lar risk. That, he said, could've tipped the risk-ben­e­fit pro­file cal­cu­lus for the agency.
An­a­lysts will be watch­ing close­ly to see what da­ta the FDA asks for and its im­pli­ca­tions for all NASH de­vel­op­ers, but there will be im­me­di­ate im­pli­ca­tions for In­ter­cept. The com­pa­ny hired a sales team in prepa­ra­tion for an ap­proval and, Yee not­ed, is cur­rent­ly burn­ing through $300 mil­lion per year, with on­ly $554 mil­lion and $690 mil­lion in debt.
"As we pre­pare to meet with FDA, we will si­mul­ta­ne­ous­ly be­gin plan­ning to make sure we're in a good po­si­tion fi­nan­cial­ly," Pruzan­s­ki said on the call.