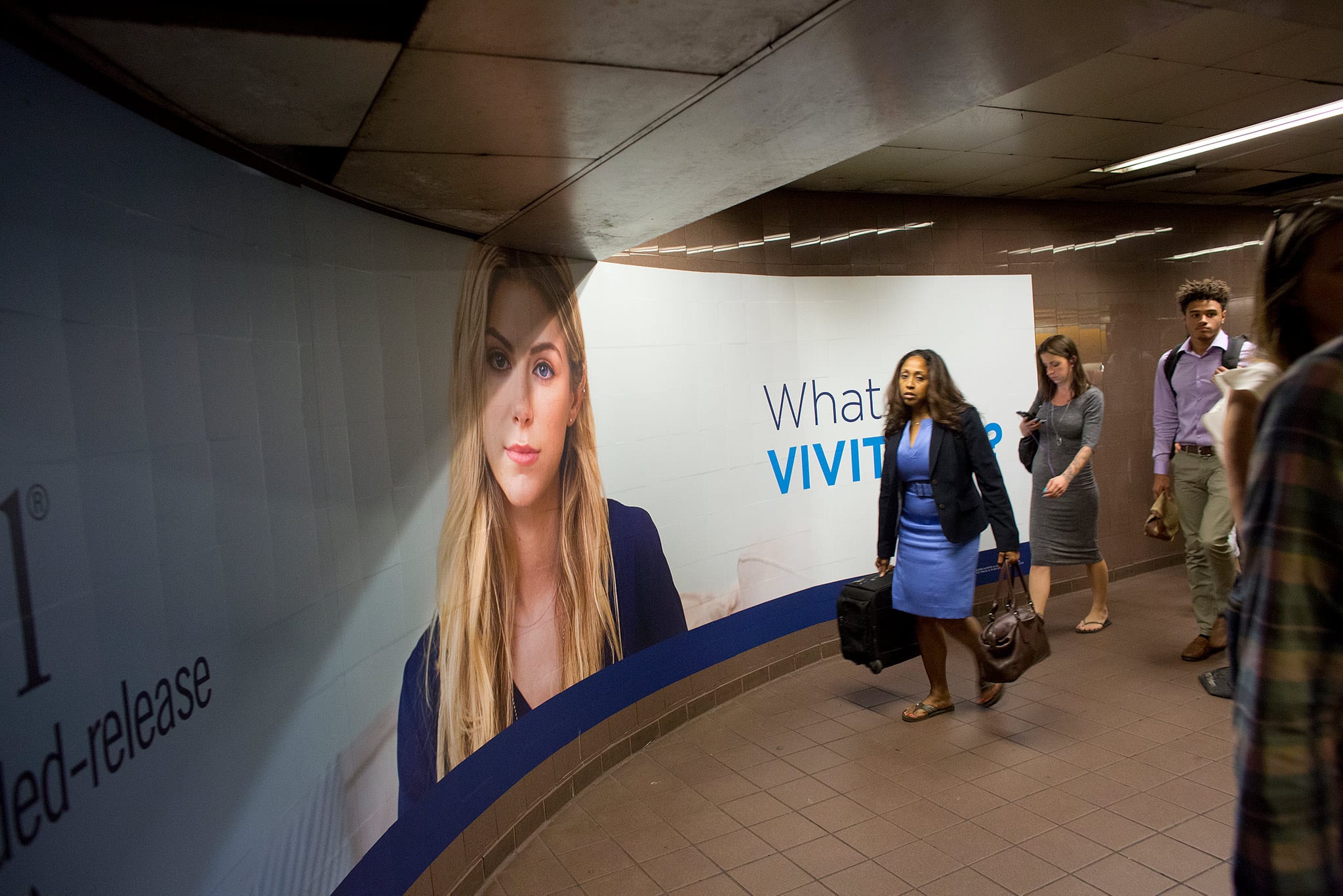 Large advertisements for the drug Vivitrol decorate the walls of Grand Central Station on June 15, 2017 in New York City. (Photo: Andrew Lichtenstein via Getty)
FDA slaps down Alk­er­mes for mis­lead­ing Viv­it­rol ads — don't for­get vul­ner­a­bil­i­ty to opi­oid over­dose
The ads piqued in­ter­est as soon as they start­ed ap­pear­ing in 2016: at Grand Cen­tral Sta­tion, on the Red Line in Cam­bridge, and on a bill­board off the New Jer­sey Turn­pike. All showed a young per­son, gen­er­al­ly with his or her arms crossed, and the ques­tion, "what is Viv­it­rol?"
Viv­it­rol's mak­er, Alk­er­mes, was in the midst of a mar­ket­ing and lob­by­ing cam­paign to pro­mote the an­ti-opi­oid ad­dic­tion drug — a cam­paign that would face sig­nif­i­cant back­lash for tar­nish­ing com­peti­tors de­spite lit­tle ev­i­dence for Viv­it­rol's su­pe­ri­or­i­ty.
Now a new Viv­it­rol ad­ver­tis­ing cam­paign has prompt­ed a stern warn­ing from the FDA. The FDA said that Alk­er­mes men­tioned the pos­si­ble ben­e­fits of the drug but failed to dis­close ma­jor risks. Those in­clude an in­creased like­li­hood that a pa­tient will lat­er over­dose on opi­oids.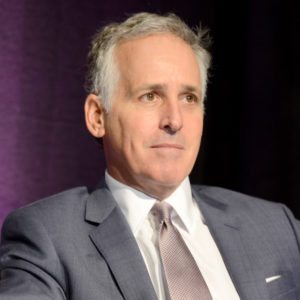 Richard Pops (End­points file pho­to)
"This vi­o­la­tion is con­cern­ing from a pub­lic health per­spec­tive be­cause it cre­ates a mis­lead­ing im­pres­sion re­gard­ing the over­all safe­ty of Viv­it­rol," the FDA's Cen­ter for Drug Eval­u­a­tion and Re­search wrote in a warn­ing let­ter to Alk­er­mes CEO Richard Pops.
The let­ter says that the drug, when used prop­er­ly, can help pre­vent re­lapse to opi­oid de­pen­dence — a sig­nif­i­cant pub­lic health con­cern. But "those uti­liz­ing Viv­it­rol for the treat­ment of opi­oid de­pen­dence should be made aware of the vul­ner­a­bil­i­ty to po­ten­tial­ly fa­tal over­dose at the end of a dos­ing in­ter­val, af­ter miss­ing a dose, or af­ter dis­con­tin­u­ing Viv­it­rol treat­ment,"
"At­tempts to over­come block­ade may al­so lead to fa­tal over­dose," it adds.
It's not clear where the ad ap­peared, but it is tar­get­ed to­wards those work­ing in the crim­i­nal jus­tice sys­tem and di­rects them to Viv­it­rol­cj.com. It shows a judge and a bald man in a sweat­shirt ex­chang­ing a slim stack of pa­pers over her bench.
"The crim­i­nal jus­tice sys­tem is chal­lenged with re­spond­ing to the opi­oid epi­dem­ic," it reads. "Their path to re­cov­ery can be­gin with your help,"
Un­der "im­por­tant safe­ty in­for­ma­tion," it lists what Viv­it­rol is in­di­cat­ed for and in­di­cat­ed against, but it does not men­tion the fa­tal risk the drug pos­es.
Viv­it­rol, which is sci­en­tif­i­cal­ly known as nal­trex­one for ex­tend­ed-re­lease in­jectable sus­pen­sion, blocks the ef­fects of opi­oids from out­side the body for around 28 days. But as that block­ade weak­ens and ul­ti­mate­ly van­ish­es, pa­tients can re­spond to low­er dos­es of opi­oids than they oth­er­wise would.
A pa­tient who takes a dose of opi­oids they pre­vi­ous­ly would have tol­er­at­ed could then over­dose. Pa­tients that try to over­come the block while the drug is in ef­fect may al­so over­dose.
There is less da­ta out on Viv­it­rol than on oth­er opi­oid de­pen­den­cy drugs buprenor­phine and methadone, but in 2018 a pa­per in Drug Safe­ty at­tempt­ed to an­a­lyze the risk of over­dose.
Out of 263 ad­verse events from Viv­it­rol that re­searchers ob­tained through a pub­lic records re­quest, they were left with 52 deaths that fit an over­dose de­scrip­tion. Of those, 5 oc­curred in the 28 days, mean­ing the pa­tient had tried to over­come the block. The me­di­an time of death was 46 days af­ter in­jec­tion and the av­er­age was 56.3 days — or a few weeks af­ter the last shot's block­ing ef­fects wore off.
Alk­er­mes strong­ly dis­put­ed the re­sults. The au­thors stopped short of an­nounc­ing causal­i­ty, but they said com­pa­nies and the gov­ern­ment need to fol­low the is­sue more close­ly and warn pa­tients bet­ter, as at least around half will dis­con­tin­ue treat­ment.
"We're say­ing that if you're go­ing to be putting peo­ple on it, there's a time pe­ri­od af­ter you take them off of it or they come off it where you need to do a bet­ter job of re­mind­ing them of their risk," Nabarun Das­gup­ta, study co-au­thor and a re­search sci­en­tist at the Uni­ver­si­ty of North Car­oli­na, told ProP­ub­li­ca last year.