FDA stamps fast OK on Astel­las' pi­o­neer­ing FLT3 AML drug gilter­i­tinib, ex­pand­ing on a record year for new ap­provals
Astel­las has picked up boast­ing rights to gain­ing the first FDA ap­proval of a FLT3 in­hibitor for a spe­cif­ic group of FLT3 pos­i­tive acute myeloid leukemia pa­tients — which ac­counts for close to a third of the pop­u­la­tion.
Back in May the Japan­ese phar­ma re­port­ed that the agency had of­fered a snap 6-month re­view on its fast-track pro­gram for gilter­i­tinib, some­thing that's be­come quite com­mon in the on­col­o­gy group.
That's good news for the 30% or so of the 19,000 new­ly di­ag­nosed AML cas­es each year that will be linked to the ge­net­ic mu­ta­tion. The drug has been in a piv­otal study where in­ves­ti­ga­tors have been study­ing it's abil­i­ty to cut re­laps­es in the pa­tient pop­u­la­tion.
The drug will be sold as Xospa­ta, and Astel­las set the whole­sale price at $22,500 for 30 days, which would trans­late to $270,000 for a year of ther­a­py — though pay­ers ne­go­ti­ate down from that fig­ure. In a state­ment, the com­pa­ny said that their in­ter­im analy­sis of the piv­otal pro­gram tracked a me­di­an du­ra­tion of re­sponse of 4.6 months.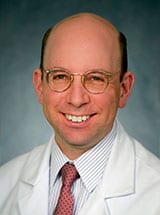 Alexan­der Ed­ward Perl
This OK de­liv­ers a "new, high­ly-ef­fec­tive, and well-tol­er­at­ed treat­ment op­tion to the clin­ic for a group of tru­ly high-risk pa­tients who, un­til to­day, had no spe­cif­ic ther­a­pies avail­able be­yond chemother­a­py to treat their dis­ease," says Alexan­der Perl, an as­so­ciate pro­fes­sor of Hema­tol­ogy-On­col­o­gy at the Uni­ver­si­ty of Penn­syl­va­nia. Perl has been lead­ing the clin­i­cal tri­al pro­gram for this drug.
"Al­though we're wait­ing for the fi­nal analy­sis of (the Phase III study) AD­MI­RAL, the avail­able da­ta with gilter­i­tinib show few­er and milder side ef­fects than typ­i­cal­ly is seen with tra­di­tion­al chemother­a­py," Perl added, not­ing that they al­so tracked a sig­nif­i­cant­ly high­er rate of com­plete re­spons­es.
The ap­proval marks the FDA's 54th OK of the year as it goes deep­er in­to record ter­ri­to­ry af­ter pass­ing the old record set in 1996.
---