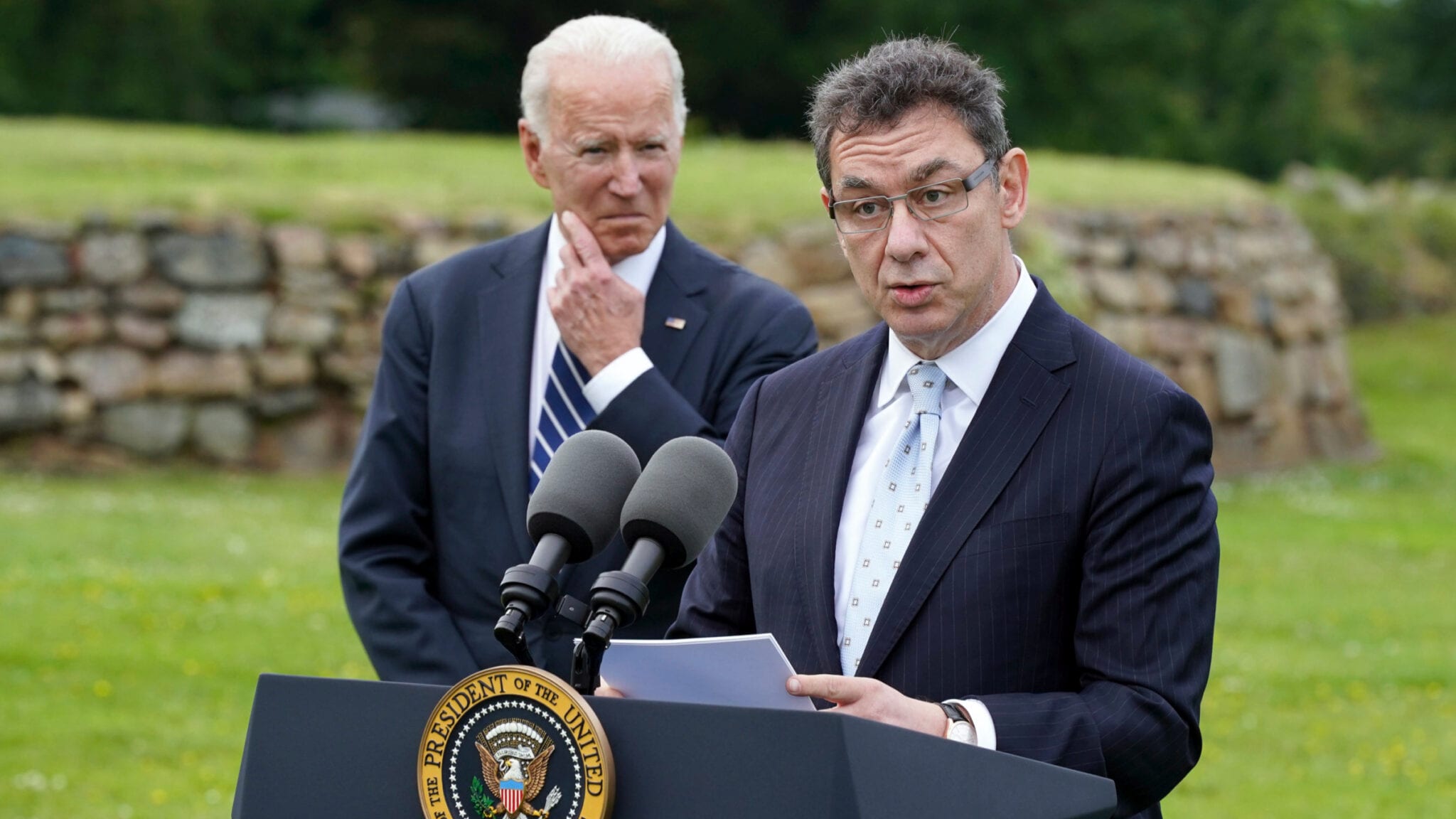 Albert Bourla, Pfizer CEO (Patrick Semansky/AP Images)
FDA takes a rare step and asks Pfiz­er to sub­mit a Covid-19 vac­cine EUA for the youngest chil­dren
What does the FDA know that we don't? Hope­ful­ly a lot.
With­out of­fer­ing much de­tail, the FDA yes­ter­day af­ter­noon asked Pfiz­er to send over a rolling sub­mis­sion to amend its Covid-19 vac­cine EUA to in­clude chil­dren 6 months to un­der 5 years of age.
The tricky part in mak­ing such a re­quest is that last month, Pfiz­er an­nounced that its vac­cine (a 3 µg dose for the youngest pop­u­la­tion) demon­strat­ed non-in­fe­ri­or­i­ty for the 6- to 24-month-old pop­u­la­tion, when com­pared to the 16- to 25-year-old pop­u­la­tion in which high ef­fi­ca­cy was demon­strat­ed, but not for the 2- to un­der 5-year-old pop­u­la­tion.
The com­pa­ny said it would con­tin­ue to study the vac­cine in these youngest chil­dren with a third dose, and doesn't seem to be chang­ing its tune even with this lat­est FDA re­quest.
"Ul­ti­mate­ly, we be­lieve that three dos­es of the vac­cine will be need­ed for chil­dren 6 months through 4 years of age to achieve high lev­els of pro­tec­tion against cur­rent and po­ten­tial fu­ture vari­ants. If two dos­es are au­tho­rized, par­ents will have the op­por­tu­ni­ty to be­gin a COVID-19 vac­ci­na­tion se­ries for their chil­dren while await­ing po­ten­tial au­tho­riza­tion of a third dose," Pfiz­er CEO Al­bert Bourla said in a state­ment.
No safe­ty con­cerns were iden­ti­fied in that pri­or analy­sis of the 3 µg dose da­ta among chil­dren 6 months to un­der 5 years of age, Pfiz­er said.
While the FDA of­ten re­quests that com­pa­nies pro­vide ad­di­tion­al safe­ty or ef­fi­ca­cy da­ta (usu­al­ly be­fore a new drug or vac­cine is ap­proved or au­tho­rized), the agency rarely re­quests a spe­cif­ic sub­mis­sion, but act­ing FDA com­mis­sion­er Janet Wood­cock said this is a pri­or­i­ty right now for the agency.
Hav­ing a safe and ef­fec­tive vac­cine avail­able for chil­dren in this age group is a pri­or­i­ty for the agency, and we're com­mit­ted to a time­ly re­view of the da­ta, which the agency asked Pfiz­er to sub­mit in light of the re­cent Omi­cron surge. https://t.co/hXGSImQCJu

— Dr. Janet Wood­cock (@Dr­Wood­cockF­DA) Feb­ru­ary 1, 2022
"I don't think au­tho­riz­ing two dos­es in chil­dren ages 2 to 4 years of age where ef­fec­tive­ness in this age group hasn't been con­firmed is go­ing to con­vince the ma­jor­i­ty of par­ents to vac­ci­nate their chil­dren," Nor­man Bay­lor, pres­i­dent and CEO of Bi­o­log­ics Con­sult­ing and a for­mer head of the FDA's vac­cine of­fice, told STAT News. "If the vac­cine in this age co­hort is a three-dose vac­cine, FDA should re­view the da­ta from the three-dose se­ries be­fore au­tho­riz­ing the vac­cine."
On Feb. 15, the FDA will con­vene its VRB­PAC, an ad­comm of out­side ad­vi­sors to dis­cuss this ap­pli­ca­tion. The com­mit­tee kicked off the Covid-19 vac­cine boost­er sea­son last fall by pledg­ing to not re­quire boost­ers for all, and then boost­ers were rec­om­mend­ed for all, and have proven to be help­ful in re­duc­ing cas­es and hos­pi­tal­iza­tions in this lat­est Omi­cron surge.
For Omi­cron cas­es, Jan­u­ary 2022
>50% re­duced by 2-shot vac­ci­na­tion
and
An­oth­er ~50% re­duced by 3-shot vac­ci­na­tion
Which goes along with all re­cent da­tahttps://t.co/9bHY­d­Kxz8u
The "vac­cines don't work with Omi­cron" is off-base pic.twit­ter.com/lceIO­QVESx

— Er­ic Topol (@Er­ic­Topol) Feb­ru­ary 1, 2022
An­oth­er big ques­tion, as has been the case for the en­tire pan­dem­ic, is up­take in this youngest pop­u­la­tion. The FDA notes that as of Dec. 19, the Cen­ters for Dis­ease Con­trol and Pre­ven­tion said just 8.7 mil­lion Covid-19 vac­ci­na­tions have been giv­en to kids 5 through 11 years of age, which is on­ly about one-third of the 24 mil­lion US kids this age range. There are about 23 mil­lion chil­dren less than 5 years of age in the US, the FDA es­ti­mat­ed.
Hes­i­tan­cy has been a big is­sue na­tion­wide, with the US trail­ing be­hind the vac­ci­na­tion rates of oth­er wealthy na­tions around the globe. But Wood­cock pre­vi­ous­ly told End­points News that this fight might be about more than just vac­cines.
"Well the loss of trust seems to be a gen­er­al an­ti-au­thor­i­ty, an­ti-sci­ence thing," she wrote. "Very strong streak of this in the US over the cen­turies. Sure, it would be fine to have an­oth­er tra­di­tion­al type voice mak­ing pub­lic health state­ments, but this may need to be fought out in the so­cial me­dia and oth­er cur­rent in­fo sources, oth­er­wise you are just preach­ing to the con­vert­ed. FDA would need more comms staff — our peo­ple are pret­ty ex­haust­ed and most­ly have the tra­di­tion­al skillset."
FDA's top vac­cine of­fi­cial Pe­ter Marks said in a re­cent keynote, re­flect­ing on some of the things that keep him up at night, "The lack of trust in a ba­sic pub­lic health mea­sure that saves lives is cat­a­stroph­ic in this coun­try."