FDA to re­lease list of sur­ro­gate end­points in on­col­o­gy
Scott Got­tlieb, FDA Com­mis­sion­er, said Mon­day at the Na­tion­al Press Club in Wash­ing­ton, DC that his agency will re­lease a list of sur­ro­gate end­points used in can­cer drug de­vel­op­ment soon.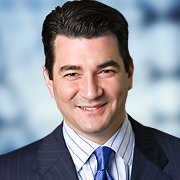 Scott Got­tlieb
His speech touched on four top­ics — in­clud­ing mod­ern­iz­ing the tri­al process and en­abling pay­ers to lever­age more open ac­cess to re­al world da­ta. "In the com­ing weeks, for the first time, CDER will pub­lish on the web, a list of the sur­ro­gate end­points that were the pri­ma­ry ba­sis of ap­proval or li­cen­sure of a drug or bi­o­log­i­cal for both ac­cel­er­at­ed and tra­di­tion­al ap­provals," he said.
He not­ed the in­dus­try needs to mod­ern­ize drug de­vel­op­ment to meet the rapid pace of sci­ence while en­sur­ing prod­ucts re­main avail­able at a rea­son­able cost.
"A re­cent let­ter in the New Eng­land Jour­nal of Med­i­cine not­ed that the over­all re­sponse rate — both com­plete and par­tial tu­mor re­spons­es — in Phase 1 on­col­o­gy tri­als was 20 per­cent," he said ac­cord­ing to the tran­script.
"This mir­rors the FDA's in­ter­nal analy­sis, where we've found that Phase 1 tri­als that are based on an en­rich­ment de­sign – in oth­er words, tri­als where the pa­tients are se­lect­ed for a treat­ment based on how their tu­mors ex­press a spe­cif­ic bio­mark­er — are as­so­ci­at­ed with a sig­nif­i­cant­ly high­er prob­a­bil­i­ty of demon­strat­ing a clin­i­cal ben­e­fit than those that are not," he added.
Re­cent­ly re­leased da­ta from the Na­tion­al Can­cer In­sti­tute's Sur­veil­lance, Epi­demi­ol­o­gy and End Re­sults pro­gram shows that be­tween 2011 and 2015, over­all can­cer death rates de­creased 1.8% an­nu­al­ly for men, and 1.4% for women.
Eleven of the 18 most com­mon can­cers in men showed de­creas­es in mor­tal­i­ty, Got­tlieb said. And four­teen of the 20 most com­mon can­cers in women showed de­creas­es in mor­tal­i­ty.
These in­clud­ed leukemia, melanoma, myelo­ma, non-Hodgkin lym­phoma, and can­cers of the colon and rec­tum, breast, cervix, ovaries, esoph­a­gus, kid­ney, lar­ynx, lung and bronchus, prostate and stom­ach.
"Lung and bronchial can­cer — among the most feared and rapid­ly fa­tal can­cers — had the great­est de­crease in mor­tal­i­ty in men; and non-Hodgkin lym­phoma had the great­est de­crease in women. Ear­ly de­tec­tion was one key for many of these dis­eases. But so were ad­vances in care," he added.
---
First pub­lished here. Reg­u­la­to­ry Fo­cus is the flag­ship on­line pub­li­ca­tion of the Reg­u­la­to­ry Af­fairs Pro­fes­sion­als So­ci­ety (RAPS), the largest glob­al or­ga­ni­za­tion of and for those in­volved with the reg­u­la­tion of health­care and re­lat­ed prod­ucts, in­clud­ing med­ical de­vices, phar­ma­ceu­ti­cals, bi­o­log­ics and nu­tri­tion­al prod­ucts. Email news@raps.org for more in­for­ma­tion.