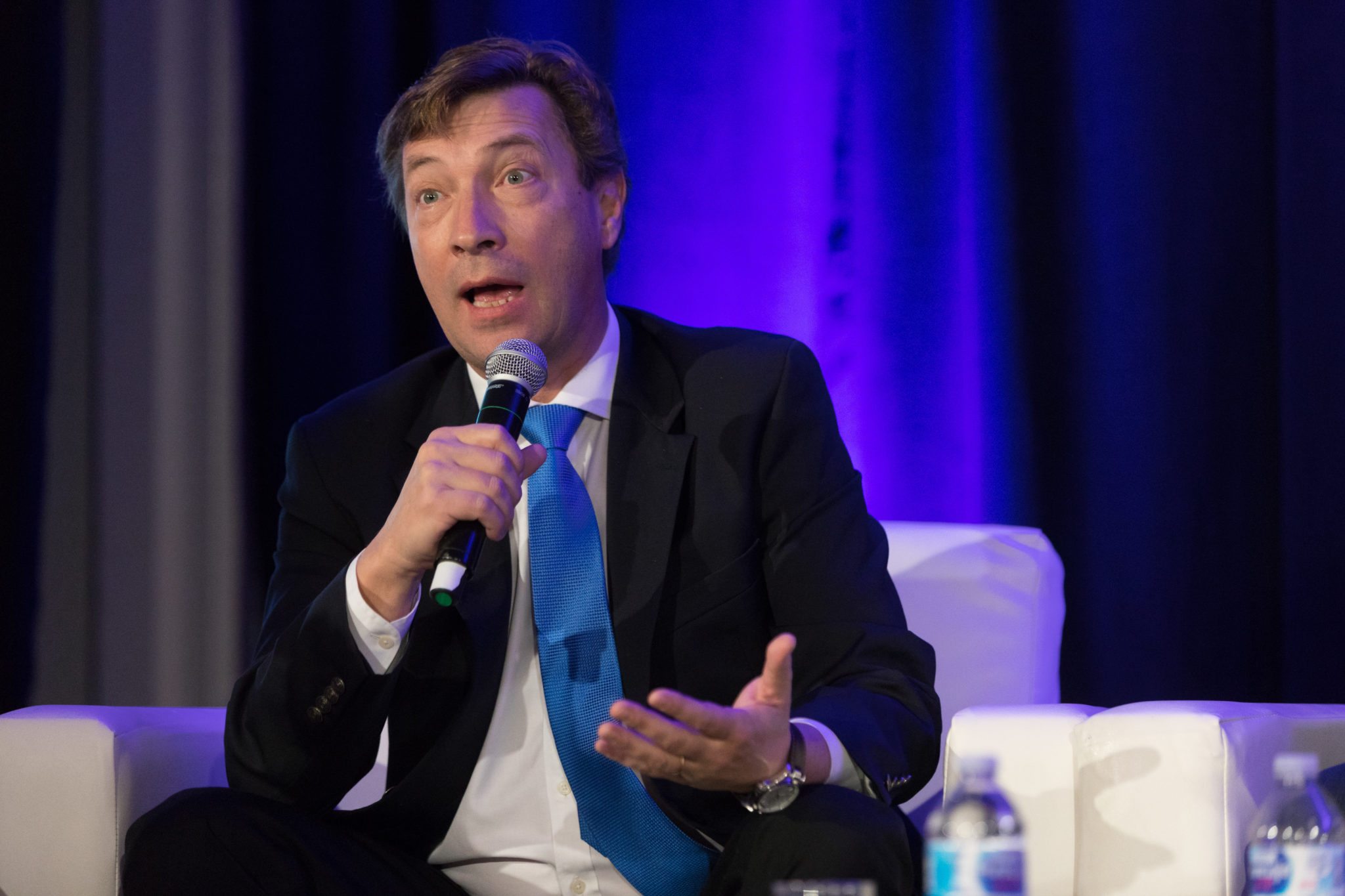 Hervé Hoppenot, Incyte CEO (Jeff Rumans for Endpoints News)
FDA un­sur­pris­ing­ly brings down the ham­mer on In­cyte's PD-1 — draw­ing a line for fu­ture ac­cel­er­at­ed ap­provals
It ap­pears the PD-(L)1 hon­ey­moon is fi­nal­ly over.
In­cyte $IN­CY re­vealed late Fri­day the FDA has slammed its PD-1 reti­fan­limab — which was un­der pri­or­i­ty re­view for lo­cal­ly ad­vanced or metasta­t­ic squa­mous cell car­ci­no­ma of the anal canal — with a com­plete re­sponse let­ter, de­mand­ing "ad­di­tion­al da­ta" to show clin­i­cal ben­e­fit.
On one hand, the re­jec­tion should come as no sur­prise: Reg­u­la­tors spelled out the prob­lems they saw with In­cyte's da­ta pack­age in no un­cer­tain terms, rais­ing con­cerns about the low re­sponse rates, lack of di­ver­si­ty and dearth of safe­ty da­ta in the sin­gle-arm tri­al. Dur­ing the en­su­ing ad­comm, the FDA's can­cer czar, Richard Paz­dur, sug­gest­ed the whole episode un­der­scores the need to "re­assess" how drugs get ap­proved un­der the ac­cel­er­at­ed ap­proval path­way with­out ran­dom­ized stud­ies.
The ex­pert pan­el con­vened to ad­vise on the BLA, echo­ing those con­cerns, vot­ed 13-4 to de­fer an ap­proval un­til more da­ta are avail­able from a place­bo-con­trolled tri­al.
On the oth­er, it sig­nals an of­fi­cial shift in the agency's han­dling of check­point block­ers, if not can­cer drugs in gen­er­al: Five years af­ter the land­mark first ap­proval for Mer­ck's Keytru­da, and with eight PD-(L)1 drugs on the mar­ket, there will be no more easy pass­es.
Com­ing on­to an in­creas­ing­ly crowd­ed land­scape in 2017 via a $900 mil­lion deal with Macro­Gen­ics, In­cyte had elect­ed to fol­low a strat­e­gy de­ployed by oth­er late­com­ers like Re­gen­eron. In­stead of go­ing head to head with the dom­i­nant play­ers in ma­jor in­di­ca­tions, the biotech ze­roed in on niche can­cer types with small pa­tient pop­u­la­tions des­per­ate for new ther­a­pies.
Hervé Hop­penot, CEO of In­cyte, held on to that fact in a state­ment.
"Pa­tients with SCAC who have pro­gressed af­ter first-line chemother­a­py cur­rent­ly do not have ap­proved treat­ment op­tions," he said. "While we are not sur­prised with the FDA de­ci­sion giv­en the ODAC rec­om­men­da­tion, we are dis­ap­point­ed."
The com­pa­ny will be work­ing with the FDA to "ad­dress feed­back and de­ter­mine next steps," he added.
A few months ago, In­cyte start­ed en­rolling for a 300-pa­tient Phase III place­bo-con­trolled study with the help of its Chi­nese part­ners at Zai Lab. But da­ta aren't sched­uled to come out un­til the end of 2024.
In the mean­time, physi­cians are al­so study­ing Mer­ck's Keytru­da and Bris­tol My­ers Squibb's Op­di­vo for dif­fer­ent sub­types of anal can­cer.
For Mizuho an­a­lyst Mara Gold­stein, the large­ly ex­pect­ed de­ci­sion isn't the end of the world for In­cyte.
"Ul­ti­mate­ly, we still view reti­fan­limab as a fa­cil­i­ta­tor of clin­i­cal ac­tiv­i­ty in com­bi­na­tions rather than a growth dri­ver in and of it­self," she wrote in a note.